Business activity in the Inland Empire maintained its upward trajectory in the 4th quarter of 2017, growing at an annualized rate of 3 percent and outpacing economic growth in the nation overall, according to the newly released Inland Empire Business Activity Index. The Index was compiled by the UCR School of Business Center for Economic Forecasting and Development. While the overall outlook for the region's business activity remains positive, slower growth in the labor force will eventually constrain economic output.
"The Inland Empire economy performed well last year fueled in part by faster job gains as compared to the rest of Southern California," said Robert Kleinhenz, executive director of research at the Center for Economic Forecasting and one of the index authors. "Looking ahead, the local economy will continue to grow throughout 2018, but the pace of expansion will depend on the extent to which its labor force increases. Fortunately, labor force growth accelerated late in 2017, which is definitely a good sign for 2018."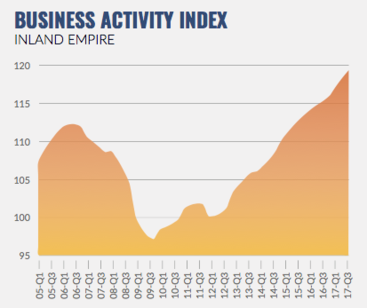 Across multiple indicators including employment, wages, taxable sales, and housing market activity, the Inland Empire economy performed positively in 2017, outpacing growth in many other major metro areas of the state. Looking ahead, the analysis forecasts overall business activity in the region to grow between 2.5 percent and 3.5 percent in 2018. This forecast takes into account the newly signed Tax Cuts and Jobs Act, which is likely to increase investment and nominal spending by local businesses in the short term.
The current Inland Empire Business Activity Index is now available. The Index tracks performance of the Inland Empire regional economy on a quarterly basis and is adjusted for seasonal variations. The composite indicator is estimated using a wide range of economic data including employment, economic output, income, real estate, and other indicators at the national, state, and metropolitan level. The Index is produced entirely by the UC Riverside School of Business Center for Economic Forecasting and Development.
Media Contacts