The National Science Foundation has awarded a five-year, $4 million grant to fund a program for minority students across nine University of California campuses.
This NSF grant allows the Louis Stokes STEM Pathways and Research Alliance: California Louis Stokes Alliance for Minority Participation, or CAMP, to continue supporting underrepresented students pursuing research and careers in science, technology, engineering, and mathematics, also known as STEM. The award comes at the heels of CAMP's headquarters transition from UC Irvine to UC Riverside.
This new grant shifts the focus from providing support for underrepresented minorities to studying factors that have led to student success at each of the UC campuses. The overall goal is to contribute findings that may serve as a national model of success. Internal and external evaluators will document how CAMP campuses are achieving student success, said Richard Cardullo, lead CAMP researcher and project director, and the Howard H Hays Jr. chair of UCR's University Honors program.
Last year, more than 21,000 historically underrepresented STEM students were enrolled at UC CAMP partner campuses.
"The fact that NSF has decided to continue funding CAMP speaks to the impact that the program has made for over a quarter of a century," Cardullo said. NSF is the primary source of funding for the CAMP alliance. "Hosting this effort at UC Riverside also demonstrates our campus' vision to offer world-class research experiences for our own students, as well as for students from the other UC campuses. We owe these young researchers every possible opportunity to succeed."    
At UCR, evaluators Marsha Ing and Robert Ream, both associate professors in the Graduate School of Education, will measure UCR's CAMP success by identifying and documenting what factors play key roles in its success. This will include looking into determinants such as resources, support structures, and student trust in faculty.
"We want to become a model that informs the rest of the nation," Cardullo said. "This is an opportunity for the systemwide program to make an impact by sharing its findings and models for success through peer-reviewed publications and presentations at professional venues."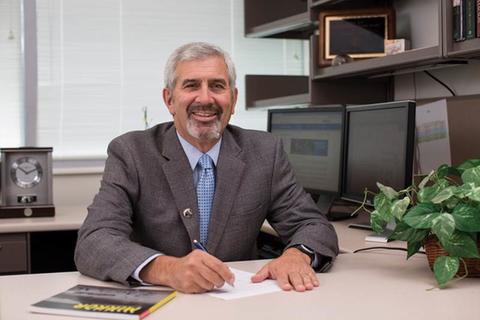 At UCR, CAMP offers undergraduate students an opportunity to conduct research, allocating between $500 to $750 stipends per student each quarter. Students who qualify may also apply for summer research projects, which include a $5,000 stipend.
Since CAMP's creation in 1991, UC has achieved a 541 percent increase in degree production, including more than 3,900 Bachelor of Science degrees awarded in 2017.
Having CAMP headquartered at UCR is also an opportunity to continue highlighting the campus as a Hispanic Serving Institution, or HSI.
"UCR, as well as a majority of the other UC campuses, is an HSI ,and our campus in particular serves a high percentage of low-income and first-generation students," Cardullo said. "The face of the university should ultimately reflect the community it serves."
Cardullo served as the author and co-principal investigator of the CAMP grant, which runs until 2023. UCR Chancellor Kim A. Wilcox will serve as the principal investigator for the CAMP alliance.
"At UCR, we are redefining what it means to be a student-centered research university in the 21st century, and we are grateful to NSF for supporting the needs of students as we pursue that objective," Wilcox said. "The award will enable us to continue our commitment to developing the next generation of scientists with not only technical acumen, but also with a personal understanding of the needs of the diverse communities we serve."
CAMP at UCR
CAMP members meet once a week at the Teaching and Learning Center, located in the Tomás Rivera Library.    
Aside from being a student support program, the group sets aside time to work on their research, participate in workshops led by guest speakers, or to prepare for their Graduate Record Examinations, said Thomas Dickson, assistant vice provost of Undergraduate Education.  
"It's an amazing program. It fosters more independence and professional development to prepare them for the graduate school setting," said Nhi Tran, the STEM Connections coordinator who has been working with UCR CAMP students for eight years.
In 2017, 10 UCR CAMP students presented their findings at the American Association for the Advancement of Science Pacific Division meeting in Hawaii, and four students received awards for their research presentations. Earlier this year, 17 UCR students traveled to UC Irvine for the annual research symposium. Fourteen students presented and brought back seven awards in total. Two awards were for special merit in research, five were honorable mentions.
Media Contacts