The University of California, Riverside's Early Childhood Services center received a four-year grant from the United States Department of Education to provide low income undergraduate students with childcare assistance.
The reauthorized $1.4 million grant will give these student parents a financial breather while they balance parenting and college life. Funding comes from the U.S. Department of Education's Child Care Access Means Parents in School Program, or CCAMPIS, which came into effect on Oct. 1. In 2014 the center received a similar grant amount from CCAMPIS.  
"The goal of the grant is to increase the retention and graduation rates," said Davina Marie Bailey, Early Childhood Services director. "This grant will be able to help us support them to stay in school and graduate."
Qualifying students – primarily Pell Grant recipients – with children 5 years of age and under, will have their child's full daycare tuition and meals covered. The center serves kids from 2 months of age to kindergarten. Monthly five-day a week tuition is $1,570 for an infant; $1,475 for a toddler; and $1,000 for a preschooler.    
On average, student parents keep their child at the center for two years, Bailey said. Early Childhood Services has capacity for 204 children and currently has 30 full-time teachers. The center is also available for children of UCR staff and faculty, as well as for the community in general. CCAMPIS subsidies do not apply to these latter groups.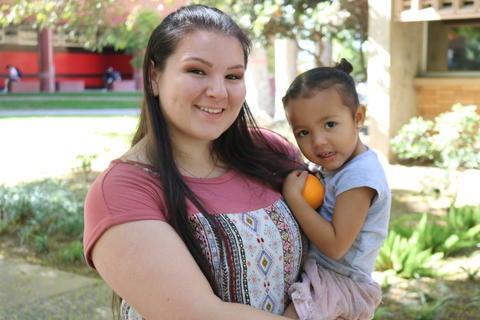 Children at the center are taught with a play-initiated curriculum, a method that has made 3-year-old Aubree Brown bloom. Her mother, Alexis Garcia, graduated from UCR in June and has decided to keep her daughter at the center until she's ready for kindergarten. Garcia is now a paying community member since she is no longer a student. Garcia did benefit from CCAMPIS while she completed her postsecondary education at UCR.    
Garcia, 22, a sociology and women's studies double major, placed Aubree in the center as a 5-month-old. Grandparents, aunts, her dad, all stepped in to take turns babysitting the first five months after Aubree was born.  
"It was stressful. I was a full-time student and missed office hours or group projects because I couldn't stay long enough. I had class and went straight home," Garcia said. "And then I didn't have time to study, only when [Aubree] napped or fell asleep in the evenings."
Once the baby was accepted into Early Childhood Services, things changed. She stayed in class, she had time to study, she found a work-study job and even completed two internships. Garcia is now the activities director for a local non-profit that provides housing for low-income families. 
The care and education her daughter received can't be substituted, she said. By the time Aubree was 1, she could communicate words and short sentences in English, Spanish, and American Sign Language. On a recent visit to UCR, Aubree played near a bench. She picked up pebbles, leaves, tree bark, and a stick and pretended to stir in shrimp. "This is for my mommy," Aubree said as she squeezed some "orange juice" into the curled-up piece of bark she used as a pan. 
"It really does take a village to raise a child," said Garcia, referring to the Early Childhood Services center. "I wouldn't have been able to graduate, to get a degree, and get this job that I have now. They were really co-parenting with me."
Media Contacts