There's a widely quoted statistic that women need to be asked to run for political office an average of seven times before agreeing to do so. Denise Davis readily admits she wasn't an exception to the rule when she made the decision in 2017 to campaign for a spot on the Redlands City Council.
"Running for office seemed like such a challenging, time-consuming thing to take on," said Davis, a first-time candidate who also directs the Women's Resource Center at the University of California, Riverside. "I needed a lot of people to ask me before I considered it."
This fall, Davis became part of the tidal wave that saw a record number of women compete in local, state, and congressional elections across the country. After months of field campaigning — all told, her team knocked on more than 4,000 doors — she was sworn in on Dec. 18 as one of Redlands's youngest council members and its first openly LGBT council member, as well as the city's mayor pro tem for a two-year term. 
"Redlands is a city I care about a lot," Davis said. "I went to college at the University of Redlands and have lived here mostly ever since. I'm excited to serve my community, but also to be a really different presence on the city council; I'm a millennial — I just turned 35 — and I think I'll help create a new dynamic."
Data recently released by the San Bernardino County Registrar of Voters showed that out of the pool of five candidates in Davis's race, she captured 51.62 percent of the total votes tallied (2,058 out of 3,987, to be exact). So, how exactly did she pull it off?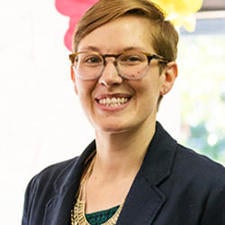 Growing up the daughter (and granddaughter) of union organizers in Las Vegas, Davis recalled being aware of politics and its importance from a young age. She described many of the skills honed during her career in student affairs, from managing budgets to organizing large-scale events like UCR's annual Persist Women's Political Engagement Conference, as transferable to her role on the council.  
Still, Davis credits the bulk of her success to an organization called Emerge California .
Emerge's five-month program is essentially a boot camp for women who want to run for office for the first time, with participants each completing one intensive weekend of training per month. Sessions are designed to familiarize participants with the nuts and bolts of campaigning, including fundraising, recruiting volunteers, canvassing, and figuring out how to answer tough questions from competitors and constituents alike. 
"I knew virtually nothing about running a field campaign," Davis said. "That was probably the most challenging part of all of this, but it's what really helped me win the election — going door to door and being strategic about which neighborhoods we were canvassing in, and how many times to go to those neighborhoods and when. The strategy paid off, as I just received data that shows my campaign won every single precinct within our district."
Likewise, campaigning door to door with as many as 30 volunteers in a day allowed Davis to broach conversations with her fellow Redlanders about the functions of local government.
"Our local governments have massive impacts on our everyday experiences," Davis said. "Some people we spoke with were very aware, and others weren't aware at all. But overall, I think the 2016 election was a wakeup call for many people who came off the sidelines to run for office or get more engaged in community groups or activism."
She said she was especially impressed by the young people she encountered in the months and weeks before the election. One memorable interaction involved a group of neighborhood kids who trick-or-treated at Davis's house on Halloween. 
"They said, 'Our parents are voting for you, and we're so excited to know you,'" she said. "I was taken aback by that — that young people are paying attention to politics and want to see someone positive succeeding. It was sort of a surprise because I hadn't really thought about kids, or people who are younger than voting age, being involved in my campaign."
As a newly elected official, Davis said she hopes to further boost civic engagement among Redlanders by helping them feel more welcome at city council meetings and other community forums.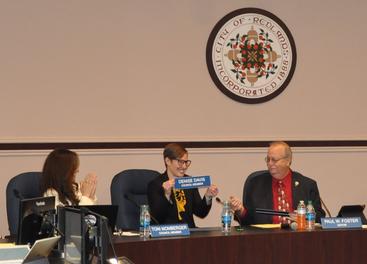 She also intends to honor one of her most significant campaign commitments: supporting public art, which Davis believes can benefit cities in multiple ways. 
"I've been amazed by the incredible transformation that's occurred in one of our downtown alleys," she said of Redlands's colorful Orange Street Alley. "It's a tourist attraction, and it sustains local artists. But lately I've been reading about how public art can reduce crime rates. I rode along with our police department and asked the officers about this, and they said it seems to have been true for Redlands, too — since they transformed the alley, no crime incidents have been reported there."
With the Redlands population continuing to grow, it's a particularly lively time for Davis to be serving on the council. The city's largest employer, the mapping company Esri, is based in Davis's District 1. And a number of smaller neighborhood businesses have become so popular they've been replicated in places like Riverside, Temecula, and Claremont.
"My favorite ice cream shop, A La Minute, is one of those examples, as is Augie's Coffee House," Davis said. "I highly recommend visiting the downtown area and State Street, where Augie's is located, if you're new to Redlands." 
As far as recommendations for other young women interested in running for office? Davis suggests seeking out programs like Emerge California or Ignite, whose on-campus chapters are havens for college-age women with political ambitions. 
"I now have a network of Emerge sisters from my cohort, which graduated in 2018, and I've been able to follow along with campaigns in other cities throughout the state," she said. "From my cohort alone, there were six of us on the ballot in Southern California this year — and we all won our races." 
Media Contacts