Marie Schultz, assistant vice chancellor at the University of California, Riverside, has been named the university's associate vice chancellor for development. Reporting to UCR Vice Chancellor for University Advancement Peter Hayashida, Schultz will oversee both unit-based and central development functions serving the campus.
"Marie is a living testament to the impact of a UCR education and has spent two decades honing her craft as a fundraiser, manager, and leader," said Hayashida. "Her deep knowledge of the people and the place confer enormous value as the campus prepares to close its first comprehensive fundraising campaign."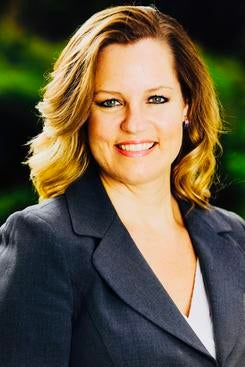 An Inland Empire native, Schultz graduated from UCR in 1998 with a Bachelor of Arts degree in Environmental Science and began her development career as a prospect management and tracking system coordinator. She was progressively promoted through frontline central annual fund and major gifts roles before first becoming director of development for the Graduate School of Education, then senior director overseeing fundraising for the College of Humanities, Arts, and Social Sciences.
Schultz returned to central development in 2012 to oversee campus-wide individual giving, then was promoted to assistant vice chancellor in 2014. She has partnered with academic leaders and colleagues to support unit development efforts for all seven of UCR's colleges and schools, as well as Athletics and the UCR Library.
"I'm both humbled and honored to lead a group of professionals that I respect, admire, and appreciate," said Schultz. "I have watched our team mature and grow over many years and am eager to support the success and professional growth of UCR's talented, committed development staff."
As an alumna for whom UCR was her first-choice college, Schultz feels profound pride in the distinctive mission of the campus, which is a national leader in promoting success among first-generation and low-income students. In addition to her UCR degree, Schultz earned an MBA from the University of Redlands in 2004.
Schultz will oversee successful completion in December 2020 of Living The Promise: The Campaign for UC Riverside; manage the launch of a planned follow-on fundraising initiative; and prepare the campus for an eventual second comprehensive campaign. Her top priorities are further increasing campus collaboration, fueling transformational growth in private support, and investing in learning and growth opportunities for development staff.
Media Contacts