The top floor of the UC Riverside Extension building has a new and esteemed set of occupants: doctors and other health care workers on the front lines of the battle against the COVID-19 pandemic.
About two weeks ago, the university received two requests to provide healthcare workers with alternative housing. The requests came from the Riverside County Medical Association and on behalf UCR School of Medicine residents.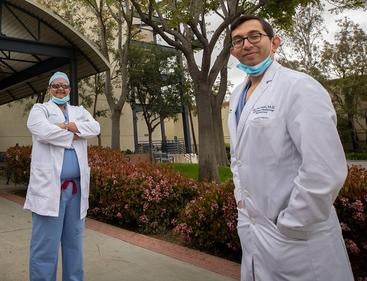 "When we went to the university, it was 'What can we do to help?'" said Dr. Garvin Patel, a physician at Parkview Community Hospital Medical Center and Riverside Community Hospital and an association member who has been staying at the Extension building for more than a week. "They said, 'Give us one day,' and it was up and running."
UCR Extension Dean Kevin Vaughn confirmed the timetable: the medical association called on April 1 and the rooms were ready April 2. He called the decision to let health care workers stay at Extension "a no-brainer."
"For the rest of us, we're navigating this public health crisis from the relative comfort of our homes," Vaughn said. "It's unimaginable to us what these front-line workers are doing."
To date, UC Riverside is the only university in the region that has responded to the call for housing, said Sonya Jackson, director of physician workforce development for the medical association. On the week of April 13, there were about a dozen health care workers on the top floor of the Extension building, with more to come. Forty-one rooms have been made available at the building.
Before becoming the home for University Extension in the early 1990s, the circa-1968 building was a Holiday Inn hotel. The top floor was left as a hotel, typically used by visiting scholars and foreign student delegations.
Across the U.S., health care workers afraid of exposing their families to COVID-19 have been looking for alternate housing. They are camping out in their garages, in their cars, on the floor of their offices.
"They are really stressed and concerned with exposing their families to this virus," Jackson said.
"We are fighting something we know very little about, and learning new things about it all the time," said Patel, who has 2- and 5-year-old children at home. "There are a lot of people walking around with few or no symptoms, and I may be one of those people."
From UCR, those staying at Extension also include Internal Medicine residents who work at Riverside University Health System Medical Center, or RUHS; Kaiser Permanente Riverside Medical Center; and St. Bernadine Medical Center.
"People feared bringing sickness back to their families since they were going to be in a very high-risk environment," said Dr. Daniel Kim, program director for the UCR internal medicine residency, and chair of medicine at RUHS. "And for residents, it's a huge financial drain to set up alternative housing."
At a moment when Riverside County's COVID-19 infection rate doubles every four days, Jackson said she expects all the extension rooms will soon be occupied by health care workers.
"No other campus has stepped up to the plate and assisted," Jackson said. "UCR has been a blessing to our physician community."
Help UCR students impacted by COVID-19.
Media Contacts