Most things, including universities, start with a whisper, a tremor.
UC Riverside bolted from the starting gate, founded as the University of California system's answer to the esteemed private liberal arts colleges of the East.
The chief architect was its first provost, Gordon Watkins, who died 50 years ago, on May 5, 1970. The character of UCR at its founding was said to be the character of Watkins. In fact, UCR's popular designation at the time was "Watkins college."
"There was something about him that was very honorable. He had presence; he had dignity," said E. Dollie Totaro Wolverton, who graduated from UCR in 1957. "To meet him was to know you were speaking to someone very special."
Watkins was a native of Brynmawr, Wales, born March 9, 1889, the 13th son of a coal miner. He also worked as a coal miner, leaving for America at the age of 17 after saving $35 for steamship fare. He earned degrees, including a doctorate in economics from the University of Pennsylvania, joined the UCLA faculty in 1925 as an economics professor, and rose to become UCLA's dean of the College of Letters and Science.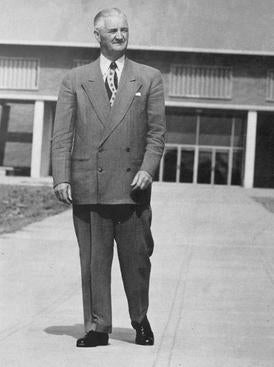 In 1949, at age 60, Watkins' life trajectory changed. He was invited to a dinner hosted by the Citizens University Committee, or CUC, the group promoting higher education in Riverside. The event was at Roy Hunt's Sky Room — a grand dining room with a view where theater magnate Roy Hunt and his wife, Blodwen, hosted gatherings with Riverside's elite, serving grilled steaks and fresh-squeezed orange juice.
Watkins, still a UCLA dean, forecast to the crowd that they were on the precipice of something big. The committee had dreamed of creating "the Oberlin of the West"; Watkins said they should expect instead to be "the Princeton of the West." The crowd was enraptured.
"He was a dynamic, dynamic fellow; he loved everybody, and everybody loved him," CUC President John Gabbert, who was at the dinner, said of Watkins in a 1998 oral history. "He was the perfect person to start this program."
Watkins was soon after named to lead the fledgling UCR campus and given the title of provost. His charge was to build a liberal arts college that would never grow larger than 1,500 students, one that would emphasize teaching over research. 
Watkins spent the first six months of his tenure traveling across the U.S., culling his design from the best of the best liberal arts colleges. Returning to an office in the vine-covered Citrus Experiment Station, Watkins developed a curriculum, formed an administration, added 200 acres, and acquired the 50-acre Canyon Crest housing complex, which abutted campus.
He recruited high-profile, gifted instructors at handsome university salaries, assuring them their focus would be teaching, and not publishing.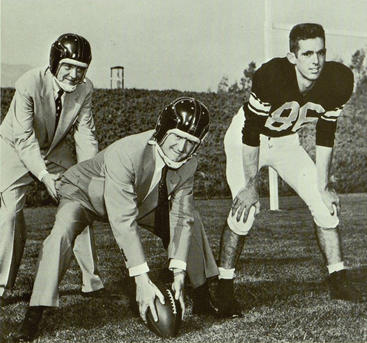 "So far-reaching and vigorous was our recruiting that, on many college campuses, we were characterized as a 'band of bandits,' and 'loathsome, seductive creatures,'" Watkins later recalled.
In 1951, Watkins encountered a seemingly insurmountable delay. He couldn't get structural steel. Its sale was frozen because of the Korean War.
Watkins swung for the fences. He scheduled an appointment to meet with industrialist and kingmaker Floyd Odlum, who lived on a 723-acre ranch in the desert. Odlum once ranked as one of America's 10 wealthiest men. He owned railroads, banks, oil companies and — for a time — Paramount Pictures.
Odlum was deeply connected to President Harry S. Truman — as he had been to FDR — having led the World War II Office of Production Management, which centralized government purchasing.
Watkins and CUC member Philip Boyd traveled together to the meeting at Odlum's ranch in Indio, once a favorite getaway for Amelia Earhart, a close friend of Odlum's aviator wife, Jackie Cochran. The Cochran-Odlum Ranch had hosted the likes of Walt Disney, Bob Hope, and Howard Hughes. In later years, Odlum built a retirement cottage for President Dwight D. Eisenhower on the property.
In passionate terms, Watkins told Odlum of the urgency and necessity of starting the new university. Boyd recalled many years later being "fascinated" by Watkins' persuasive powers.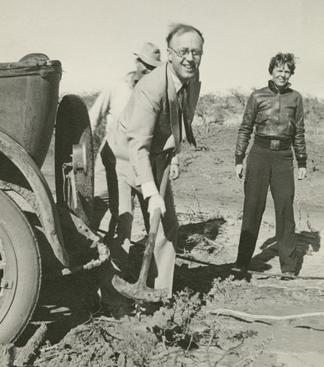 "There was an almost unbelievable result of (Watkins') persuasion, with Mr. Odlum promptly telephoning some government officials who agreed in a few days to send out instructions to the Kaiser Steel Co. to release steel for this important purpose," said Boyd, who — with his wife, Dorothy — donated the money to build the UCR carillon and tower, and also desert holdings for a preserve.
Construction started in 1952, and UCR opened in February 1954. The campus was a cluster of five buildings, with 127 students and 65 faculty members — "Never have so few been taught by so many," Watkins quipped. There were no sidewalks; on rainy days, orange crates were laid on the grass to prevent the campus quad from becoming a mud pit.
Watkins wrote at UCR's opening: "Here at last was a truly small college of liberal arts with its possibilities of individual attention; recognition of the needs of the average student and the requirements of the excellent student; and close, friendly relations between teacher and student … we cherished the idea of a student-centered college."
In a 1998 oral history, pioneer class member Charles Field recalled Watkins saying in his Welsh accent that UCR would serve as "an introduction to your life; an introduction to the kind of learning experience that you ought to make of your life."
Field, a retired judge and UCR's first Foundation Board of Trustees chair, recalled in the interview that Watkins was afforded a standing ovation at every occasion.
"He exuded confidence without ever giving the impression he was trying," said Charles Young, president of UCR's first class, and later chancellor of UCLA. "He was gentle — very gentle — but very clearly in charge without ever showing he was in charge."
Watkins retired in 1956, and was succeeded by Herman Spieth, a scientist who favored a university model over that of a liberal arts college. By 1959, at the urging of legendary UC President Clark Kerr, UCR made the shift from liberal arts college to general campus. It resulted in great friction between faculty in the humanities — who wished to remain focused on teaching — and in the sciences, who wanted a research-first model. Liberal arts faculty members felt they had been betrayed, having been lured by the prospect of teaching over academic scholarship.
"It caused difficulties and consternation," Young said. "It slowed down the campus's growth for about 10 years."
In 1962, Watkins wrote: "It would be untruthful and dishonest for me to disclaim a real measure of disappointment and disillusionment, for the dreams I had woven from the fine threads of a sensitive appreciation of the social value of broadly cultivated men and women seemed inevitably to disappear in the mists of hyperspecialization which normally, not necessarily, result from departmentalization."
Kerr, the UC president, wrote in his memoir "The Gold & The Blue" that the experience deflated Watkins. Watkins had always been an energetic personality, Kerr said, but he recalled a more muted man when the two met during Watkins' retirement.
UCR wasn't Watkins' last stop professionally. In 1961 he was named dean — first acting, then permanent— of the newly minted School of Education at UC Santa Barbara, retiring again in his mid-70s, in 1965.
He died at 81 years old on May 5, 1970. His wife, Anna, who had also been a university economics instructor, died three months later. 
At a memorial service for the couple in January 1971, names from the annals of UCR history spoke, including Boyd, Arthur Turner, and John Olmstead. The Welsh song "Men of Harlech" was sung by the University Choral Society.
There is a street by campus that bears his name, and Watkins Hall was named for him in 1966, with a tree planted beside it known as "The Watkins Oak." The Watkins Society was formed in 1994 to recognize donors who leave planned, or deferred, gifts to the university.
The Press-Enterprise newspaper published an editorial after Watkins died. It read, in part: "Few institutions so fully represent the Emersonian concept of 'the lengthened shadow of one man.' If Dr. Watkins' determination had ever flagged, if he had taken the easy way out and gone back to his library at Westwood, there might never have been a new college here."
Media Contacts