Loralee Larios, an assistant professor and plant ecologist, is one of only 10 researchers nationwide to receive the Ecological Society of America's prestigious 2021 Early Career Fellowship.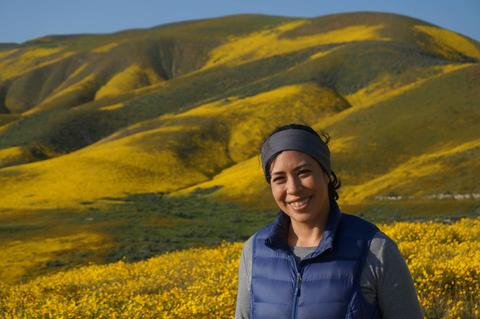 According to the society's webpage, Larios was selected for "innovative research in plant community ecology, emerging leadership in restoration ecology, exceptional outreach and community engagement, and significant work on diversifying the discipline of ecology."
The society selects offers two types of annual awards to honor members who have made outstanding contributions to the field of ecology based on their career stage: Fellows and Early Career Fellows.
Early career fellows, like Larios, are elected for five years and are within eight years of completing their doctorate. Honorees are elected on the basis of showing promise in doing outstanding work in their respective fields. 
Larios' research involves plant population as well as plant invasion and restoration ecology. She works closely with local land managers to translate research into effective biodiversity protection strategies.
"I lead a plant ecology lab where we are interested in understanding the dynamics that maintain the diversity of plants that we see in natural ecosystems and how environmental change can alter those dynamics," Larios said of her research. "I'm very honored to be part of such an outstanding cohort of scientists and educators, and I'm very grateful for all the amazing mentors, colleagues, friends/family, and students whose constant support is invaluable."