AN ORAL HISTORY OF THE UCR FOOTBALL PROGRAM
By Omar Shamout
DID YOU KNOW? 
Seven former Highlanders went on to play in the National Football League: Frank Johnson, Derek Williams, Michael Basinger, Russ Bolinger, Butch Johnson, Dan Bunz, and Calvin Sweeney.
Though no one has thought of UC Riverside as a football school for a long time, the university's players and coaches left an indelible footprint during the 21 seasons UCR fielded a team from 1955-75. Many who played for the Highlanders consider their time as student-athletes to be one of the best experiences of their lives, with players remaining best friends for decades after they took off their helmets and cleats for the last time. Among its accomplishments, the Highlander football program produced one undefeated team, three Division II California Collegiate Athletic Association championships, and seven National Football League players. Notably, UCR's all-time record includes 84 wins, 83 losses, and 8 ties — proof that the Highlanders were winners on the gridiron.
The Highlanders compiled impressive records under the tutelage of several coaches. Under Jim Whitley, the team was undefeated in 1960, at 7-0-1. Quarterback Pete Kettela led the Highlanders during their undefeated season and was named to that year's Small-College All-American team.
Kettela later returned as coach, compiling an overall record of 23-19-2. In 1968, under Kettela, the team was 7-1-1, including a 56-6 blowout over Azusa Pacific at home. The quarterback in 1968, Nick Goldware, was ranked seventh in the nation among small-college quarterbacks.
Beginning in 1972, Wayne Howard led the Highlanders to a 17-3 record over his two seasons with the team, including a 9-1 record in 1972, capturing a conference championship. Bob Toledo was the final head coach, compiling a 15-6 record and conference championships in 1974 and 1975.
But in December 1975, citing poor attendance and gate receipts, the university discontinued the program.
We spoke to more than a dozen former players, coaches — and a spouse — to get an in-depth picture of the UCR football team from those who built its legacy one tackle and touchdown at a time. This is their story.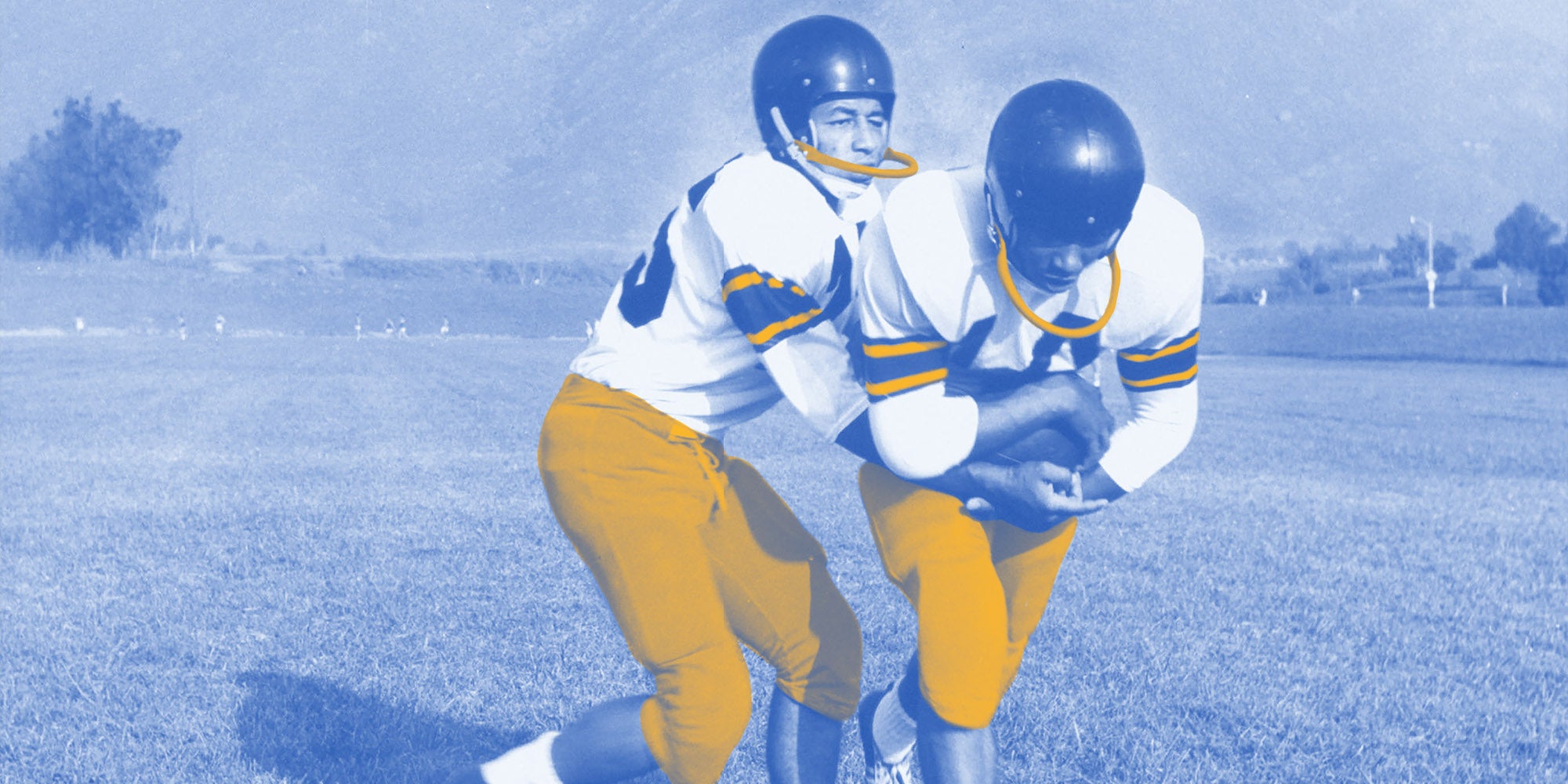 JOHN WALLACE (1956-60)
Wallace played both right guard and end on offense and middle linebacker on defense. At the end of his first season, he was named the team's "Best Tackler." He served as team captain during his junior and senior seasons and was named Best Defensive Player and Most Valuable Player.
FIRST DAYS ON THE FIELD
John Wallace: That first game in 1956 was not one I will ever forget, although I've tried very hard. We were loaded on a bus in Riverside and sent off to Flagstaff, Arizona, to play Arizona State. I don't think any of them weighed less than 200 pounds. Aboard the bus for the long trip home — our quarterback was on a stretcher across the top of some seats — we tried very hard to put a glass-half-full perspective on the season ahead after having just lost our opening game 59-0. Searching for a ray of hope, some of us thought, "At least next week we play old Dick Nixon's alma mater, Whittier College. The Poets! How tough can they be?" We left Whittier on the wrong end of a 60-0 loss. At least the bus ride home was shorter.
John Elstead: In 1960, the second day I was there, I was taking one of the mandatory PE classes, and we were playing touch football. A coach named Dwain Lewis came up to me and said, "John Elstead, you were a really good football player at Ramona High School. Why aren't you playing football for us?" I said I wanted to concentrate on academics. Dwain said, "If you can't make a practice because you've got to study, no problem." So, I decided to play football. I ran all the kicks back, all the punts back, played defensive back and running back. Sundays I was in bed all day long.
Larry Myers: The first practice, I'm up with the backs. At the afternoon session, the coach says, "You're no back. You're a guard." My life flashed in front of me. I thought, "I'm going to die." At that time, I was probably 157 pounds. My heaviest was probably 167. I became a guard and played for four years.
Warren Easley: I went to UCR to play basketball, but my sophomore year I got talked into going out for football. It was my roommate, Gary Lindberg. He and a couple other guys talked me into it — maybe John Elstead. That was the Pete Kettela era. I played offensive and defensive end.
Ed Blakely: (In 1959), we played Cal Western University (now University of San Diego). They were big, huge guys. We played at home, ate in the same residence hall. We watched them walking to their side of the hall, and we almost fainted. We saw them smirking, laughing at us little guys. By halftime, I think we were up 20-0. They were big, but slow. (Head coach) Whitley taught us a very fast football game. With me, a quarterback who could also play halfback; and Ketella, they never knew what to do with us. The team almost jumped off the field, we were so happy. They walked home with their tails between their legs.
Larry Myers: Pete Kettela was the first, I would say, bona fide great player out of Riverside. He was our first All-American quarterback.
PETE KETTELA (1958-61; head coach, 1966-69)
Kettela quarterbacked UCR to an undefeated season in 1960. He would later serve as the Highlanders' head football coach from 1966-69. Kettela died in 2013.
WARREN EASLEY (1960-63)
Easley played offensive and defensive end his first season followed by quarterback for two seasons.
ATHLETICS VS. ACADEMICS
Ed Blakely: I don't think we had anybody on the team with a B average; everyone was higher. We went to the library every night.
Warren Easley: A bunch of us had ... it was either English 1A or a Comp Lit course. We were reading Shakespeare. We got this group of guys around in the bus, and we were reading it out loud. That was pretty typical. (Head coach) Jim Whitley was back there rolling his eyes, saying, "This is what I have to work with?"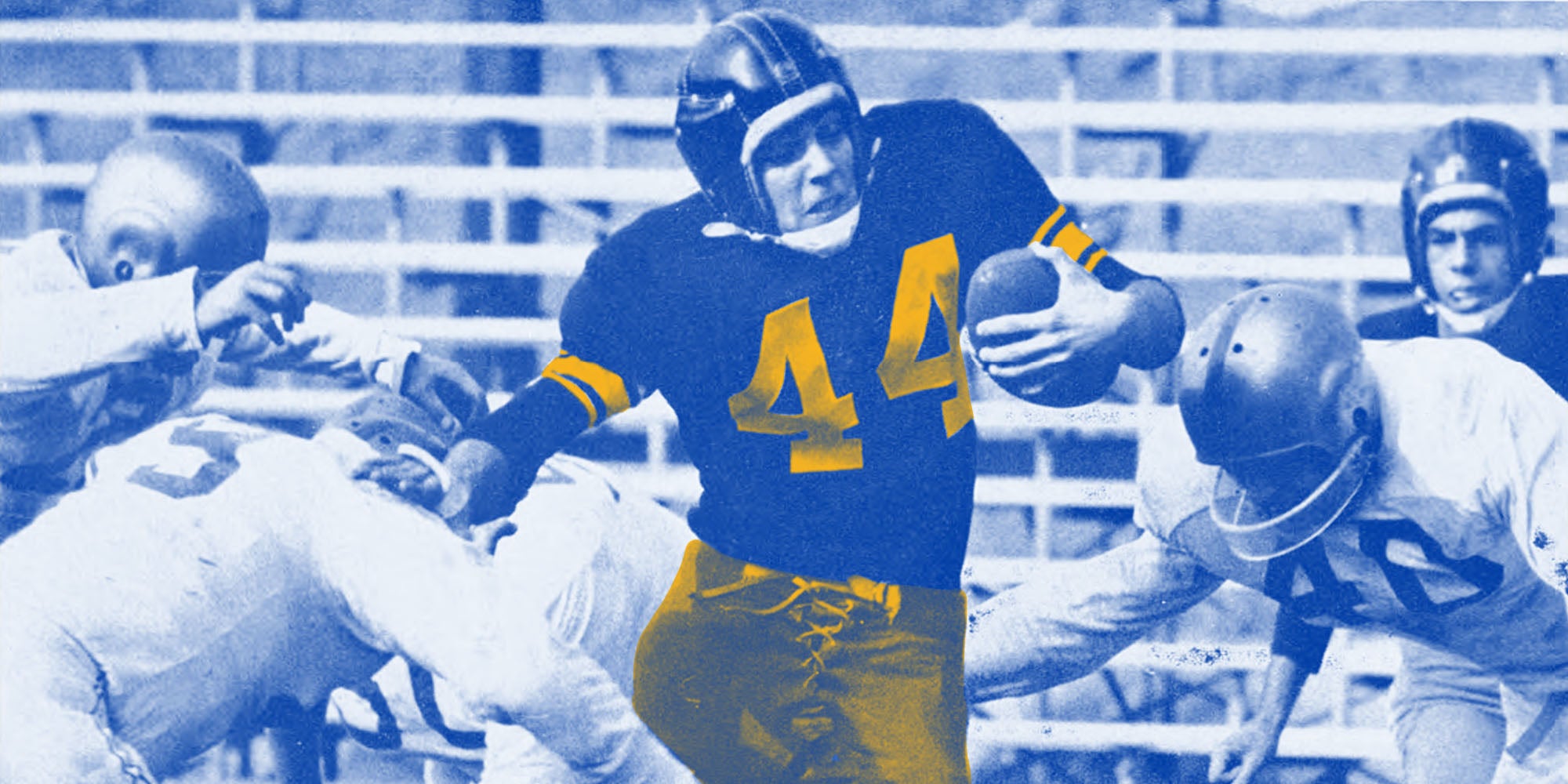 HUMBLE BEGINNINGS
John Elstead: There was just no money for football. We had bloody leather helmets! My junior year, we were playing Pomona at Riverside. We were in the locker room getting ready to go out, and I can't find my shoes. I played the first two plays barefooted. (Coach) Dwain Lewis finally runs out and gives me this new pair of Riddell shoes. I'd been playing about two quarters, and I developed these big, huge blisters. I came out and said, "Dwain, these shoes have given me blisters," and he says, "Don't worry, John, I can fix that." He took some scissors and cut the skin away. He took Tuf-Skin and sprayed it right into the open wounds. My brother said, "Johnny, I could hear you yell all the way up in the back stands." I ran for 133 yards that game.
Larry Myers: My first year, I played with a leather helmet. And I have to admit the reason was because my head was so small, they couldn't find a helmet to fit me. And so somewhere they came up with this old leather helmet, made me feel like the Knute Rockne era in the '30s. But I have to tell you, that was the best helmet I ever had. The first game, we played Chino Men's Institution. They're in uniform, so you forget you're in a prison. There's as many guards as football players.
JOHN ELSTEAD (1960, 1962-64)
Elstead was a running back and defensive back safety during his time as a Highlander.
ED BLAKELY (1958-60)
Blakely was the team captain and quarterback during the 1958 and 1959 seasons and earned UCR Athlete of the Year honors in 1959.
UNDEFEATED SEASON (1960)
Ed Blakely: We beat a lot of very big schools in 1960 — UC Davis.
Warren Easley: We beat UC Davis, and that's what sealed our undefeated season. They were big bruisers. They were driving down the field on their last possession with time running out, gaining yards every play. We were tired and beat up. They got right down to about the 11-yard line, and they decided to throw a pass. I stood up, and the ball hit me right in the stomach, so I intercepted it. I was playing linebacker. Warren (Blakely) was right behind me. He came up afterward and said, "You realize I was going to catch that ball?"
Larry Myers: There was an article in The Press-Enterprise at the time: "Toast of the Coast." It listed all the unbeaten college teams after week six. There was Alabama, Michigan, all of these (big teams). Then there was UC Riverside, 6-0.
John Elstead: I think it was the second-to-last game. We hadn't lost, and we were playing Azusa (now Azusa Pacific). It was a very rainy day; the field was muddy.
Larry Myers: You couldn't get your footing. If you slipped down, you're tripping over four or five people. It was a comedy of errors. The bloodiest game I've ever played in.
Warren Easley: We were supposed to beat these guys by a ton, but they were really tough.
Larry Myers: Azusa had one of the shortest quarterbacks I've ever seen. They also had one of the tallest ends I've ever seen. The quarterback couldn't see over anybody. He would go back about three or four steps and just throw it up in the air. This (end), his arm reach probably went up to 10 feet, and all he had to do was look up and get under the ball because our halfback couldn't reach his shoulders. That's all they did. Our perfect record disappeared.
John Elstead: One of our halfbacks, Bill Rommel, a little short guy, got tackled by about four or five guys, and there was a foot of water on the field.
Warren Easley: Billy Rommel weighed about 130 pounds, but he was pure energy. Billy took the ball off tackle and about five guys hit him. It was this great big scrum with all these guys on top of him.
John Elstead: About three of the Azusa players jumped on, and all of a sudden, we hear this screaming and yelling. We dig him out, and Rommel was drowning! His head was under water!
Warren Easley: The rest ran up, and they were peeling people off. They finally got to the bottom, and Rommel had his face right in a puddle. When he came up, his face was covered with mud, and he's just spitting mud and water.
John Elstead: With about three or four minutes left to play, it was 0-0, and Azusa scored a touchdown. Rather than kick  the extra point, they ran it over, so suddenly it was 8-0, and we were about to lose our undefeated season. Azusa kicked off, and I took the ball in the end zone and ran it all the way back 100 yards for a touchdown. My younger brother was watching the game. Later, he says to me, "John (the stadium announcer) was yelling, 'There goes McAuley running for a touchdown!'" Well, there was this guy named McAuley playing for us, but he had been injured. They gave me his jersey. McAuley was sitting up in the stands and listening to himself getting all the credit for running this touchdown.
Larry Myers: We ended up with an 8-8 tie.
LASTING MEMORIES
John Elstead: I always tell people we played at the Rose Bowl. We played Caltech. I think there were three fans there.
Larry Myers: At the time, the Rose Bowl did not have lights. They would jury-rig a bank of maybe 20 lights on either side of the field at the 50-yard line. Between the 40 and the 40, it was as bright as day, but from the 40 to the 20, it was sort of getting into the Twilight Zone, and from the 20 into the end zone it was dark. You couldn't see anything, but that was fun.
John Elstead: Bob Dylan played this concert, and he was in the Barn. There was a bunch of us sitting there. I recognized him. Then he starts talking, "Oh, I just played for you guys. You know any cheap motels around here?" He didn't have any money, but he had his bag of weed and his guitar on his back, and we said, "Why don't you come spend the night with us?" So Bob Dylan came home and spent the night with us, and he broke out the best dope I've ever had in my life. About a year later, out comes "Blowin' in the Wind."
Warren Easley: My senior year we went up to play Santa Clara. We checked into a motel somewhere on the peninsula, and it was when Nixon was running for governor after he'd been vice president. My roommate Gary Lindberg and I noticed this Nixon campaign bus was parked in the parking lot. After dinner, we went walking through the motel. We came to a room and heard all kinds of typewriters. We knocked and Nixon's campaign manager came to the door. We said, "We're from the UCR football team, and we just wanted to say hi to Nixon." And he said, "What are you doing in the morning?" I said, "We're having breakfast, and then we're going to go play a football game." He said, "I'll make sure that Mr. Nixon comes and says hello." So, we're having a team breakfast, and in walks Nixon. We talked for a while, and he took a bunch of photographs. They took our names and addresses, and they were going to mail us photographs. Then Nixon lost the election, and we never got our photographs.
LARRY MYERS (1960-63)
Myers was a lineman during his four years on the team and helped run the UCR Intramural Sports program for three years. In 1964, he was honored as UCR's All-University Athlete.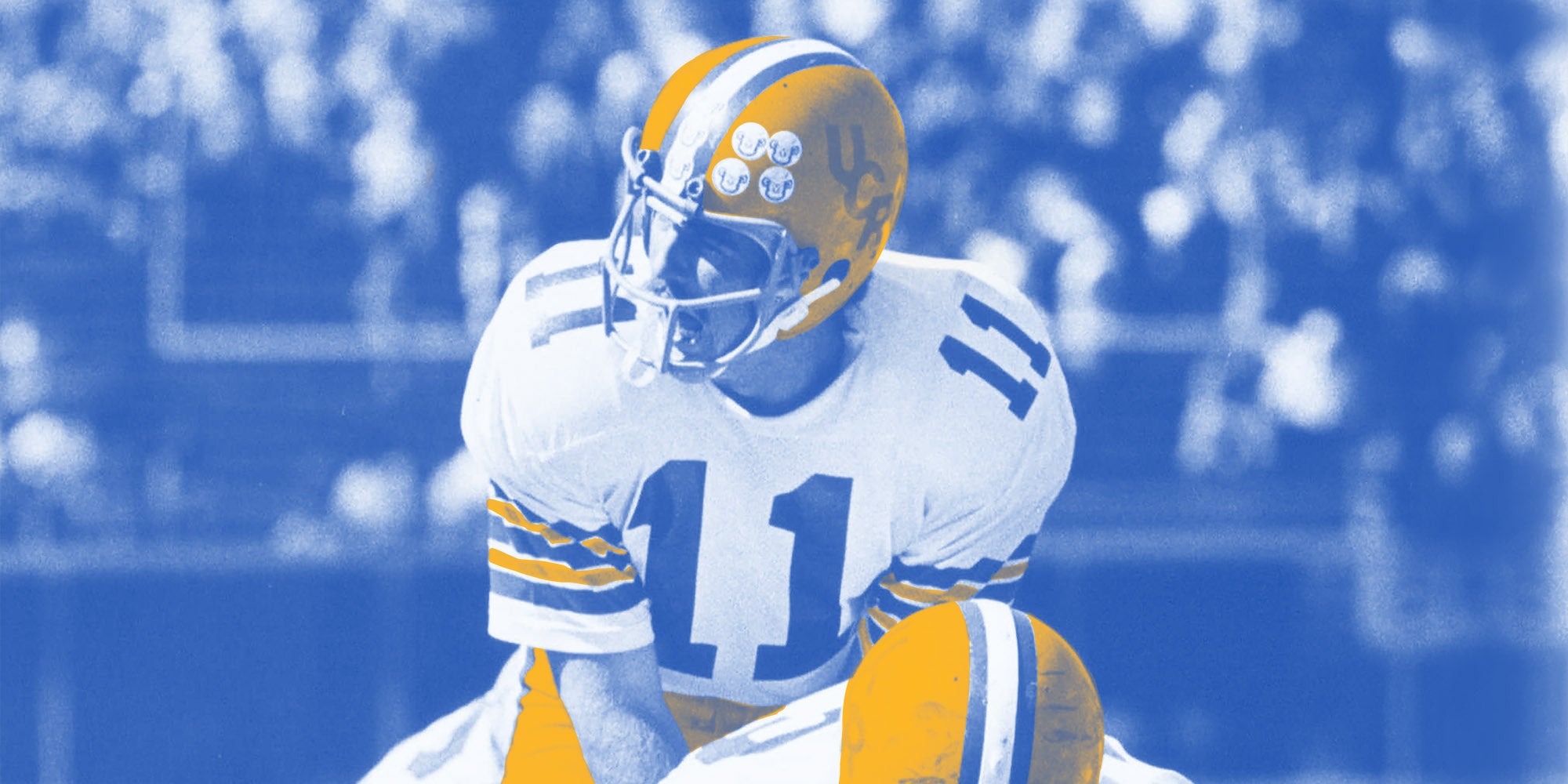 COACH KETTELA
Nick Goldware: Pete Kettela, who was the head football coach at that time, was very supportive of me coming and playing football for him. I was a very mobile quarterback. I threw the ball quite a bit to our star running back, Ty Hoaks. For the level of college football that we were playing, we were an excellent football team. Against Loyola Marymount, I got tackled after a gain and kind of late. Coach Kettela came out with the trainer and wanted to know what was wrong. I said, "Coach, I'm actually taking a breather here." You could hear the other team hollering. I jumped up, went back to the huddle, and we went on to win the game. After the season was over, Loyola had a Most Valuable Opponent award that they gave every year to the most valuable opponent voted on by their team, and they chose me. They invited me to their annual banquet. It blew me away.
Jill Kettela (wife of Pete Kettela): I always thought Nick was such a great quarterback. Pete was a teacher first, and I think he just evolved into (coaching). There's a lot of people that can coach, but it's the teaching aspect of it, the detail. He taught archery or tennis, golf, different things besides football. He was very proud, number one, that he was a graduate and became a coach at his alma mater. And I think he was proud of the comradery of the players that have stayed in contact all those years later.
NICK GOLDWARE (1968)
Goldware ranked seventh in the nation among small college quarterbacks setting eight school records including total offense, points scored, and touchdown passes on his way to being named Most Outstanding Player.
WAYNE HOWARD (Head coach, 1972-1973)
Howard was head coach at UC Riverside from 1972 to 1973.
COACH HOWARD
Wayne Howard: I was in Northern California coaching Gavilan, a junior college. We had a good record. My wife said, "There's an opening at UC Riverside. You should apply for it." So, I drove there and talked to some of the people. They said, "We'll call you back if we want you." Well, the next day they called back.
Pat Hill: I was part of the selection committee. It was unanimous that we go with Wayne Howard. He demanded a lot, but he got a lot out of his players. Wayne Howard: We didn't have very many players at that time. In 1972, we went 9-1. We played that whole year with only 50 players. That's very, very hard to do.
Ben Bunz: (Wayne Howard) had a really good system of accountability for the players. You had to take a written test before the game — how you're supposed to do things, like what foot do you move first on this particular block?
Louie Fiatoa: To be a successful coach, you've got to make your players want to play for you. The guys back in the '72-'73 team, we wanted to play for Wayne Howard.
PAT HILL (1970-73)
Hill earned All-America honors in 1972 and 1973 as a center for the Highlanders. He later served as an assistant coach with the University of Utah and UNLV before joining the Calgary Stampede of the Canadian Football League for one season. Hill's next coaching stops were Fresno State and the University of Arizona, and he got his first NFL gig in 1992 as the tight ends and offensive line coach with the Cleveland Browns. After one season with the Baltimore Ravens in 1996, he returned to Fresno State and served as the team's head coach until 2011. Hill was inducted into the UCR Athletics Hall of Fame in 1989.
LOUIE FIATOA (1970-73)
Fiatoa was a starter at defensive end for the UC Riverside football team. In 1973, he was named the Highlanders team MVP, and earned All-California Collegiate Athletic Association honors.
A NEW ERA
Pat Hill: The games we were playing really changed when I first got there. We were playing Whittier, Redlands, schools of that nature. But we started picking up teams like Long Beach State, and University of Nevada, Las Vegas, and Fullerton, those types of teams.
Ben Bunz: We won our first game, and won our next game, and our next, and before we knew it, we came face to face with UC Davis, and that was our letdown. We lost to Davis on a fake punt. Otherwise, we would have had a perfect record that season of '72. That was really tough.
Pat Hill: There was about 12 of us that played at UCR as freshmen. We wanted to change the culture, and we were able to do that with a championship as juniors. Louie Fiatoa was an outstanding player for us. Barry MacDonald, Roger Lopez, Lawrence Allan, Wayne Weathers. Then Wayne Howard came in and recruited some really good players.
Bill Taylor: There's 15 or 16 of us that were junior college transfers. Many of those guys, bless their hearts, were renegades.
Pat Hill: We had a very physical football team. Defensively, we were really good.
Bill Taylor: Our defense was absolutely ruthless. I hated practicing against them.
Louie Fiatoa: Some of the most intense, hardest hits, were in our practices. We love each other off the field, but on the field, man, it's just that attitude that you say to yourself, "I'm the baddest mofo here, and I'm going to prove it to you."
Bill Taylor: My junior year, I think they took out six of 10 quarterbacks that started against us. We got a lot of penalties. Wayne Howard: We got a little more penalized than most teams do because they were so fired up all the time.
Louie Fiatoa: There was just enough craziness — but enough soberness — to get the job done.
HIGHLANDER APPRECIATION
Bill Taylor: I wanted to throw 30 or 40 times a game, but that just wasn't the way it was going to work. Not when you've got an All-American tailback in Derrick Williams.
Pat Hill: Derrick Williams was a running back with the Rams.  We had a lot of guys that went on to the NFL from those teams. Michael Basinger went to the Green Bay Packers. Butch Johnson played for the Dallas Cowboys. Calvin Sweeney, who transferred to USC after the program dropped, went on to play with the Pittsburgh Steelers. Frank Johnson was a tight end with the Rams. Russ Bolinger with the Lions, and our offensive lineman, Ben Bunz, played for the 49ers.
Butch Johnson: In that three-year period, I think it was maybe 17 guys, and not just in the NFL, but in Canada, the World Football League. Seventeen guys coming out of that little school.
Wayne Howard: Of all the people I ever coached, Pat Hill tried the hardest and knew the most about his position and what he was doing. You could tell he was going to be a great coach.
Nick Tavaglione Jr.: Pat Hill, great guy, crazy. When he played center for us, he probably weighed 185 pounds. That guy, he would dominate people at 185 pounds just because he loved to play the game, and we had a whole team of guys like that.
Pat Hill: Ron McBride, my (offensive) line coach, was very influential in so many young men's lives and still is. I had a feeling that I wanted to coach coming out of high school, but Ronnie really solidified that feeling. He's the one that inspired me to go on to be a coach.
Bill Taylor: (Butch Johnson) is an amazing athlete. He's a track athlete, as well. He could beat any defense on any play at any given time, and he'd tell you, and he would back it up. He would go up in traffic. He was unafraid. He ran great routes. He made me look really, really good. Defenses went nuts trying to cover him. They couldn't.
BILL TAYLOR (1972-73)
Bill Taylor transferred to UCR his junior year and was quarterback for three seasons.
TEAM TRADITIONS
Bill Taylor: The team did have a tradition. We used to play two songs by Led Zeppelin in that big field house. I haven't thought about this in 40 years. We used to play "Stairway to Heaven" and "Rock and Roll," and that would put everybody in a frenzy, except me. Everybody would go nuts, and they would run on the field. I would leave early and play catch with a ball boy.
Ben Bunz: Wayne (Howard) was just intense. He would get in there, and he'd start looking at everybody and talking to you, getting us fired up for the games. He would just get people lit up. I'd never seen anything like it.
Bill Taylor: A complete crazy man — emotional, pyrotechnics, yelling, screaming. I'd seen nothing like it in my life, never had anybody do those kinds of histrionics. (Wayne Howard) and Ron McBride and the other coaches, they did some sort of magic. We didn't understand it. I guess they just gave us this unique freedom to just be ourselves.
Ben Bunz: Our first game, there was a little maintenance shack by the old track and the football field. As Wayne (Howard) got to a crescendo, and they opened the big garage door, we came running out, and our fullback fell down. They were so fired up; they just ran over him.
Louie Fiatoa: He couldn't play the game because his ankle was so bad.
Pat Hill: The offensive line, we used to go to a place called Pinnacle Peak out in Colton, and you could get a T-bone steak for $7.50 with a bowl of beans and a piece of corn on the cob. We used to go there the night before a home game, and the night before we traveled.
Ben Bunz: Pinnacle Peak. I still think about that. We loved going out there. We'd be talking about our opponents and things like that. All the things we did as a team during that season were very magical. It just was really something I'll never forget. I still have half those guys on my phone dialing lists.
NICK TAVAGLIONE JR. (1973-75)
Tavaglione Jr. played fullback for three seasons and was special teams captain.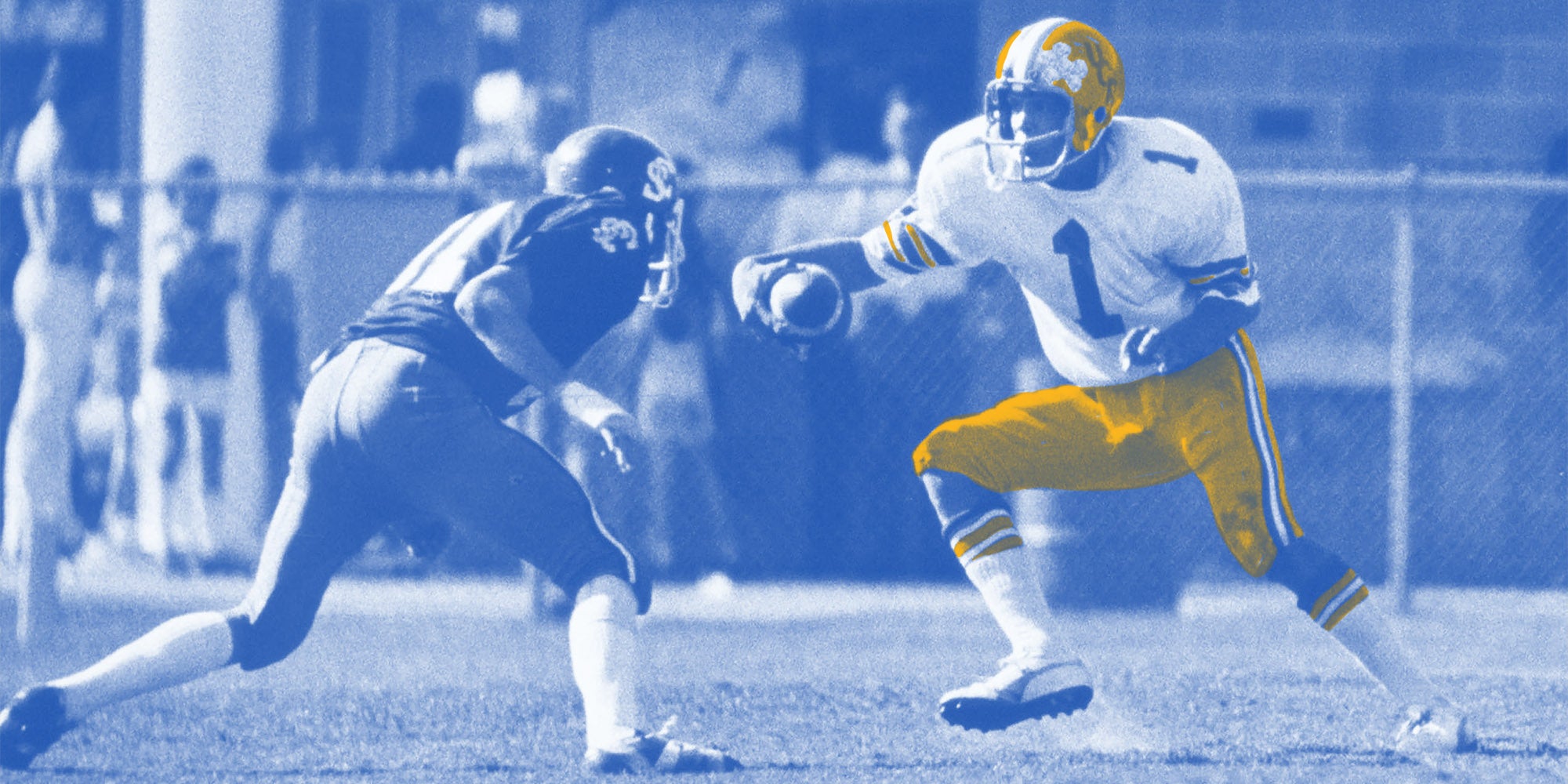 MEMORABLE MOMENTS
Butch Johnson: By the time we got to my sophomore year, the campus lit up, and they were coming out to the games. You could see the pride in how the team was doing. Everybody was having a good time.
Pat Hill: We'd get 5,000-6,000 people in that little stadium. It'd be full; it was the place to go. We beat Cal State Fullerton in Anaheim Stadium. We beat Long Beach State soundly. Beat UNLV in Las Vegas. (We had) a last second field goal to beat a very good Cal State Northridge team my senior year, big game.
Wayne Howard: It was a 40- yard field goal. It meant the championship. In about a minute and a half, we went the length of the field. (Bill Taylor) made it, and we had the best pileup you've ever seen.
Pat Hill: Probably the most memorable game was the Cal Poly (San Luis Obispo) game, even though we lost, because it was two highly successful programs with good records. It might have had the biggest crowd in UCR history there that night. The stairs were full, and they were standing around the track. It was a big night in the City of Riverside.
Russ Bolinger: I might be the only college football player ever to play a doubleheader. It was the last game of the season my freshman year. The varsity went down to play on Saturday morning in San Diego. I started and played the whole game. The equipment guy was going to rush back from the varsity to the JV game, which was a night game. I was wearing the same gear. So, he's in this hippie van, and he got a 12-pack of beer. It was a two-and-a-half-hour drive. I played a doubleheader while drinking a 12-pack of beer between games. It's my claim to fame.
RUSS BOLINGER (1972-73)
Bolinger was a tight end on the UC Riverside football team who would later go on to play professionally with the NFL's Detroit Lions (1976- 82) and Los Angeles Rams (1983-85), and the USFL's Memphis Showboats.
BUTCH JOHNSON (1972-75)
Johnson led the nation's Division II receivers with 67 catches in 1975 and earned All-America honors. He would go on to a 10-year career in the NFL (1976-85) with the Dallas Cowboys and Denver Broncos, appearing in five NFC Championship Games and two Super Bowls. Johnson caught a 45-yard touchdown pass in Super Bowl XII, helping the Cowboys defeat the Broncos 27-10. Johnson is also known for inventing the touchdown celebration known as the "California Quake." He was inducted into the UCR Athletics Hall of Fame in 1986.
COACH TOLEDO
Butch Johnson: After my sophomore year, Wayne Howard left and went to Long Beach State. Then Bob Toledo comes in.
Nick Tavaglione, Jr.: Bob Toledo was a completely different type of coach. Howard was rahrah, one of the guys. (Toledo) coached from above. I'm up here, and you guys are my team and my players, but remember I'm the coach. It was a little bit hard to get used to, but they both were winners.
Butch Johnson: (Toledo) calls me in his office and says, "I need you to stay and play, and I want you wearing No. 1 because I'm going to make you the No. 1 receiver in the nation. I'm bringing out my guy Danny Hayes (to play quarterback)." (Hayes) was at a JC up in San Francisco. That junior year I had 800 yards or something. Then the next year, 800 yards.
Nick Tavaglione Jr.: Bob was a quarterback himself. When you throw in Butch Johnson and guys like that, you're going to throw the ball a lot. Why not use guys that have super talent and win some games? He was phenomenal.
Butch Johnson: Spring practice my junior year, Red Hickey came out, who was a famous Dallas Cowboys scout. That day, I was going to a track meet. Bob Toledo crossed the track and said, "Football practice is about to start. There's a Dallas Cowboys scout here, and I told him to take a look at you." I said, "Coach, you know what the deal is. It's a $400 (scholarship) for track, $400 (scholarship) for football." I said, "I've got to go." He said, "I cannot believe you." He shook his head and turned around and walked away. I'd never seen him that upset. So, I said, "Maybe I better stay."
HIGHLANDERS FOREVER
Nick Tavaglione, Jr.: I played on a lot of teams, a lot of sports, but that group of guys those last two or three years, I've never been so close to a group of guys. They were our family. It's a special bond not all athletes get to experience and appreciate.
Louie Fiatoa: More than football, it's the friendships; it's the bonds. I thank God to this day … because these guys, 40-50 years later, when I talk to them, it's like we're at the Bell Tower yesterday talking about stupid things. We would do anything for each other, even today.
Ben Bunz: I really relate a lot of it to the comradery you feel in the military, where you are in a very disciplined situation, and you work your butt off, and you give everything you could give for this victory, for this team, these people, these coaches. We played and had fun, but when it was time to get down to business, you knew it. For me personally, the hardest thing was to leave.
BEN BUNZ (1971-74)
Bunz was a linebacker while at UC Riverside. He later played in the NFL for the San Francisco 49ers and Detroit Lions in an eight-year career that lasted from 1978 to 1985
When Larry L. Myers played football and baseball at UC Riverside in the early 60s, making hits on the field provided a necessary balance to clear his mind before he hit the books in the library. Now, he's established the Larry Myers Highlander Athletic Alumni Endowed Fund with hopes that others will join him in supporting current and future Highlanders in competition, in the classroom, and beyond.
Make your gift online at beyondbrilliant.ucr.edu and it will be matched dollar for dollar, doubling your impact in the lives of student-athletes. For more information, contact Senior Director of Development for Athletics Brandon Mulder at (951) 236-8585 or brandon.mulder@ucr.edu.
---
Return to UCR Magazine: Fall 2021