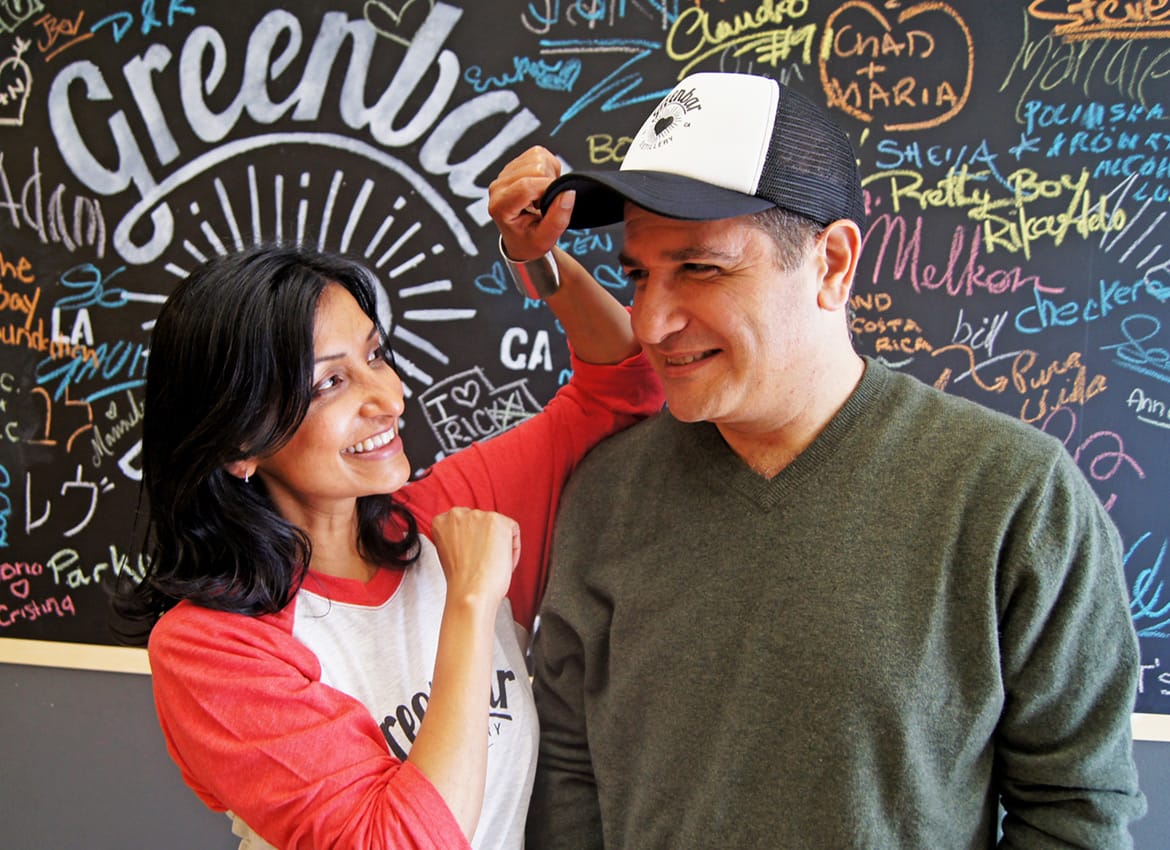 THAT'S THE SPIRIT
As co-founder of LA's Greenbar Distillery, alumna Litty Mathew creates carbon negative cocktails from organic fare
By Sarah Nightingale
Litty Mathew pressed the shot glass to her lips and winced as she took a sip of the honey-colored liquid inside. The high-proof brandy she choked down is a staple at Armenian celebrations. And it wasn't the first time Mathew had tasted it. In fact, since she and her Armenian boyfriend Melkon Khosrovian had announced their engagement, toasts with the traditional drink had become a regular occurrence at family gatherings.
"The problem was that it tasted like nail polish remover to me," Mathew remembers of the strong spirit. "Melkon knew this and wanted to make something I would actually enjoy."
The gesture from her fiancé was an ambitious one. With a penchant for creating flavorful dishes, Mathew had spent two stints in France before the couple met.
"I spent a year studying abroad in Lyon through the UC Education Abroad Program," said Mathew, who graduated from UCR in 1991 with a bachelor's degree in economics and political science. "I later went back and spent a quarter in culinary school, although I didn't finish the full program."
While completing Le Cordon Bleu wasn't in the cards for Mathew, experimenting with fresh ingredients found at French farmers markets had given her the confidence to layer, taste, and adjust flavors. Khosrovian followed suit, creating a vodka infused with blackberries, kumquats, and vanilla beans. The drink was a hit. Not just with Mathew, but with family and friends. Subsequent infusions the couple created, presented in mason jars with pretty labels, were equally popular.
"It turns out our infusions had an audience," Mathew said. "Cousins started asking for them, and they gave them to their friends. Then people started calling us directly. We knew we had to disconnect the phone or turn our hobby into a business."
Greener Pastures
The opportunity to launch a spirits business came at a time when both Mathew and Khosrovian were at a crossroads in their careers. The couple met as graduate students in USC's journalism school, branching off into careers in public relations for Mathew and the dotcom world for Khosrovian. Neither felt like they'd found their calling.
"We saw an opportunity and we took a leap," Mathew said, adding that the couple were excited about becoming business partners.
"If you start a business without your spouse, you never see each other. I know a lot of couples don't want to work together, but that was what we wanted."
In 2004, they launched Greenbar Distillery in an industrial park in Monrovia, California. The unit was anything but fancy, with its roll-up door and bare interior. Despite the bland setting, the couple got to work combining fruits, herbs, and spices into alcohol to create new flavors.
"At first it was just the two of us scaling up our home production," Mathew said, describing the excitement they felt transitioning from mason jars to 25-gallon stainless steel tanks called fustinox.
Their products — spirits, sourced from specialty distilleries blended with their infusions — started to appear on shelves, first at boutique stores frequented by cocktail connoisseurs, then at wholesalers that stock LA's trendy bars. Over time, through trial and error, the couple learned the distilling process, allowing them to make their aromatic spirits from scratch.
Growing a business that relied on fresh ingredients presented challenges, Mathew said. Achieving consistency in a relatively simple fruit infusion, like lemon vodka, for example, was impacted by ripeness, growing location, and season. Taste and experience became key components of quality control.
"Using natural ingredients instead of synthetic ingredients is a bit like the difference between driving a train and flying an airplane," Mathew said. "With a train, you stay on track and don't expect any huge changes. With an airplane, you know the landing strip is down there somewhere, but you have a lot of work to do to navigate to it."
A vendor, hearing Mathew lament about lemons, offered a sample of synthetic flavor, touting it as both consistent and cost effective.
"It tasted like furniture polish or floor cleaner," Mathew said. "It was a hard 'no' for us."
It's Only Natural
Reinforcing her commitment to natural ingredients, Mathew returned to UCR in 2007 to visit what is now known as the Givaudan Citrus Variety Collection and meet with curator Tracy Kahn.
"We walked around and saw some of the more unique varieties, like Buddha's hand and finger limes, growing in the citrus groves," she said. "It was such an inspiration."
The visit brought back memories of her time as a UCR student, which she describes as a "fun atmosphere on a small campus."
"I followed in my sister's footsteps to UCR," said Mathew, who is the daughter of Indian parents. "For me, the most formative experiences were outside of the classroom. My friends were students in the Indian Students Association."
In 2008, Greenbar went organic and put more emphasis on sustainability, a decision that changed the trajectory of the company.
"We changed the heavy glass bottles to lightweight glass, and we traded our glossy labels and packaging for recycled paper," she said.
They also teamed up with Sustainable Harvest International to plant one tree in the Central American rainforest for every bottle sold. The "One Bottle One Tree Initiative" has resulted in more than a million new trees to date. These efforts, as well as efficiencies in the manufacturing process, mean consumers can feel good about enjoying their craft cocktail: 1.5 ounces of any Greenbar spirit — about what's in a typical cocktail — offsets 46.6 kgs of carbon dioxide, slightly more than the 45.2 kg produced by the average American each day.
In other words, as Mathew likes to say, "Congratulations, your Greenbar Distillery cocktail just made you carbon negative for a day!"
As the business grew, Greenbar needed a new home. The couple settled in Downtown LA, where they operate a manufacturing facility and artsy tasting room in a 14,000-square-foot renovated warehouse. Greenbar's current portfolio includes spirits, liquors, bitters, and canned cocktails that are sold online, in stores, and in bars. A recent boost to sales: non-alcoholic cocktails crafted to be as complex and satisfying as their alcoholic counterparts.
"We are always trying to evolve," Mathew said of the alcohol-free drinks, which the couple introduced to cater to people dialing back on drinking after the COVID-19 pandemic. "There's a temptation to dig your heels in and do what you do, but we have always tried to be dynamic. There have been moments where we've been ahead of the curve, just waiting for others to catch up."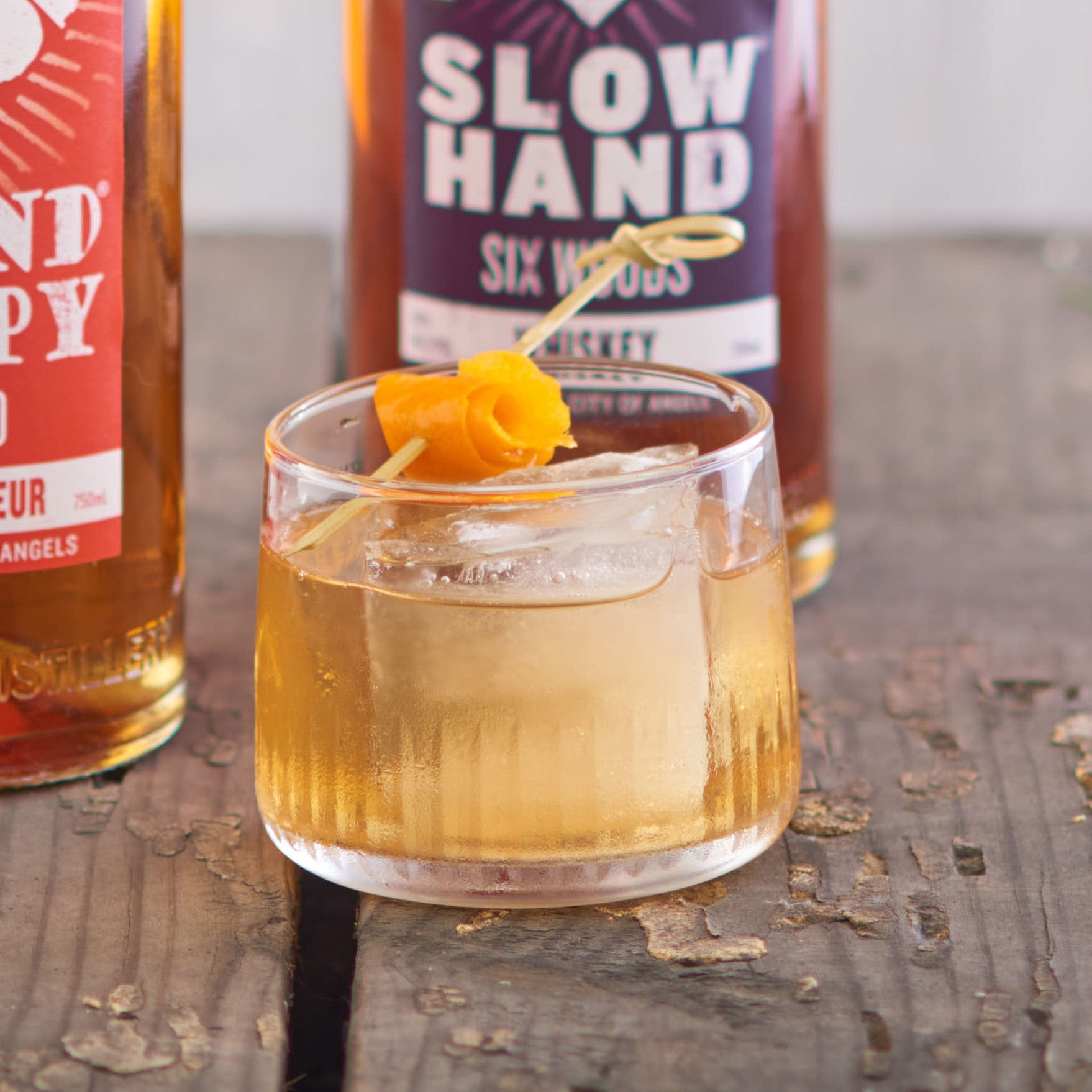 Cocktail Hour: Walk in the Woods
Ingredients
1 oz GRAND POPPY Amaro
2 oz SLOW HAND Six Woods Whiskey
Preparation
Combine the whiskey and amaro in a rocks glass with a large ice cube. Stir until the drink is cool.
Mathew says:
Greenbar's whiskey is aged with six different woods. And the poppy amaro, made with California poppy, was inspired by our walks in the local hills. Made with just these two ingredients, "Walk in the Woods" is very easy to execute and has the appeal of a classic cocktail, with a distinct, California twist.
Don't let the simplicity distract you from the flavor, though. This is rich, delicious, and warming. We love it at every time of year, and it's the perfect drink for relaxing after work or entertaining friends. Pair it with nibbles: roasted nuts and dried fruit play well with this cocktail.
---
Return to UCR Magazine: Fall 2022