WE'RE LISTENING
Editor, podcaster, meme connoisseur — UCR political scientist Kim Yi Dionne wears many hats, all with the aim of democratizing knowledge and spurring public engagement among academics
By Tess Eyrich
D idn't do the reading for one of Kim Yi Dionne's classes? Be prepared to come clean when she asks you to make a meme about what you (should have) read. Dionne, who joined the faculty of UCR's Department of Political Science in 2018, has a penchant for integrating creative media projects into her curriculum — a strategy that parallels her extracurricular pursuits as a contributing editor and writer for The Monkey Cage, The Washington Post's political science-infused blog. She is also active on Twitter (@dadakim) and launched the podcast "Ufahamu Africa" in 2017 about one of her main research focuses — life and politics in African countries. Recently, alongside two other UCR political scientists, Marissa Brookes and Jennifer Merolla, Dionne was awarded a $550,000 grant from the National Science Foundation, or NSF, to examine the impacts of public engagement, or scholars communicating beyond the academic community to reach a broader, more general audience.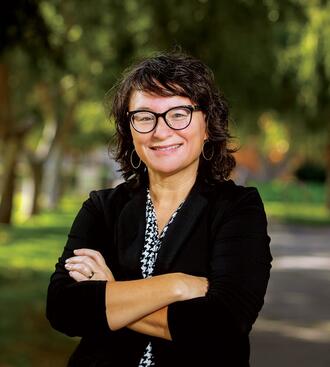 Can you tell us a bit about your role with The Monkey Cage?
I've been a contributing editor since 2014, so while I write for the blog, most of my work is actually editing. I identify events happening in the news that people are interested in but about which there might be some unconventional takes that draw on political science research. I then think: Who's done research that's relevant to this news event, and could they write something for us about that? Or, sometimes I take people's pitches and help shape them into drafts, and then provide feedback before they get published.
I also spend a lot of time training people in public engagement, and that's a major part of my role at The Monkey Cage: identifying new talent and giving them the tools to write with some regularity or frequency. I've been really focused on raising funds to hold workshops to train early-career scholars on how to write for the public. So much of graduate school is about scholarly research production, which is important, but it's often laden in jargon and inaccessible. Sometimes it's not clear what the implications are for anyone who's not an academic. We try to make up for that by offering presentations and guidelines, and, now, these daylong workshops where people come with an idea and leave with a draft.
What drives your interest in connecting research and popular media?
I'm a Californian who only had public education in California, so I feel like I owe a debt to the state and to the public that's invested in my education and research. As academics, I think we owe it to the public to share what we've learned. Doing this — whether it's microblogging on Twitter, or writing for The Monkey Cage, or podcasting — has offered me a way to share what I know with as many people who will listen.
You've incorporated zine-making assignments into some of your courses. What other creative projects have your students been tasked with?
The zine was a neat, hands-on activity to present research in an accessible format. It's low stakes. No one's getting super anxious about a zine because by nature, it's punk-rock. It's not supposed to be perfect, and if it's too perfect, it's not a good zine. Especially during the pandemic and since, our collective ability to focus seems to have decreased. The challenge it's posed for instructors is that we have to do a little more to capture and keep our students' attention.
Sometimes I have students make memes related to class: "You did a reading on this paper that was published in a leading journal, and maybe you thought it was boring and complicated and a little nerdy, but now I want you to make a meme about it." It helps students communicate what they're learning and translate it into a different language. Other assignments have been things like "make a podcast episode" or "edit a Wikipedia page." In my elections class, I'd compile a list of historical and contemporary elections with really sparse Wikipedia pages. I'd tell students, "Your job is to look at good, reliable, evidence-based sources and fill out this page." I'd much rather have students make things that are meaningful to themselves and others, and that refine their communication skills.
What about your upcoming NSF-funded project — how does that play into all this?
There are a lot of components, but something I'm excited about is the Minority-Serving Institution Research Academy, or MSIRA. Part of what our MSIRA fellows will learn is how to do public engagement. We're training a whole cadre of smart, hard-working undergraduates to take political science and make it relevant to the public. As researchers, we might not even know about the best mediums for communicating ideas. What audiences are we missing when we're not considering the tools and platforms that younger generations are engaging with? Because really, what the next generation does with our work is what's going to determine the impact of it.
---
Return to UCR Magazine: Fall 2022