STUDENT SPOTLIGHT
---
YARITZA "DEEDEE" PLATA
By Malinn Loeung | Photo by Stan Lim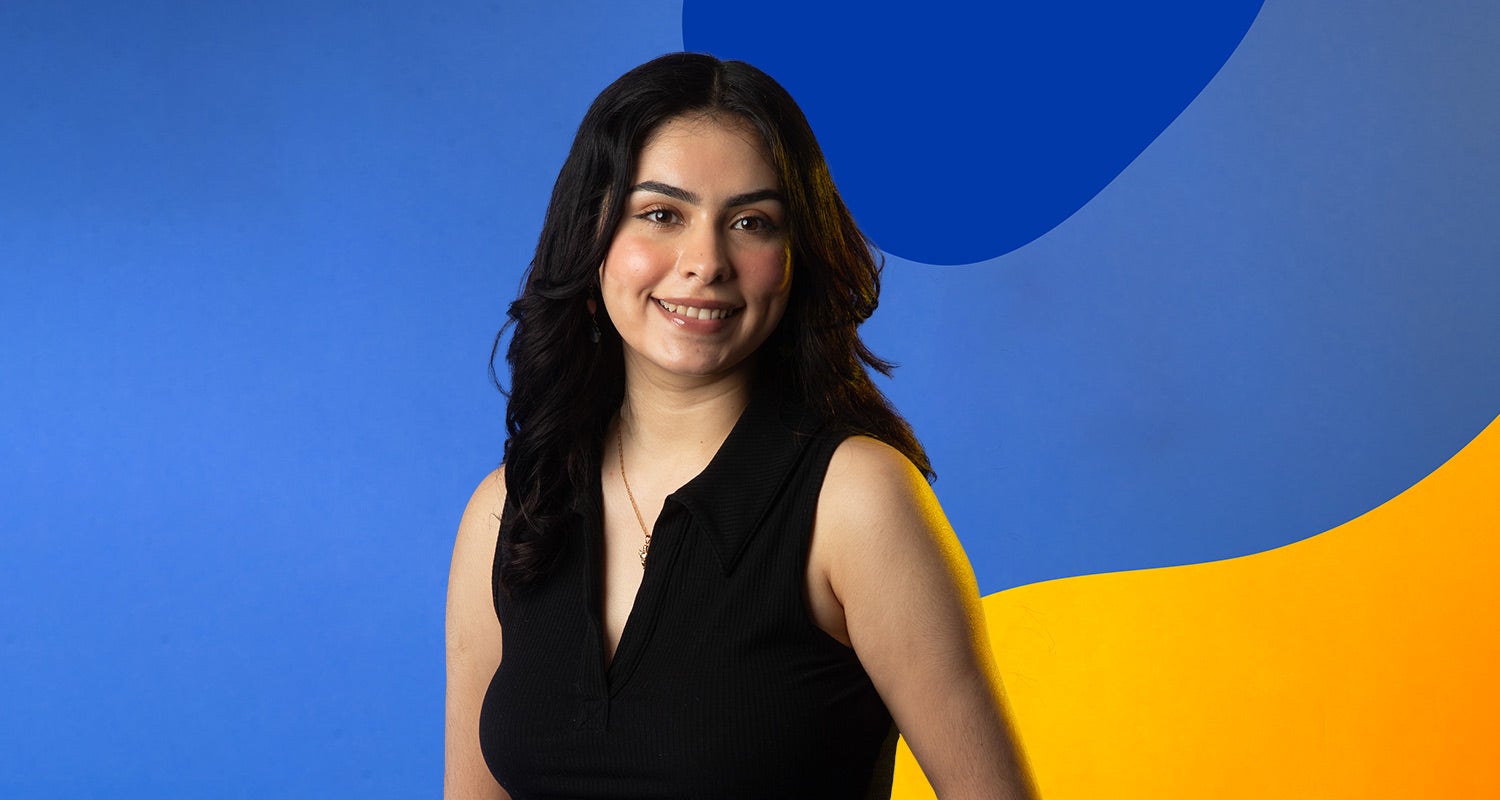 A Fruitful Familia
She may be a first-generation college student, but Plata doesn't necessarily identify with the label. Perhaps it's because her family members are all scholars of central California agriculture. The Platas have a rich history working in the grape fields of Delano; generations of experts on a fruit that supported them. Along with her parents, older brother, and sister, Plata's livelihood depended on 3 a.m. mornings and 100-degree days, punctuated by the constant fear of snipping off her fingers with the grapes.
Field Worker to Creative Writer
Summers of picking grapes with her family and raising sheep and hogs as part of Future Farmers of America in high school cleared an expected path toward her original plan of studying agriculture education at Chico State or animal science at UC Davis. So, how did Plata end up as a creative writing major at UCR instead? She borrowed her brother's laptop at 10-years-old and, after scouring the internet for all things Pokémon, she discovered she could open a Word document and write anything she wanted. "I'm going to be a screenwriter!" Plata recalls proclaiming at her 8th-grade graduation. When it came time to apply for college, her internet search for "writing school" introduced her to UCR's creative writing program. She's been hooked ever since.
Character Development
Plata's parents have always supported her decision to be a writer, even talking her up to their friends — "Mi hija es escritora." But there was a time when they hoped she'd become a veterinarian. Maybe that's how her first comic character, "Pat the Veterinarian," came to be. Another original comic, "Cameron Runaway" follows Cameron's adventures in a fantasy world Plata has been developing since she was 11. "Hot Cheeto Girl" — real name "Perla" — does her friends' eyebrows in math class. Plata's penchant for developing her characters has roots in her youthful curiosity. At 8 years old, she became obsessed with a baby naming book that belonged to her sister and still uses it when naming her fictional friends.
His Legacy
Plata's "The Little Red Trailer," a fictionalized short story about a 5-year-old boy growing up in a trailer park raised by a father in a gang, isn't something she lived, but is based on her observations of the rough life that Delano, California served up. "I don't write short stories. I'm pretty terrible at them," she said. Despite being her own biggest critic, the story won her the title of inaugural recipient of The Professor Eliud Martinez Endowed Scholarship Fund, named after the late UCR creative writing professor known as a pioneer of Chicano literature.
Shelf Life
After crossing UCR's 2022 commencement stage with her degree, Plata looks forward to returning home to her family in the Central Valley. She plans to write her first novel, then perhaps a screenplay for children's media, and maybe even plotlines for video games. Whatever the platform, her next goal is to link up with a literary agent and get published. "People who get published don't look like me," she said. "I want to see my name on the shelves. Can you imagine that?"
Together with your philanthropic support, we can propel tomorrow's artists, engineers, entrepreneurs, educators, physicians, policymakers, scientists, and leaders into their bright futures.
Make your donation to the Beyond Brilliant Student Support Fund at donate.ucr.edu/Spring2022.
Return to UCR Magazine: Spring 2022