STUDENT SPOTLIGHT
---
KEVIN KARAMI
By Malinn Loeung | Photo by Stan Lim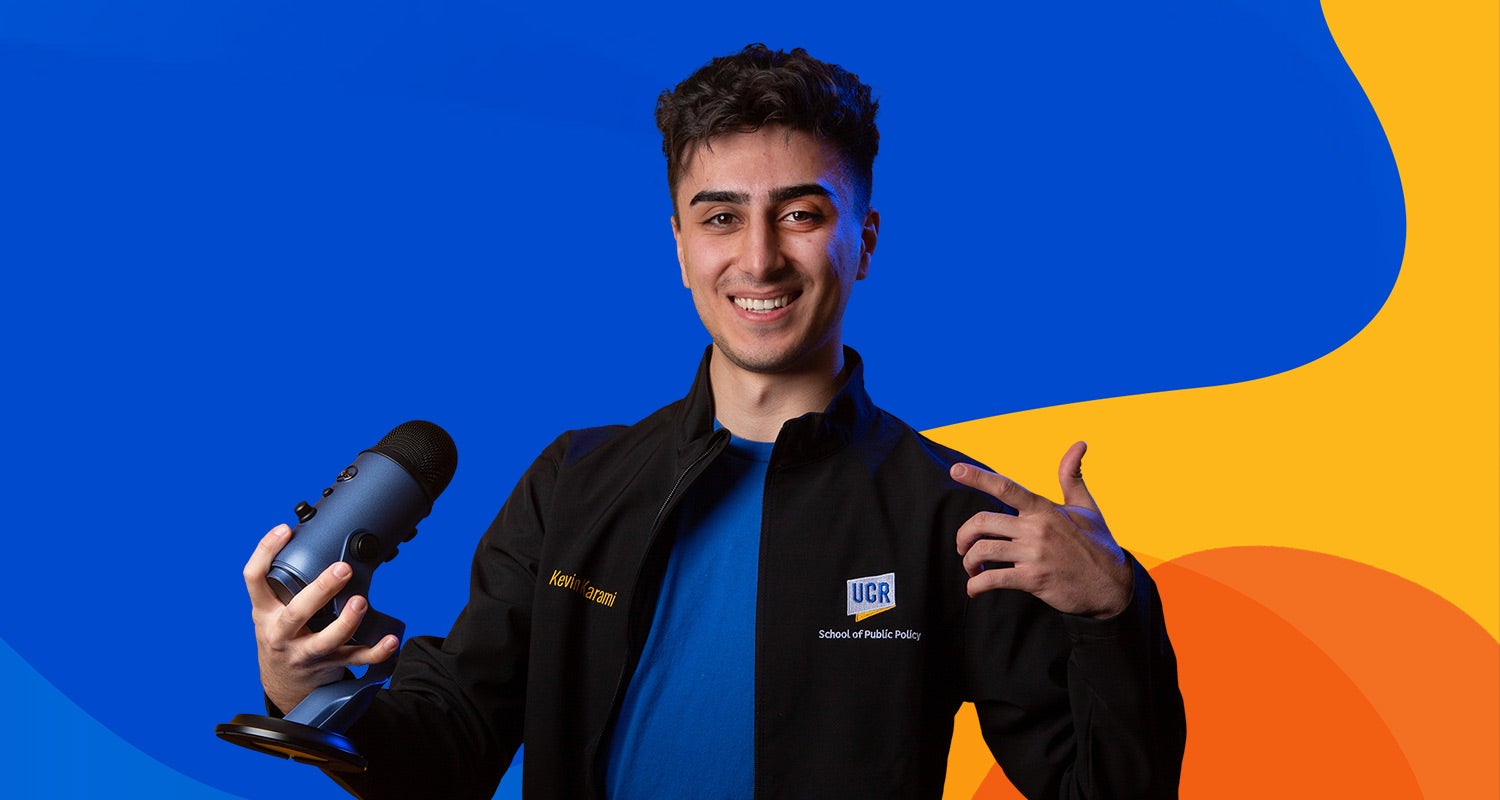 Raised with Intent
From Armenian ancestry, Kevin Karami's family history logs some extraordinary hardships, including escaping Iran in 1979 during the Islamic Revolution. Some of his family members are still there, living among the current tensions that are pulling at Iran — women's rights, economic crisis, and increased militarization. Most of his family scattered around the globe, with Karami's mom being the first of her family to come to America. Along with his father, he says she raised him with love and intent: He will go to college; he will have opportunities that they weren't given. Karami is currently fulfilling those dreams at UCR and appreciating the road his family, near and far, cleared for him.
Mr. Policy Chat(terbox)
This self-labeled "history nerd" and public policy major is the exact person UCR's School of Public Policy, or SPP, needed when casting their latest "Policy Chats" podcast host. Karami has chatted with big-time policymakers, such as California Secretary of State Shirley Weber, who he describes as having an unmatched life story and cool grandparent vibe, and California State Controller Betty Yee, who taught him the finesse of getting in touch with a public figure's "people." As a former high school debater, Karami quickly learned he needed to turn the spotlight to the words of his podcast guests. He says it's all about speaking to experts about complicated topics, like gun violence, LGBTQ+ rights, and student loan debt, while guiding the conversation in a way that's accessible to everyone. And yes, there have been on-air mishaps, like cringey name mispronunciations and awkward fumbling, but he knows those broadcast badges are also worn by many pros.
Triple Shot of Mentors
Karami credits three faculty members with being particularly impactful. His first interaction with founding SPP dean Anil Deolalikar was asking him where the Public Policy 002 classroom was located, to which the dean surprisingly answered, "I don't know." A few years later, Karami closed the farewell speeches for Deolalikar when he stepped down as dean, thanking him for all he's done for SPP and UCR. Karami also appreciates the lesson in skepticism he received from public policy professor David Brady, who he says encourages students to arrive at their own conclusions and be skeptical about statements that are presented as facts. Words of wisdom from former Riverside mayor and political science professor Ron Loveridge that Karami says he will always remember are "never hesitate to shoot your shot" — advice that makes absolute sense to Karami as a basketball fanatic.
Lebron and Beyond
In a few months, Karami will take the Law School Admission Test, or LSAT, and he's hoping all the strategies he's developed will set him up to take that perfect shot. While preparing to graduate this spring, he's spending his final quarter at UCR soaking up the last bits of Highlander "realness" that he proudly proclaims as unique to his alma mater. As for life after UCR, he'll take what he's learned from one of his idols, NBA star LeBron James, to law school and beyond: Give into a healthy obsession, brush off the naysayers, and do the unexpected.
---
Together with your philanthropic support, we can propel tomorrow's artists, engineers, entrepreneurs, educators, physicians, policymakers, scientists, and leaders into their bright futures.
Make your donation to the Beyond Brilliant Student Support Fund at donate.ucr.edu/Spring2023.
---
Return to UCR Magazine: Spring 2023