LIVING LARGE, REDEFINED
At 30, his dream was slipping away. So, Mike Magpayo wrote a letter. Twenty letters, in fact
By John Warren | Photos by Stan Lim
hen the retractable, 92-inch flatscreen TV would descend from the ceiling in his house — one of six houses he owned — Mike Magpayo had to be thinking life is good. He was not yet 30 years old and the CEO of a 40-employee Southern California real estate company he had cofounded. The car in his driveway was a late-model Range Rover HSE with 22-inch rims and TV sets embedded in the seats. A short time later, he left it all — the business, the houses, the snazzy wheels — to take the low-man job at a college basketball program, earning barely enough to eke out an existence in a 650-square-foot New York City apartment.
---
Magpayo is today the head coach of the Highlanders men's basketball team, which finds itself suddenly as perpetual winners. He refers to the trajectory of his life, and to becoming the first-ever Asian American head basketball coach in NCAA Division I men's basketball, as "a miracle." The Highlanders are coming off their third consecutive winning season, having won the most conference games for the team since becoming an NCAA Division I program 20 years ago.
As a young boy, Magpayo played basketball in Hacienda Heights under the tutelage of his dad, Lito, an Emmy-winning CBS Sports cameraman. After graduating from UC Santa Barbara, he kept his ties to basketball by volunteering as a coach for eighth-grade boys, and later at Harbor High in Newport Beach.
In 2003, following a stint as a commercial banker, Magpayo and a friend started a real estate analytics company. They coasted for a few years; he remembers a catered celebratory dinner on the Queen Mary cruise ship as a highpoint.
But in 2007, he said: "The phones were ringing less. Then Lehman Brothers fell. It was crushing."
He and his business partner cut their workforce from 40 to 12 and managed to survive the recession. When it came to rebuilding, Magpayo decided to get his master's in real estate at NYU. But his unrealized hoop dreams were nagging at him.
Before he left California for New York, he sent 20 letters to Division I basketball coaches asking if they needed help. He got one response, from Kyle Smith, then-head coach of the men's basketball program at Columbia University. A couple weeks later, he was at a greasy spoon in New York City waiting for Smith, who didn't show. "Find me on campus," Smith said when Magpayo finally tracked him down by phone.
On the very day of Magpayo's interview, Smith put him to work. Magpayo was offered a 40,000-a-year job as the low-man on the five-person coaching staff. He stayed at Columbia four years, then got an assistant gig at Campbell University in North Carolina. He rejoined Smith at University of San Francisco in 2017. A year later, UC Riverside's then-new men's basketball coach, David Patrick, asked Smith to recommend a top assistant. Smith told him about Magpayo, and soon Magpayo and his wife, Christine — a 2001 UCR graduate — were headed to Riverside. When Patrick left two years later, Magpayo got Patrick's job — first as an interim, after which he was offered a five-year contract.
"I was so grateful to become a head coach," Magpayo said. "Giggling, really."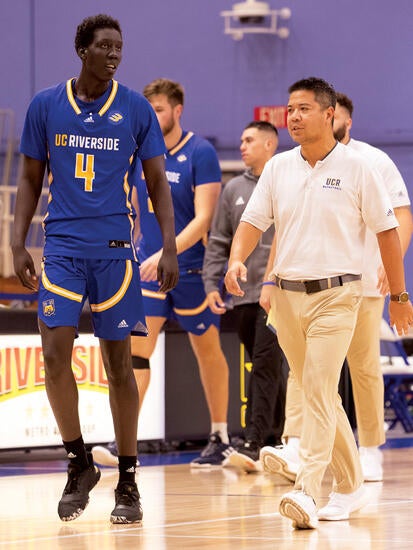 He was named one of four recipients of the Rising Coaches Trailblazer Award in April during the NCAA Men's Final Four. Following the 2020-21 season, he received the Joe B. Hall Award, given to the nation's top first-year Division I men's coach.
In their 20 years as a Division I team, the Highlanders men's basketball team is 228-389, a .370 winning percentage. During Magpayo's tenure, as assistant, interim, and coach, they are 57-58, for a .496 percentage. More impressive, as head coach, he's led the Highlanders to a 30-20 record, a .600 percentage. He's the winningest coach in the team's NCAA history.
After a 14-8 2020-21 campaign, Magpayo led the 2021-22 squad to a 16-12 record with a pair of wins broadcast on national television, defeating Hawaii and Cal State Fullerton on ESPNU. The Highlanders also knocked off Arizona State in Tempe with a buzzer-beating three-pointer to cement the program's third win over a Power Five (teams from the Big Ten, Big 12, Pac-12, SEC, and ACC conferences) in as many years.
As a head coach, Magpayo relies heavily on analytics. There are 10 shooting drills for practice sessions, and stats are kept on all of them. More than 40 different metrics are tracked at practice alone. Players leave practice knowing their shooting percentage for the day.
"Analytics helps us put our student-athletes in positions to succeed, because we are always trying to play to their strengths." — Magpayo
"It's basically Moneyball for basketball," said Magpayo, referring to the Oakland A's analytics-driven baseball model of a generation ago. "We track everything they do in the program, not just shots taken and shots missed, but also rebounding assignments, and defensive rotations, and so on. We are trying to build winning habits."
Wil Tattersall, a rising junior guard from Melbourne, Australia, called the metrics "hustle stats."
"There's more to the game than what the basic stats show," Tattersall said, noting his approach to playing basketball has changed under Magpayo. "We don't need guys who are going to score all these points and detract from winning for their own self-interest. Winning takes someone willing to sacrifice their good shot for a great shot."
"In Division I, not much separates a player in terms of talent," said Flynn Cameron, a rising senior guard from the Gold Coast of Australia. "That's where analytics come in. Playing to them will play to the benefit of the team."
In the minds of players and coach, the difference is in the team's improved win-loss record and reinvented self-image, as winners.
"We absolutely utilized analytics at our real estate company to maximize revenue and be intentional with our marketing decisions," Magpayo said. "But where it spills over into our basketball program is in the management of people. Analytics helps us put our student-athletes in positions to succeed, because we are always trying to play to their strengths."
For Magpayo, success has come full circle. Dream realized, no regrets.
"But yeah, I do miss that Range Rover," he said.
---
Return to UCR Magazine: Summer 2022