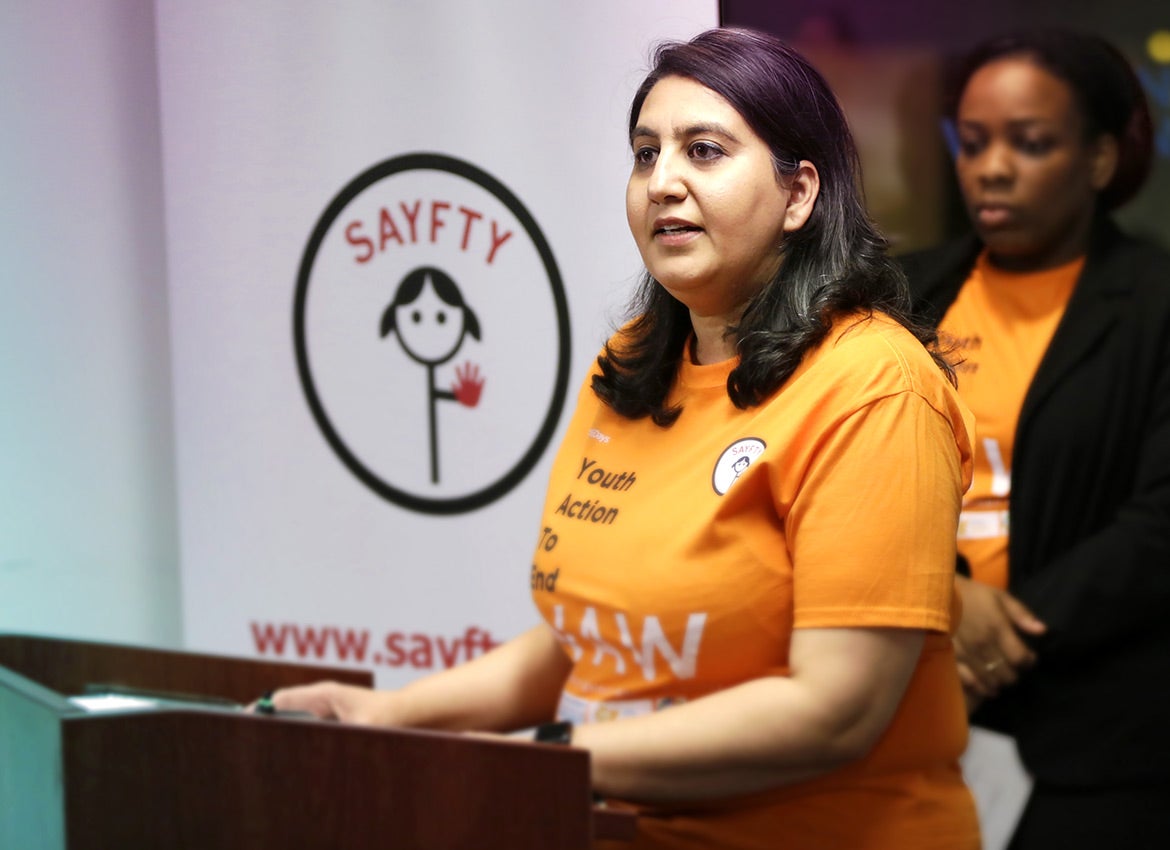 THE ROAD TO SAYFTY
Through her nonprofit organization Sayfty, UCR alumna Shruti Kapoor is on a mission to educate
and empower women and girls against violence
By Sarah Nightingale
hruti Kapoor was enraged when she heard the news: Jyoti Singh, a 22-year-old medical student, had been beaten, gang raped, and thrown out of a moving bus by a group of men in Delhi, India. "I was shaken, angry, and frustrated. I was raised in India and knew the conditioning and messaging girls are often subjected to," said Kapoor, who earned her doctorate in economics from UC Riverside in 2009.
"Don't wear certain clothes, or stay out late alone, and ignore harassment and sexual abuse by keeping quiet."
Singh's brutal gang rape was in December 2012. Before year's end, she had died from her injuries in a Singapore hospital. Residing in New York City, Kapoor was thousands of miles away from her home country and had no experience in starting a nonprofit. However, her desire to do something was stronger than distance or inexperience.
"The attack deeply impacted me," Kapoor said. "I no longer wanted to be a silent bystander; I wanted to enable Indian women to take charge of their own safety."
In June 2013, Kapoor founded Sayfty Trust, a nonprofit organization with the goal of educating and empowering women and girls to protect themselves from violence. Sayfty aims to promote awareness of the laws and legal rights related to violence against women. It also uses self-defense training, digital media, and storytelling to promote "the unquestionable right of women to live their lives in safety."
"Worldwide, one in three women experience violence, and in India, a woman is raped every 20 minutes," said Kapoor, a child sex abuse survivor who talked about her experience in a 2020 TEDx talk. "So, it's not about what a woman is wearing, what time of the day it is, or whether she is drunk; it's about changing mindsets and respecting women as equal."
(Courtesy of Sayfty Trust)
Splitting her time between the U.S. and India, Kapoor began building networks with community organizations to deploy awareness campaigns, offer self-defense classes for women, and teach "safe and unsafe touch" workshops to school children. Her organization is now aided by volunteers across the globe and partnerships throughout India.
One of Sayfty's most ambitious projects was the creation of a survivor's toolkit for victims of sexual assault in India, providing access to medical, legal, mental, and psychological resources and services. Launched with support from UN Women, India and other partners, this all-India directory comprises more than 600 providers and is available in English, Hindi, and Marathi, a popular regional language.
"The Sayfty Survivors' Toolkit was first released as a handbook and PDF on our website," Kapoor said. "With partnership with Vodafone Idea Foundation and Nasscom Foundation, it is now available as an app — My Ambar — with more than 60,000 downloads, so we are hoping to get these resources to many more women."
Kapoor's work involves challenging centuries-old practices and customs in a patriarchal society where women live in fear of violence and the associated stigma, and are poorly equipped to protect themselves.
"In India, even women put their safety in the hands of men," Kapoor said. "Many women believe it's their father, brothers, or husband's job to protect them, so we must work hard to empower them with the right tools and information against gender-based violence."
While much of the organization's work focuses on women, Kapoor's team reaches out to men and boys, too.
"We do engage men — as allies and guest speakers who talk from a male perspective about toxic masculinity and the role of men and boys in ending violence against women," Kapoor said. "Part of our work in schools is to teach the importance of gender equality and justice. We encourage children to challenge and break gender stereotypes early in their lives."
In addition to Sayfty's work in communities, Kapoor's team has tapped into social media, creating a safe space for survivors and experts to share stories, perspectives, and solutions. The organization's weekly Twitter chat, #SayftyChat, has hosted more than 300 guest speakers, drawing participants from over 45 countries and generating more than 900 million impressions per year on conversation related to violence against women and girls.
Kapoor has received numerous recognitions for her work, including from Apolitical, who named her among the world's most influential people in gender policy; the Indian Ministry of Women and Child Development; and The White House's "The United State of Women's Summit 2016." She serves on L'Oréal's Global Diversity, Equity and Inclusion Board and was a member of the UN Inter-Agency Network on Youth Development's working group on youth and gender equality.
Kapoor, who grew up in Kanpur, earned her bachelor's degree in Mumbai before moving to the U.S. in 2000 to pursue a master's in economics at Marquette University in Wisconsin. She worked at the World Bank for two years before applying to the Ph.D. program at UCR.
"I chose UCR because I was inspired by Dr. Anil Deolalikar's work in the field of development economics," Kapoor said.
Deolalikar, an economics professor at UCR since 2003 who later became the founding dean of the School of Public Policy, is renowned for his research on the economics of health, education, and poverty in developing countries.
The transition from an economist to advocate and activist wasn't one Kapoor anticipated, but she loves working outside her field of study and is passionate about promoting much-needed changes in women's safety.
"This wasn't the career trajectory I imagined, but I don't think it matters," Kapoor said. "The economics professors at UCR were excellent, and I studied a wide range of economics courses that helped me not only fall in love with the subject but also ignite my passion for development work. I think it is important to enjoy the subjects you are taking because nothing goes to waste when you are learning."
---
Return to UCR Magazine: Summer 2022