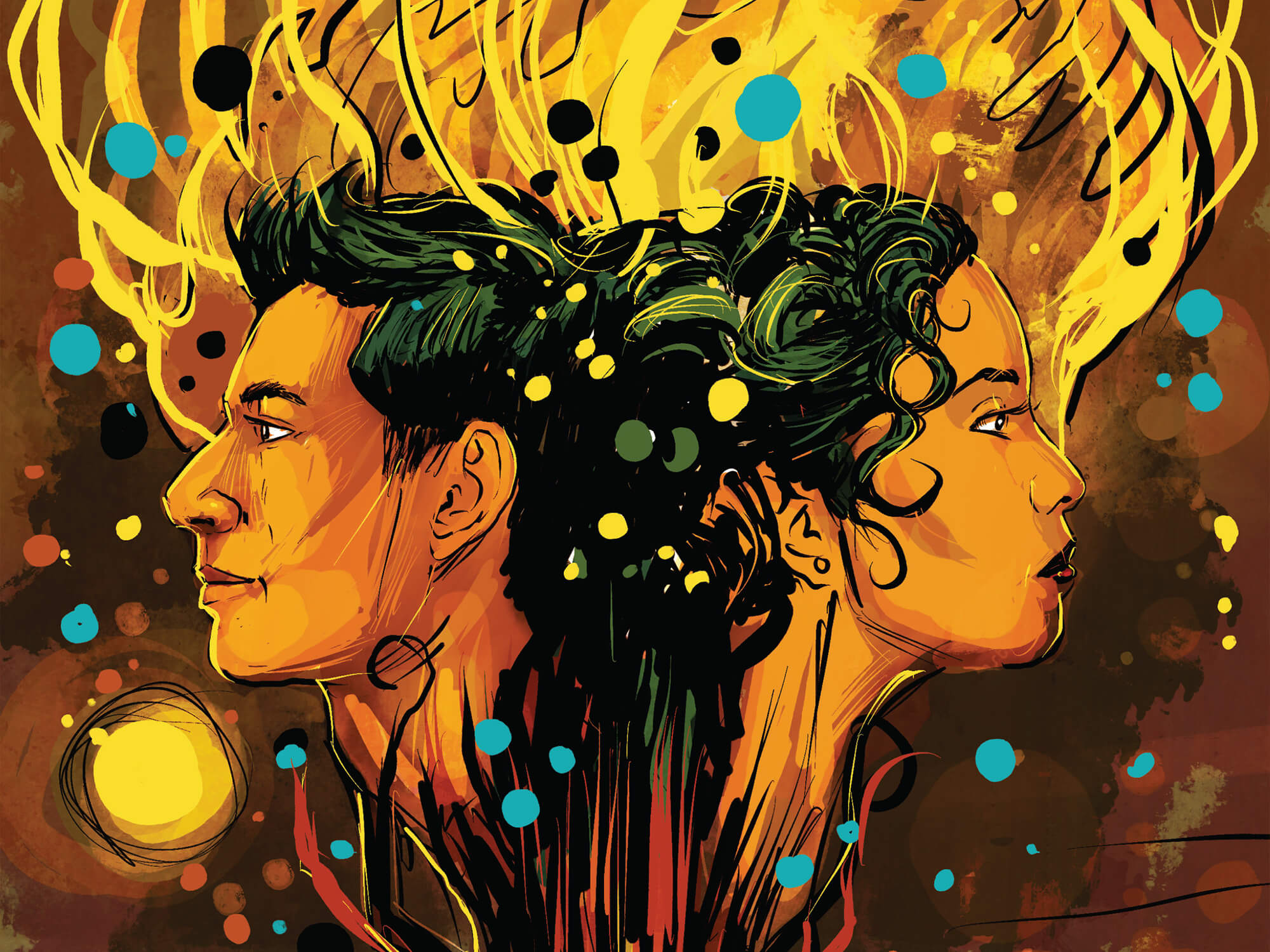 SEMBRARON SEMILLAS,
CRECIERON RAÍCES


THEY PLANTED SEEDS, WE GREW ROOTS
CELEBRATING 50 YEARS OF CHICANO STUDENT PROGRAMS
By Sandra Baltazar Martínez
hen students walk into Chicano Student Programs, or CSP, they pick up snacks, ask for a free Scantron, use the computer lab, organize meetings, or mingle and share food with friends around an oval-shaped table surrounded by murals depicting brown faces full of grit. Painted by Chicano muralist Daniel "Chano" Gonzalez in 1974, the vibrant, striking images wrapped the walls of CSP's previous location in the former UCR Commons, and are now encased in giant frames, greeting visitors to the center's current home in Costo Hall.
Treats like Mexican candy regularly welcome visitors to CSP. Other times, traditional foods are a hit: tamales wrapped in green banana leaves from El Salvador, carne asada tacos, or sometimes champurrado, a sweet, hot drink made with milk, chocolate, and cinnamon. The homey environment is far from the 8-by-10 office space CSP was housed in on the second floor of the Tomás Rivera Library when it opened in 1972. It's what CSP director Estella Acuña describes as familia. Family. It's how the center has organically evolved at UC Riverside over the last five decades.
This year marks the milestone 50th anniversary of CSP, an achievement cemented in three pillars: students, culture, and community. In the late 1960s, during UCR Chancellor Ivan Hinderaker's administration, CSP was unofficially founded by the campus's first two Chicano faculty members: the late Eugene Cota-Robles, a microbiology professor, and Professor Emeritus Carlos Cortés in the Department of History. A Chicano is a person of Mexican descent born in the United States.
The late '60s and '70s were a time of social unrest around the world, and it was no different at UCR. National and international student movements were taking place. Young people in the U.S., Mexico, France, and elsewhere were protesting capitalism, demanding civil rights and democracy, and in the U.S., pushing to end the Vietnam War. Discrimination and racism were palpable, but Black and Chicano students pushed back, and despite many setbacks, persevered; both CSP and African Student Programs are celebrating 50th anniversaries in 2022. Chicano youth created United Mexican American Students, or UMAS — a national, student-led organization across college campuses — in 1969. At UCR, UMAS students demanded a Chicano Studies program, a space to connect academically. UMAS was later named Movimiento Estudiantil Chicano de Aztlán, or MEChA, which for many years was the most active group under CSP.
"Before the administration developed a plan, before they decided to focus on recruiting Hispanic/Latino students, it was the students themselves doing the work," Cortés said.
For five decades, students have been the drivers of every significant CSP advancement. Before it became an official center in 1972, Chicano students connected by offering tutoring and mentorship, and by volunteering in their communities to educate others about college access. Students returned home and talked about what UCR offered, and slowly more students from the region and as far south as Calexico stepped onto a college campus for the first time.
"You have to understand how much fragility there was. There was a battle every step of the way," Cortés said. "There was the battle of legitimacy, mainly questioned by other faculty. Was studying Chicano culture and history important? Was it a legitimate field of study? Did we belong here? And it wasn't just Chicano Studies, it was Black Studies too, then the same questioning came for Women's Studies and LGBTQ Studies."
In 1969, Mexican American Studies became an official major at UCR, later named Chicano Studies. The major now lives under the Department of Ethnic Studies. Cortés asked Hinderaker to allow students to officially create CSP, a condition for him to become chair of Mexican American Studies in 1972. Fifty years later, CSP continues to serve an ever-growing population of UCR students.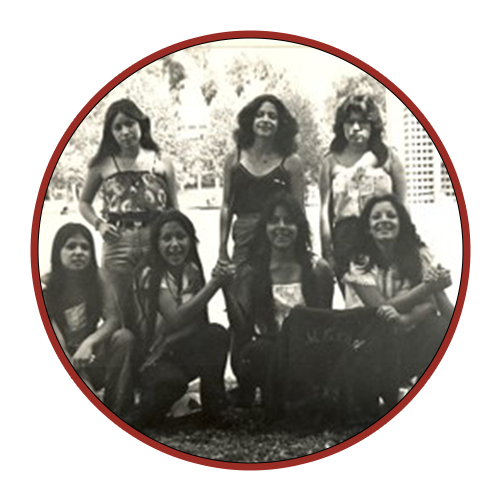 CHICANO LINK
The student movements in the '60s, '70s, and beyond laid the groundwork for CSP to formalize student support into a mentoring program. The Chicano Link Peer Mentor Program, which began in the late 1990s and was formally established in 2011, originally focused on undergraduate students. Its success offered an outline for the creation of a sister program designed for graduate students, which began during the 2017-18 school year.
"What's unique is that this is a one-on-one mentoring program created with the validation theory framework in mind," said Arlene Cano Matute '08, CSP's assistant director and a current doctoral student in UCR's School of Education, who has been leading the mentorship program since its inception. "This theory acknowledges students' strengths and validates them as scholars and the personal experiences they bring. Through mentoring, we are building confianza, trust, right from the beginning. It's about asking 'How are you doing? How is your family?' It's about acknowledging you are not alone in those fears, uncertainties found in higher ed."
In 2011, the mentoring program had about 50 students. In 2019, nearly 300 participants joined the program and in early 2021, 226 participants were recorded. "Knowing that nobody in my family had gone to college or had gone through a Ph.D. program, I knew Chicano Link was where I could find someone like me and I could connect at a deeper level," said Isis Fraústo- Vicencio, a fifth-year doctoral researcher with Assistant Professor Francesca Hopkins' Greenhouse Gas Emissions Lab. Her work entails researching methane emissions from dairy farms in central California.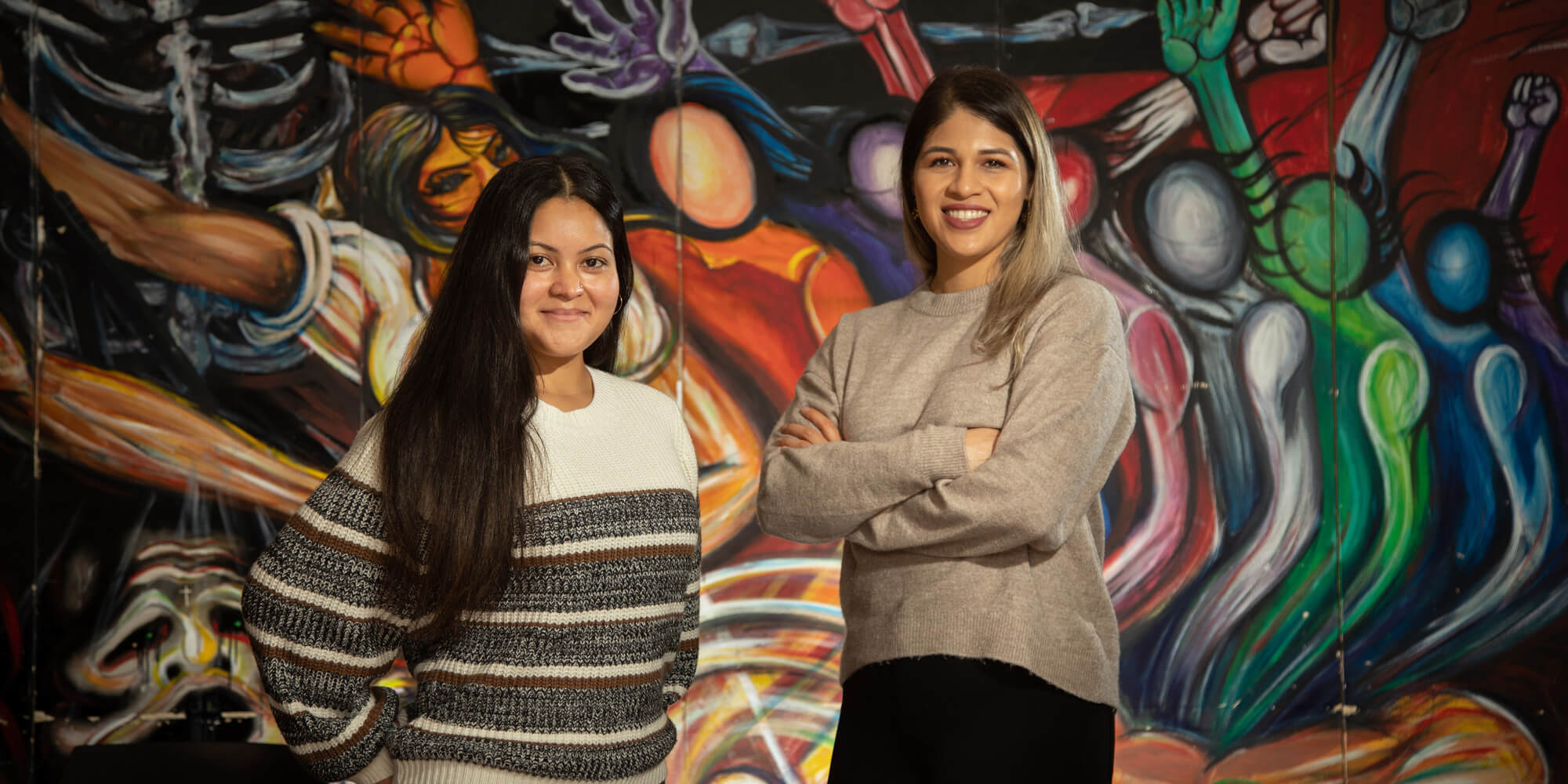 Five years ago, Fraústo-Vicencio was paired with a Latina graduate student. Now Fraústo-Vicencio is a mentor herself. She and fellow doctoral researcher Samiksha Singh established a mentoring program within the Environmental Sciences Department, modeled after Chicano Link.
"My mentor was someone I could go to when I had obstacles, challenges," Fraústo-Vicencio said. "She reminded me that graduate school is not a sprint, it's a marathon. Todo a su tiempo, everything has its time."
For program participants, having a mentor has translated into higher retention rates and increased graduation rates. Between 2015-19, Chicano Link Peer Mentor Program participant retention rates for full-time, first-year Latino students was 91.6%, compared to 88% for non-participants. First-year retention rates for Latino transfer students was 94.8%, compared to 90.1% for non-participants. Four- year graduation rates for first-time, full-time students was 66.2%, compared to 58.3% for non-participants. Two-year graduation rates for full-time transfer students was 62.8%, compared to 57.1% for non-Chicano Link Peer Mentor Program participants.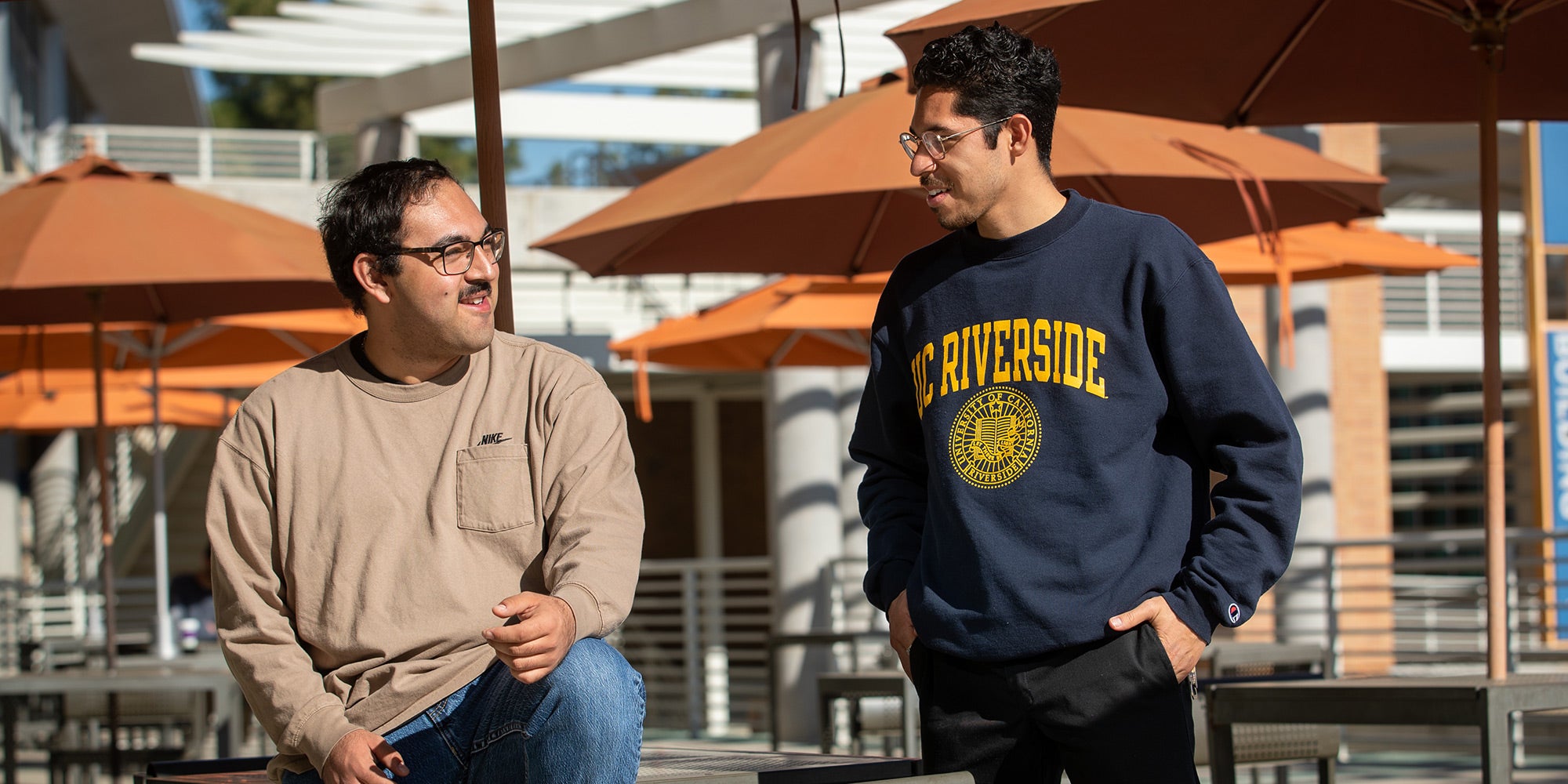 Finding someone you can discuss academics, family, and build a friendship with, is crucial — especially for first- generation students, Cano Matute said. Chicano Link mentor and former mentee Diego Payán came from a private high school, and says attending UCR was a shock because of the fast-paced quarter system. Payán, now a fourth-year sociology major, struggled with time management. During freshman year, his mentor sat him down, and together they filled a weekly calendar, adding everything from classes to meal breaks. Payán had met his mentor through Hermanos Unidos, a cultural organization whose purpose is to increase enrollment, retention, and graduation numbers among Latino males at UCR.
"It was great to see that I had an hermano, a brother, from the cultural space," Payán said. "I'll always remember his help. He helped me register for classes, showed me how the registration portal works ... he took a piece of paper and literally drew a seven-day calendar to help me plan out my week. It sounds minimal, but boy, that's all I needed to move forward."
In 2020, Payán was paired with a new mentee, Jesús Núñez. Núñez, a fourth-year sociology major who transferred from Norco College, entered UCR at the height of the pandemic. Fall 2020 was fully virtual, coursework quickly piled up, and Núñez initially struggled with online instruction.
"Our conversations involved financial aid, resources, family, and finding sanity during the height of the pandemic," Payán said.
Núñez and Payán leaned heavily on each other and communicated regularly via text, telephone calls, or Zoom. They met in person for the first time in October 2021, more than a year after they started in the program.
"We became friends, and that's something I didn't expect," Núñez said.
"Two things I learned from Diego were time management and to be more outgoing. I also learned from him not to give up."
Núñez, a first-generation transfer student and his family's eldest son, had to learn to balance a full-time job as a custodian and 16 college course units. He discovered the key to succeeding at UCR — asking for help.
"We come from this macho culture where men don't ask for help, we figure things out on our own," said Núñez, who will pursue a career in human resources. "I soon realized that adulthood was much more than I imagined and asking for help was necessary."
IT TAKES A VILLAGE
Chicano Student Programs has been a proverbial "home away from home" for countless generations of Highlanders. For many Latinos, especially first-generation students like me, navigating college is often an isolating and foreign experience. As a commuter, it took a few years before I immersed myself in campus culture. A disconnect existed until I was invited to a Latinos In Science, or LIS, meeting to listen to a guest speaker. Before I knew it, I was regularly involved in the group's science outreach efforts, making ice cream with liquid nitrogen for elementary school children, judging science fair projects, or talking to middle schoolers about college preparedness. LIS allowed me to connect with CSP, RAZA Assembly, and largely led to me discovering a mentorship job opportunity with the Upward Bound program. While I failed to realize it then, those experiences were the seeds that led me to pursue a career teaching and advising college students.
What makes CSP truly a home is its staff, a dedicated group that has provided guidance and reassurance to students for nearly half a century. While the warm faces change throughout the decades, from Don Alfredo Figueroa to my friend and fellow Chicano Latino Alumni Board member Estella Acuña, the essence of Chicano Student Programs remains constant. The team's dedication to empower students, to ensure that they experience a sense of belonging on campus, is a labor of love and a source of inspiration. It is a cross-generational hearth that instills a culture of giving back through activism and volunteerism in our communities.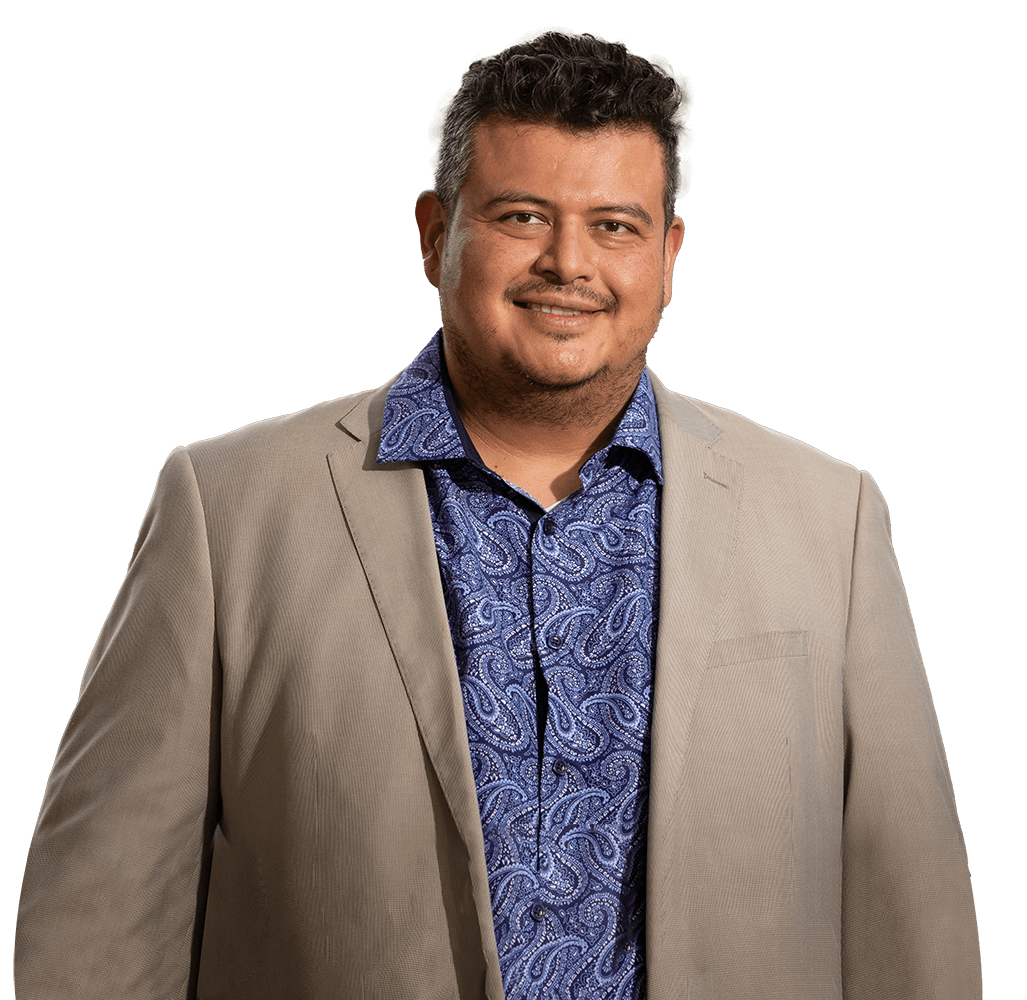 In my 20 years being affiliated with UCR as a student, staff member, and faculty member, the campus has grown and its demographics have changed, becoming a Hispanic Serving Institution. Growing up in Mexico and moving to Riverside as a teenager, CSP is reminiscent of the pueblo's center plaza with its kiosko and mercado, a place of community complete with its sounds, smells, and food — for food is plenty "y de todo corazón" at events. It is a mercado for ideas amongst Chicano and Latino faculty, staff, and students on campus. CSP's events, then, are the entertainment in the kiosko, and the lessons, like folklore, are the stories shared by those seasoned by experience. In a way, perhaps Chicano Student Programs is more than a home, it is a pueblito, a village — and it takes a village.
— Alejandro Cortez, UCR Chicano Latino Alumni chair
CREATING SPACE
Acknowledging that the varied experiences Chicano/Latino students bring to UCR, such as coming from low-income households, being first- generation, or balancing college as student parents, is what makes them strong scholars, said Estella Acuña '99, who has been CSP's director since 2007.
"We don't look at students from a deficit model," said Acuña, a former first-generation UCR transfer student in Chicano Studies. "We come from the mindset that they bring social capital, linguistic capital — that they are coming already having the skills necessary to navigate these systems. The level of resiliency we bring is already amazing. CSP really reinforces that."
Twenty years ago, CSP oversaw a handful of cultural or social groups, primarily composed of Mexican American students. Now, CSP directly and indirectly supports nearly 45 Latino-identified organizations, including fraternities, sororities, and organizations founded around special interests such as social justice, engineering, and medicine. Aside from daily responsibilities at the center, both Acuña and Cano Matute advise several student organizations.
Five years ago, Fraústo-Vicencio was paired with a Latina graduate student. Now Fraústo-Vicencio is a mentor herself. She and fellow doctoral researcher Samiksha Singh established a mentoring program within the Environmental Sciences Department, modeled after Chicano Link.
"For me this is a passion, this is a calling," Acuña said. "We are looking at things holistically. There is a moral obligation for me to give back and a deep sense of responsibility. We change lives. We create a home away from home."
---
---
---
THE FIRST HSI
In 2008, UCR became the first HSI, or Hispanic Serving Institution, within the UC system. This federal designation acknowledges UCR's enrollment of at least 25% Hispanic undergraduate full-time equivalent students. CSP's role in this designation was crucial.
When President Barack Obama announced the Deferred Action for Childhood Arrivals program, known as DACA, in 2012, CSP got to work. They coordinated with the student group Providing Opportunities, Dreams, and Education in Riverside, or PODER, to reach out to community partners who trained CSP staff and student volunteers to help DACA applicants. This quickly grew from a service under CSP's portfolio to a now-standalone Undocumented Student Services center.
Most recently, CSP supported the application process for the competitive Seal of Excelencia, a distinction awarded by Excelencia in Education, the nation's premier authority on efforts accelerating Latino student success in higher education.
"This certification recognizes our institutional commitment as a Hispanic-Serving Institution to serve Latinx students and support their success," said UCR Chancellor Kim A. Wilcox, who along with Cano Matute and other UCR administrators, was in D.C. in October 2021 to receive the honor on behalf of UCR.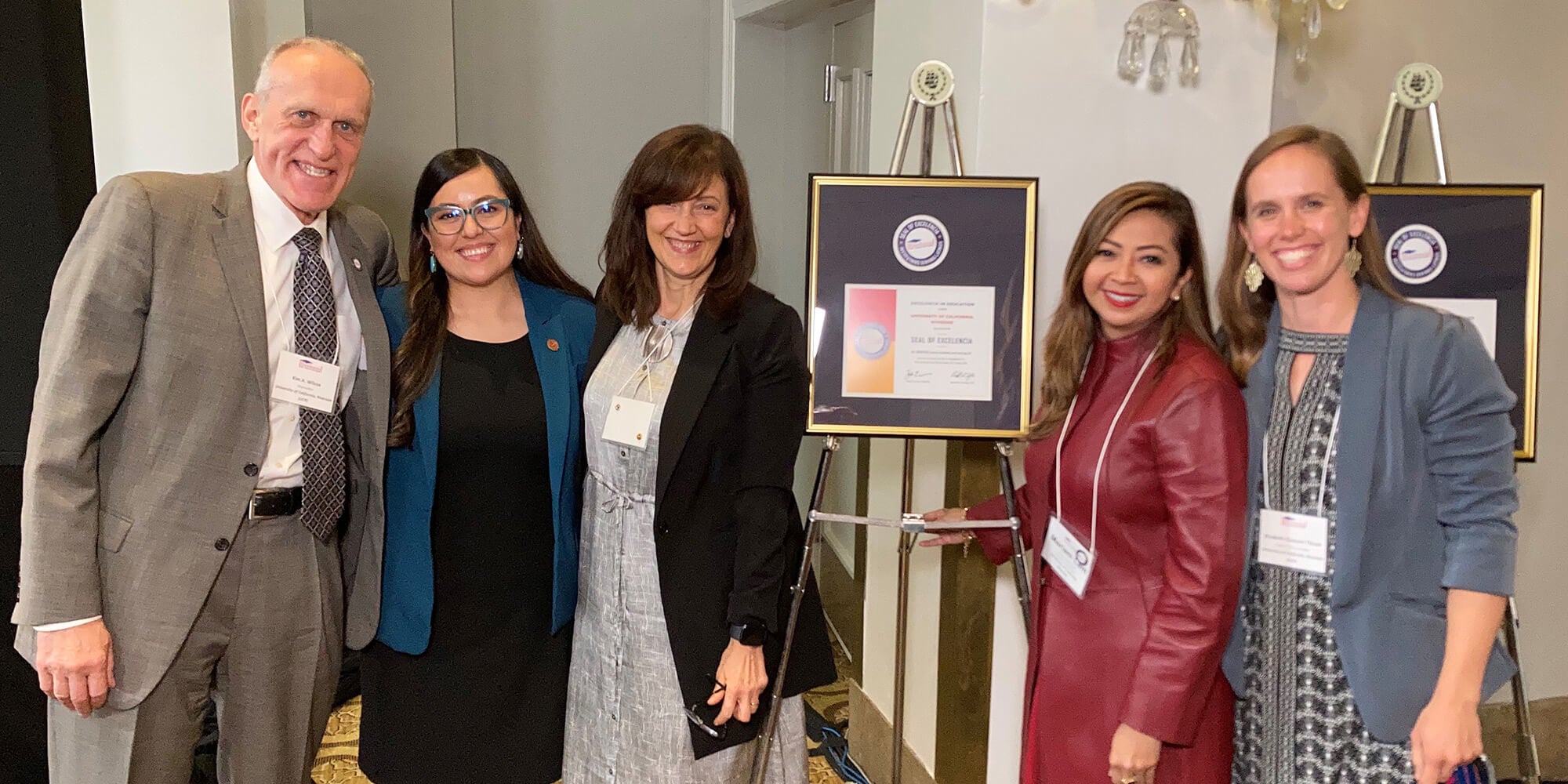 THE LEGACY OF CSP
Becoming an HSI and one of the most diverse universities in the country has been with the help of students every step of the way, with students spearheading bilingual outreach events, working with migrant families, and developing K-12 programs, among other services. In 1972, students started a Chicano Community College Day, now called Community College Day. They made posters, provided participants with sandwiches from The Sub Station — a campus favorite — and spent the day making sure prospective students understood what it took to transfer into a four-year college or university, said Alfredo Figueroa '75, former CSP director. They eventually extended their outreach by organizing conferences at high schools. Today, CSP offers a one-day event, dubbed Chicano/Latino Youth Conference, specifically for high schoolers.
"We used to have 500 students come from all over Southern California. We explained what it took to transfer to UCR and other universities," said Figueroa, who, after leading CSP for 15 years, became dean of students until his retirement in 2013.
This drive to support fellow Chicanos was also supported by some faculty members and staff, including Chancellor Hinderaker. But when Tomás Rivera became the first Chicano chancellor at UCR in 1979 and the first minority chancellor in the UC system, pride among raza, the brown students, soared, Figueroa said. When Rivera came to UCR, the campus had one of the lowest enrollment numbers in the system and UC Regents had considered shutting down the university. The late Rivera, who was also an accomplished author, worked to increase those numbers.
"Tomás was the first Chicano chancellor, and when you are the first, there are a lot of hurdles," Figueroa said. "I still remember he stopped me one day and I asked how he was. 'You know Alfredo, I am the chancellor of a university, I am in many meetings, with many people who don't agree with me. Sometimes it makes me feel like I am the mosca en leche.' A fly swimming in milk. I have never forgotten that."
Rivera was a role model, Figueroa said. He also had the perfect companion, Vice Chancellor Carlton Rowland Bovell, who was Black.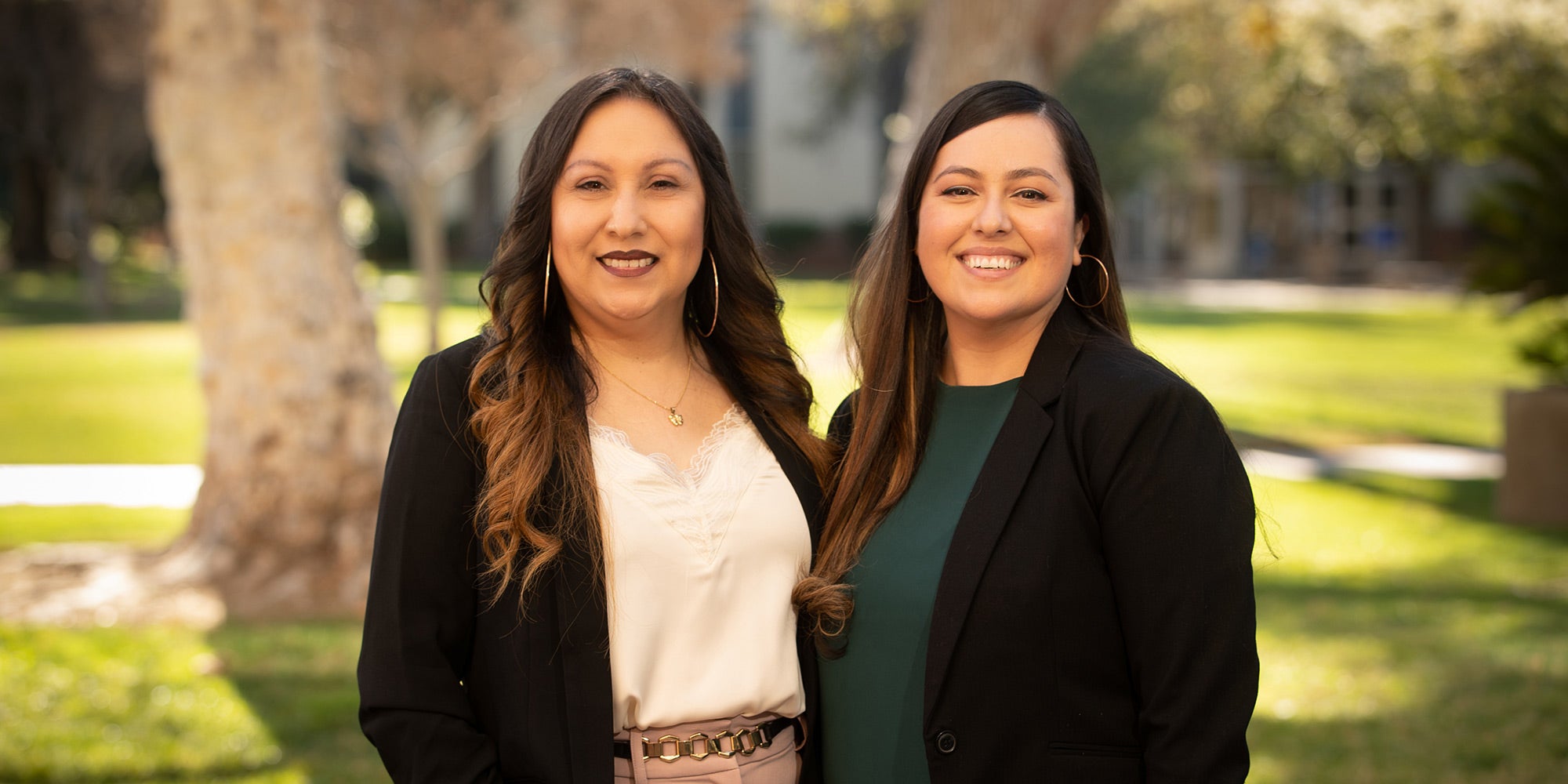 "Tomás was writing about our students, representing us; he was great to be around," Figueroa said. "But not everyone — meaning the non- Chicano, non-Latino, non-Black — was happy. Many people were not very happy with that Black-brown team. They were intimidated, and you know how it is, people fear the unknown."
In 1972 UCR had fewer than 300 Chicano students. Back then, the goal was to have at least 1,200 Chicano/Latino students enrolled, Figueroa said. Fall 2021 enrollment numbers registered 10,135 Chicano/Latino students.
"We couldn't have imagined this," Figueroa said. "Look at where we are now!"
---
Support CSP by giving online at donate.ucr.edu/Winter2022.
Apoye a CSP con donativos en línea en donate.ucr.edu/Winter2022.
---
Return to UCR Magazine: Winter 2022