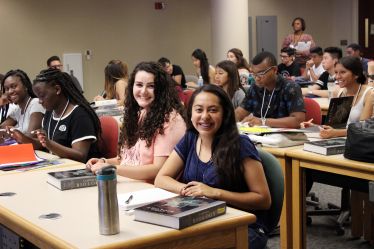 RIVERSIDE, Calif. (www.ucr.edu) – The California Wellness Foundation has awarded two grants to the University of California, Riverside totaling $450,000, both of which promise to increase access to higher education and degree completion for underserved populations
Of the grant money, $250,000 will go to the Guardian Scholars Program in UCR's Office of Foster Youth Support Services and $200,000 will go to the FastStart Summer Academy in UCR's School of Medicine.
The UCR Guardian Scholars Program supports students who are making the transition to college from the foster care system. Funding from the program provides access to year-round housing in campus residences, academic scholarships, targeted advising, mentoring, tutoring, and bi-weekly social and team-building activities. Scholars are also connected with a range of campus resources, such as the career and counseling centers, to promote their professional and personal development.
The California Wellness Foundation grant has provided funds to Guardian Scholars to help cover operating expenses, supplement basic and case-managed services, and establish new internship opportunities with regional businesses. More than 50 percent of UCR's Guardian Scholars funding comes from private support—individuals, foundations, and corporations.
"Our program relies on the resources, strength, and support of UCR and the surrounding community to provide current and former foster youth students with a comprehensive college experience and the opportunity to explore and realize their full potential. This grant makes it possible to continue helping our scholars achieve their aspirations, so they can make a positive impact in the community that has welcomed and supported them," said Tuppett Yates, Guardian Scholars executive director and a professor of psychology.
The Guardian Scholars Program will mark its 10th year with a celebration on Nov. 3. Twenty-eight scholars have graduated from UCR and are pursuing graduate study or careers in business, criminology, education, law, medicine, public health, and social work; all are living independently.
The California Wellness Foundation's $200,000 grant to the School of Medicine-based FastStart Summer Academy will support more than 100 high school students' participation over three years. It pays for three teachers, three teaching assistants, and a program coordinator
FastStart, which is entering its 20th year, is a UCR program aimed at increasing the number of disadvantaged students pursuing careers in health or medicine and to provide them with academic and social support. The intensive, five-week program for 30 incoming UCR freshmen occurs between the senior year of high school and the freshman year of college.
"After completing the academy, students are better prepared for success in their first year of college," said Teresa Cofield, director of pipeline programs at the UCR School of Medicine.
Students in the FastStart Summer Academy participate in daily lectures on biology, chemistry, and mathematics. UCR seniors serve as academic success mentors, leading study sessions, teaching study skills, and hosting social activities. School of Medicine faculty, students, and alumni instruct students in healthcare disparities, careers in health and medicine, and the study of clinical cases.
The California Wellness Foundation partners with community-led organizations, businesses, government agencies, and individuals to increase access to care, education, jobs, healthy environments, and safe neighborhoods throughout the state of California. For more information, visit www.calwellness.org.
Media Contacts