Four years in the making, "Red Carpet in C" is a collaborative, large-scale installation by painter Yunhee Min, and architect Peter Tolkin that blurs distinctions between art and architecture. Occupying UCR Arts' Culver Center of the Arts' two-story atrium, "Red Carpet in C" is a massive fabric installation that explores the relationship among form, gesture, and color.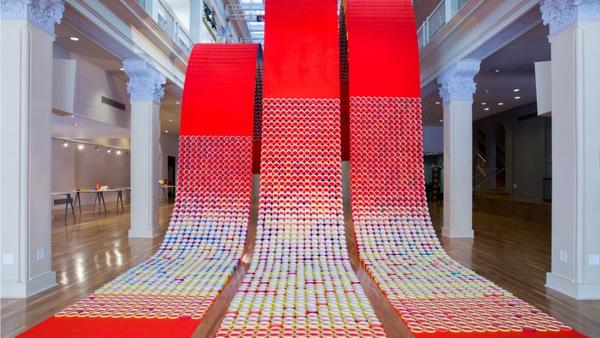 Min, a Los Angeles-based artist and associate professor in the UCR art department, and Tolkin, an architect and principal in the Los Angeles-based architectural firm, TOLO, have brought their individual sensibilities to "Red Carpet in C," fusing explorations in color and space.
"For many years, I have explored abstraction with color as the primary material and language that invokes the exploration of perceptual experience and subjectivity," Min said. "This project will be an opportunity for me to expand color as an embodied physical space through the scale of the piece where one will physically be in the space of color,"
"Red Carpet in C" is comprised of three, 150-foot bands of opulent red cloth, populated with 17,000 colored cardboard tubes, suspended and flowing through the two-story atrium, and extending itself into low-hanging curvatures. Altogether, a pixel-like rhythm of color and space creates dynamic energy within the classical qualities of the symmetrically designed atrium.
"Typically, architecture plays a background role — a stage on which the performance is played out — rather than being understood as performative in itself," Tolkin said. "'Red Carpet in C' is designed to question this background relationship to performance, to blur the traditional boundaries of space and performance."
Efforts towards "Red Carpet in C" have included TOLO's other principal partner, Sarah Lorenzen, who worked with a fabrication team that included more than 30 Cal Poly Pomona architecture students. Matt Melnik from NOUS Engineering predicted the behavior of the piece, ensuring that the fabric would hold its shape. Finally, the hanging was implemented by the exhibition's co-curator, Zaid Yousef, who is also the exhibition designer at UCR Arts.
"'Red Carpet in C' has engaged the Culver's unique, over 100-year old atrium, in a unique manner that complicates our assumptions about what it is that we think we are seeing, encountering, and experiencing, whether it be a piece of art or a style of architecture, even if we have seen it before many times," said Tyler Stallings, co-curator and artistic director at the Culver Center of the Arts from 2007 to 2017.
 "Yunhee Min & Peter Tolkin: Red Carpet in C" will run from Aug. 18 through Dec. 29. It has made been possible with support from the National Endowment for the Arts and the University of California Institute for Research in the Arts. A free-admission, public reception for the artists is on Saturday, September 29, 6-8 p.m. For more information, please visit ucrarts.ucr.edu.