Faculty, staff, and students at UC Riverside will join around 9 million people expected to participate in the annual Great California ShakeOut earthquake drill on Oct. 18 at 10:18 a.m.
The approximately two-minute drill is a voluntary first-response exercise to a simulated magnitude 7.8 earthquake along the southern San Andreas Fault, which runs a few miles from the UC Riverside campus. Such an earthquake could disrupt utilities, transportation, and telecommunication systems, resulting in injuries, death, and structural damage.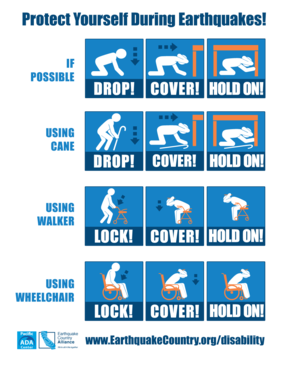 "While we can't predict or stop an earthquake, we can prepare," said Abhijit Ghosh, an associate professor in the Department of Earth Sciences who is coordinating the effort with support from the Office of Emergency Management at UCR. "The Great ShakeOut prepares us for what to do during the strong shaking that is caused by a large earthquake and provides an opportunity to test our emergency communications systems." 
The campus community is advised to set an alarm for 10:18 a.m. on Oct. 18 and perform "Drop, Cover, and Hold On" at that time. KUCR Radio (88.3 FM) will play a two-minute instructional walk-through clip starting at 10:18 a.m. Faculty, staff, and students will also receive text and email alerts about the drill at this time. 
On Oct. 17 and 18, the public can visit an earthquake information booth from 9 a.m. to noon hosted by the Department of Earth Sciences and located near the Coffee Bean & Tea Leaf on campus. Earthquake experts will be available to discuss earthquake preparedness tips and displays on historical earthquakes and their effects.
Ghosh and the Office of Emergency Management lead by Campus Emergency Manager, Lisa Martin, are coordinating the drill activities on campus. While it is impossible to come up with a solution for every possible situation, UCR experts suggest the following if it's not possible to drop and cover, such as in a lecture hall on campus:
•    If you are walking or standing, drop down onto your hands and knees (before the earthquake knocks you down), and protect your vital organs. This position protects you from falling but allows you to still move if necessary.
•    If possible, cover your head and neck (and your entire body if possible) under a sturdy table or desk. If there is no shelter nearby, get down near an interior wall (or next to low-lying furniture that won't fall on you), and cover your head and neck with your arms and hands.
•    If you are in a lecture hall, stay in your seat or get underneath it if possible. Protect your head and neck with your arms. Improvise as necessary.
•    Hold on to your shelter (or to your head and neck) until the shaking stops. Be prepared to move with your shelter if the shaking shifts it around.
•    After the shaking stops, evacuate the building. Move toward the nearest exit. Do not use elevators.
•    If applicable, secure hazardous material (if safe to do so) before leaving.
•    Do not re-enter the building until authorized by emergency personnel.
 
The Great ShakeOut is held each year on the third Thursday of October. For general information on the drill throughout Southern California, visit: shakeout.org/california. For earthquake preparedness tips, please visit 7 Steps to Earthquake Safety.
UCR is a core member of the Southern California Earthquake Center, one of the co-sponsors of ShakeOut.
Media Contacts