"Latino USA" executive producer and anchor, author, and investigative journalist Maria Hinojosa will deliver the 50th Hays Press-Enterprise Lecture on Tuesday, April 9, at the University of California, Riverside. 
Hinojosa will discuss "Latinos in the Media" at 11 a.m. at the University Theatre on campus. The lecture is free and open to the public. Reservations are encouraged. Complimentary parking will be available in Lot 6.  
Hinojosa's "Latino USA" is a Peabody Award-winning show aired on National Public Radio. For 30 years Hinojosa has informed radio and television audiences with hundreds of stories from across the country. Hinojosa's coverage includes stories such as the restrictive immigration policies in Fremont, Nebraska, to the effects of the oil boom in North Dakota, to stories of the poor in Alabama. Her career has taken her to many newsrooms, including CNN, PBS, CBS, WNBC, and WGBH.
In 2011 she was the first Latina to anchor a Frontline report on PBS, "Lost in Detention," which explored abuse at immigrant detention facilities, garnering attention from politicians in Washington and from both mainstream and Spanish-language media.  
"This is a time of unprecedented emphasis on the Latino diaspora in the national media of the United States, and I look forward to the unique insights and rich historical knowledge that Ms. Hinojosa will be able to share with our UCR campus community," said UC Riverside Chancellor Kim A. Wilcox.
Howard H "Tim" Hays Jr., the former longtime owner and publisher of The Press-Enterprise newspaper, established the lecture series in 1966 to explore issues in journalism. His son, Tom Hays, created an endowment fund to make sure the tradition of the lecture lived on in Riverside after his father's death in 2011. 
"Reaching the 50th milestone is something that would have made my father proud, especially in a challenging time for journalism," said Tom Hays. "It couldn't have happened without UCR."
Hinojosa is part of a long line of prominent journalists who have come to UCR to give the annual lecture, including Katharine Graham, Ben Bradlee, and Marty Baron from the Washington Post, New York Times columnist Frank Bruni, CNN President Tom Johnson, former Wall Street Journal Publisher Karen House, Chicago Tribune columnist Clarence Page, Los Angeles Times editor Davan Maharaj, and Ray Suarez from the PBS NewsHour and Al-Jazeera.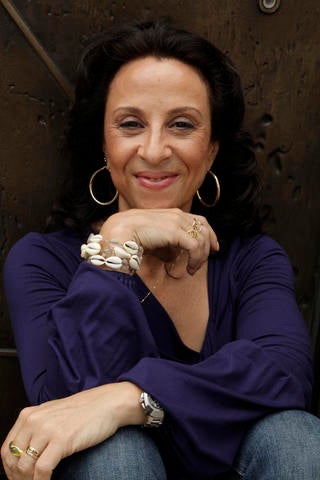 Hinojosa's commitment to journalism led her to create Futuro Media Group nine years ago, an independent nonprofit organization focused on producing multimedia journalism that narrates stories of America's diverse experience. Hinojosa is also the anchor and executive producer of the PBS show "America By The Numbers with Maria Hinojosa." 
Her vast journalistic career has garnered her four Emmys; the Robert F. Kennedy Award for Reporting on the Disadvantaged; and the Edward R. Murrow Award from the Overseas Press Club for best documentary for "Child Brides: Stolen Lives," among others.
Hinojosa, who was born in Mexico City and raised in Chicago, Illinois, has been a weekly syndicated columnist for King Features/Hearst and is the author of two books: "Raising Raul: Adventures Raising Myself and My Son," and "Crews: Gang Members Talk with Maria Hinojosa." 
She received a bachelor of arts from Barnard College in New York and is currently the Sor Juana Inés de la Cruz chair of Latin American and Latino Studies at DePaul University in Chicago. 
Media Contacts