Irvin Rosales sometimes gets overwhelmed with life. But he doesn't slow down.
The third-year UC Riverside student takes a full course load, works at the Career Center, drives home to Glendale on the weekends where he works as a restaurant server, and commutes twice a week from Riverside to Culver City for a music-industry internship.
Rosales, 21, studies music and culture, a hybrid degree that integrates historical and ethnographic components, a blend he said is a great fit for him. He's not interested in working on a stage, but rather behind the scenes of the music world. At his internship with Mr. Max Publishing, he's learning about artist development, songwriting rights and policies, and how the entertainment world works. 
Last year, he produced a 35-page project for one of his classes detailing how music emerges from natural disasters. Rosales looked at artists who used their musical skills to promote social change after calamities such as hurricanes Katrina and Maria. The research involved geographic and racial implications, economic conditions of those impacted, and the artists whose songs provided solidarity and empowerment to those communities.
"I learned that most of this is to primarily bring awareness to issues that are bigger than the artists themselves," Rosales said. UCR Assistant Professor of Music, Xóchitl Chávez assisted him with the project. 
"Xóchitl guided me, pushed me to produce something on a topic that hasn't been researched much before," he said. "It was tough to gather the information, but it taught me to think outside the box."  
Rosales created a minute-by-minute lyrical analysis of three "unity songs," which sought to bring awareness to hurricane and earthquake victims, Chávez said.
"He is a very astute student as his work spoke about the historical disparity and lack of infrastructure of each affected community," Chávez said. "He is a hardworking and promising young scholar."  
He also took a genealogy of Hip-Hop class with Assistant Professor of Ethnomusicology Liz Przybylski.
"He made useful connections between cultural movements that have shaped music-making, pop music industry forces, and current sounds," Przybylski said. "His ability to listen critically is a great asset for working with a label." 
His love for music grew at home, where music is always playing. As a kid, Rosales' mother played the drums in her native Guatemala. And when his father immigrated to the U.S. from Mexico, he went to see Selena in concert — his first live show.  
Rosales attended the School of History and Dramatic Arts, a performing arts high school in Los Angeles where he was introduced to "Grease." The school helped him break out of his shell. He performed at middle schools as a way to promote the arts, and it also connected him with Mujeres de la Tierra, a local non-profit, to offer bilingual telenovelas, soap operas, at a community park. That was his first acting gig. 
The combination of his work experience and love for music will lead him to grad school, Rosales said. In addition to school and work, as the oldest of three children, he also feels responsible for setting a good example to his younger siblings.
"I want to be a role model for them. I want them to see me doing something that I love," Rosales said. "And when I explained to my parents what my major was, they understood. Now I feel their efforts to raise me are not going to waste." 
At UCR's Career Center, his job as a front desk assistant has given him many opportunities, he said. He found his internship through HandShake, the Career Center's job search database, and now shares his own experience with other students searching for internships.
"For me, I like helping people. As a first-generation student, I like helping others who might be in a situation like mine," Rosales said. "Sometimes all this is a lot to handle and balance, but I know it's worth it."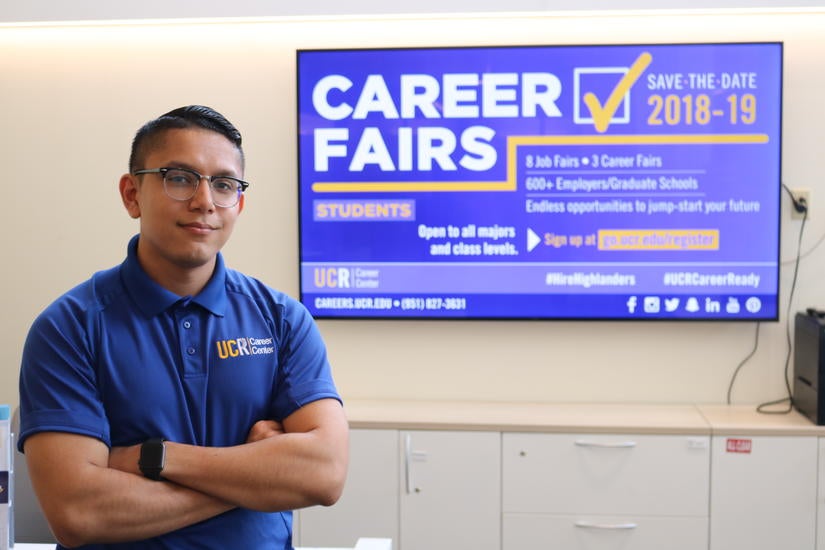 Media Contacts