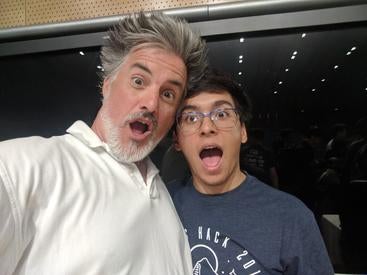 Bert Poole served as a guest judge for Citrus Hack at the Bourns College of Engineering. Citrus Hack is a 36-hour, student organized hackathon in which student participants create an entire computer science and engineering project from scratch and present it to a panel of judges. Mr. Poole is also the father of current BCOE student Jacob Poole who is majoring in computer science. Jacob serves as the chair of the UCR student chapter of the Institute of Electrical and Electronics Engineers (IEEE) and president of the Bourns College of Engineering student organization leadership council.
BCOE: How would you describe the students you met at Marlan and Rosemary Bourns College of Engineering?
Poole: Passionate. Engaged. Driven. Well-spoken. Eager to both mentor and learn. Mature.
BCOE: What was your impression of the Citrus Hack?
Poole: Thoroughly impressive. Citrus Hack is an activity that should be available to and taken advantage of by all students. How awesome to have the team-building, leadership-training, and problem-solving of real work experiences given to young adults in such an intense and creative experience. Citrus Hack not only demonstrated the passion and engagement of 300 students over a given 36 hour period can achieve, but also showcased the organizers' maturity and dedication to the nurturing of others.
 BCOE: What was the best part about being a judge for the Citrus Hack?
Poole: Being presented the passionate big ideas of college kids and seeing their enthusiasm with respect to that which they actualized only moments before.
BCOE: What was your impression of the students' projects?
Poole: Extremely innovative and aggressive in scope given the time restrictions. The breadth of problems solved was impressive, from a haptic-feedback equipped hat that gave a type of sight to the blind based on the visual field, to a cryptocurrency system, to a media bias rating plugin, to an SMS-enabled maps replacement for mobile devices where data isn't available, to a facial recognition system for economizing emotive feedback, the scope of issues solved was really interesting to me.
BCOE: How do you feel about Jacob's experience at UCR and Marlan and Rosemary Bourns College of Engineering?
Poole: Jacob is a unique type of kid whose passion results in his committing himself fully in wherever it is he happens to be. The faculty and facilities of UCR and the Bourns College of Engineering afforded him the opportunities to immerse himself and take on the leadership opportunities he craves. By working with him to facilitate such engagement while helping him find a balance, Jacob got far more than just an academic education; he got a real-world team-challenge environment. The school raised him to not just be smart, but to also be clever, compassionate, wise, and dedicated among other things.
BCOE: What advice would you give to other parents of BCOE students?
Poole: Encourage participation and investment in the facilitation of events such as the Citrus Hack. Encourage your children to get involved and step out of their comfort zones. UCR provides a caring environment where kids can take risks that afford growth while having a supportive safety net in its staff. In this case, you truly get far more than you put in.
The next Citrus Hack at BCOE will be April 26 - 28, 2019. Please see https://www.citrushack.com/ for more information.