To celebrate fall's arrival, UC Riverside's community garden, known as R'Garden, is hosting an inaugural Fall Festival and Pumpkin Patch.   
Community members will enjoy an afternoon of cooking demonstrations, a trunk-or-treat, music, and activities for children led by UCR organizations, including the entomology and chemistry clubs. R'Kids, the campus' student-parent group will be sponsoring balloon art and face painting.
Visitors may purchase pumpkins in various sizes, all grown and harvested by R'Garden staff and students. 
Parking and admission to the festival are free. The celebration is scheduled from 11 a.m. to 5 p.m. on Saturday, Oct. 26.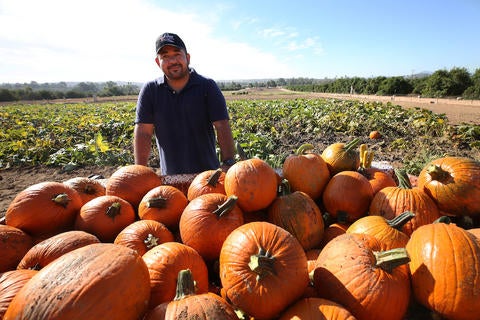 "We are trying to engage the community with educational workshops and information for healthier living," said Richard Zapien, R'Garden manager, who expects to harvest more than 1,000 pumpkins this first year. "We want to remind the community that we are part of the region's fabric, that we are accessible to them."
Vendors interested in participating or donating should contact Zapien at richard.zapien@ucr.edu. 
A local car club will offer a trunk-or-treat for children, starting at 3:30 p.m.  
UCR's Culinary Chameleon taco truck will sale two-taco lunch plates starting at $4.99. Taco options include veggie, carne asada, or chicken.   
The R'Garden currently uses 4 acres of UCR's Agricultural Operations fields. The garden is accessible to students, staff, and faculty. A portion of the garden has 45 plots designated for public use, free of charge, that allow community members to grow their own fruits and vegetables. 
"We are a public university, known for its incredible contributions to the agriculture industry," said Peggy Mauk, UCR's director of Agricultural Operations. "We want our Inland Empire community to know that our doors are open, that we welcome them here, and that we just want to offer a few hours of fun and activities."
UCR Fall Festival and Pumpkin Patch
When: Saturday, Oct. 26 
Where: UC Riverside's R'Garden, located near parking lot 30 off Martin Luther King Boulevard.  
Time: 11 a.m.-5p.m.; trunk-or-treat at 3:30 p.m.
Admission and parking: Free
Pumpkins for sale: $2-$20
Food: Two tacos: Asada, chicken for $5.45; veggie for $4.99.
Vendors or event donors may contact Richard Zapien at richard.zapien@ucr.edu. 
Media Contacts