To a voyeur at this May 1 virtual songwriting session, it was straight-up fun; a valve release for pent-up pandemic creativity. But the undercurrent of the music production session among members of the UCR EARS music group was something more intentional.
Once upon a musical ambition, hitting it big meant flagging the gaze of one of Berry Gordy's or David Geffen's minions in some smoky joint, or summoning the help of a DJ willing to give an unknown B-sider a spin on the turntable.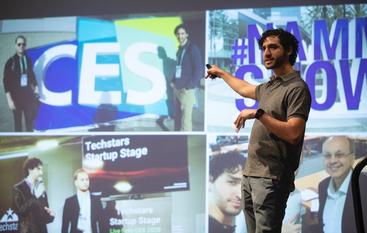 Today's clubs are smoke-free, vinyl is for collectors only, and the recording industry scours YouTube, Spotify, and SoundCloud for the next Rihanna.
It means musicians are more likely to succeed if they are self-marketers first. For the student would-be music producers in UCR's Experimental Acoustics Research Studio, or EARS, program, that means building a catalog of samples and pushing them out through social media and networking.
"Record labels want to sign people who have a name beforehand," said Justa Hoang, a junior music performance major at UCR and an EARS member with about 5,000 followers on Instagram. "You're creating your own brand, you're creating your own look, and you have to market yourself. It's unfair, but it's reality."
On May 1, Hoang and about 20 students and mentors from EARS defied pandemic strictures and collaborated, via Zoom, using music production software such as GarageBand or Logic Pro. The session was hosted by EARS group leader Ethan Castro, a doctoral student in digital composition, and a music producer and entrepreneur.
Castro dispatched the students into three breakout rooms, challenging them to make music and reconvene in two hours to share what they produced. 
Jack Adams, who led the Group A session, handled production on Logic Pro software, and accompanied the track on acoustic guitar. Adams is an accounting major, which he said has everything to do with his musical ambition.
"People think I'm creating a Plan B for myself," he said of his accounting major. "But that's not so. Understanding contracts is important. I like accounting because it's the language of business."
The sessions were unlike anything in a studio. The students shared scattered conversation and a couple guitar riffs, then mostly disappeared into their own bubbles, reemerging about an hour later to attach their contributions to a collective composition.
"In person, you can't just mute yourself and sit over in a corner," said Ronna Zon, a first-year major in music and business. Zon, part of Adams' group, said it was her first-ever recording session. "I hear these things in my head; I wanted to turn that into something tangible that other people can hear." 
Daniel Guevara was the third member of group A, and the lead vocalist on the group's short track "D Caf." In addition to being a full-time student, Guevara walks 10 miles a day working in an Amazon warehouse. He's saving his Amazon money for progressively better sound equipment. 
"I want to create something bigger than myself," Guevara said. "The goal is to do less walking."
Hoang's group B delivered the song, "Who is She, When There is Me," which had 225 plays on SoundCloud by May 28. Hoang sang lead vocals on the song, appropriately titled for a music industry hopeful who maintains: "No one is going to make me successful but myself." 
The final, produced "song snippets" to come out of the EARS Virtual Songwriting Camp can be found on SoundCloud.
Media Contacts