When Lauren Tesoro needed books for fall quarter, she planned a 200-mile trip from her home in Santa Clarita to Riverside. She picked up 10 books by the Tomás Rivera Library dock. 
Like Tesoro, many students have been using the library through its contact-free curbside delivery option. Shortly after the COVID-19 pandemic hit, library staff searched for options to remain accessible to as many students as possible. 
UC Riverside became the first UC campus to pilot the curbside delivery concept, an idea already implemented by other universities across the United States. By early June, UCR staff had established the drive-up system, which is available Monday through Friday from 1-4:30 p.m.
"It's nice to have this option," said Tesoro, a second-year master's student studying art history. "It made me plan ahead and think what I needed to be researching in the coming months."
Tesoro called from her vehicle to inform library staff she was parked by the library's dock. Philip Chiu, reserves streaming coordinator, took the call from inside his first-floor office. Once he made it outside, Tesoro held her student identification card against the car window. Chiu verified her identity and proceeded to load 10 books into the trunk of her vehicle. 
"Social distancing is a key component of this process," said Chiu, who waves drivers goodbye before pushing the small, green library cart back into the building where he goes through a disinfection protocol: discarding the disposable gloves he wears, cleaning the cart, and sanitizing his hands. 
Since June, more than 2,000 items have been checked out by more than 600 users. Students still have access to online material.  
"Even at the beginning of lockdown in March, we discussed how this could safely work, once we were able to ramp up having limited essential staff in the buildings," said Ann Frenkel, deputy university librarian. 
Having staff available for curbside delivery is crucial, and is something library patron Robert Gill, a retired executive assistant to the chancellor, appreciates. 
"I just like to read a lot," Gill said. "This is great."
Among other library staff who make this system work is Raul Aguilera, access services assistant. His morning shift involves many trips up and down the floors of Tomás Rivera Library and occasional trips to Orbach Science Library. 
The curbside option is popular with faculty, graduate students, and undergraduate students alike, Aguilera said. On a recent Friday, he scoured for titles on Ruth Bader Ginsburg, globalization, and books written by author Judy Blume.  
Despite the online learning model and the small number of students living on campus, library staff have ensured library users still have access to materials for research, teaching, and studying, said Vincent Novoa, head of access services. 
"We devised a workable solution that follows the campus model of putting patron and staff safety first, while still giving our community what they need as much as possible," Novoa said.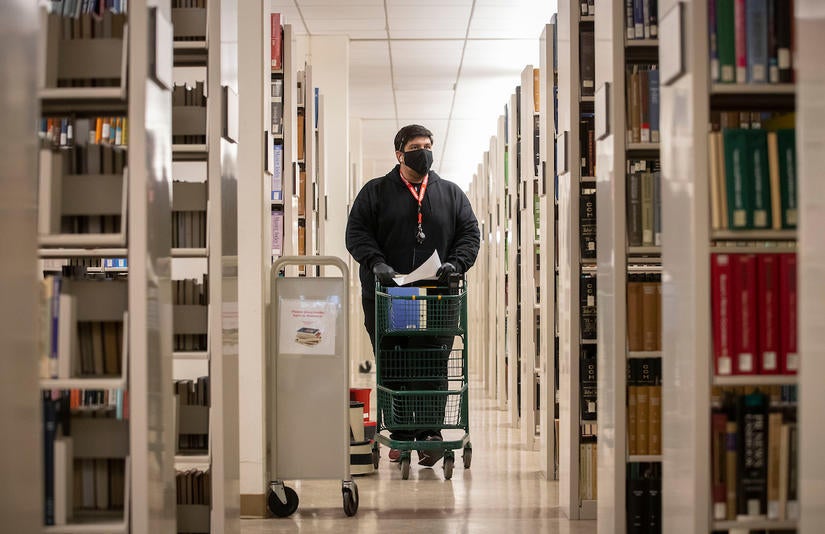 Media Contacts