The academic year is coming to a close and Clifford Trafzer, distinguished professor of history and the Rupert Costo Chair in American Indian Affairs, has seminars to plan, graduate students to advise, and research to conduct. He also has to attend the premiere of "The Last Manhunt," a film for which Trafzer served as a historical consultant and Jason Momoa co-wrote, produced, and starred. Made with the cooperation of the Twenty-Nine Palms Band of Mission Indians, the film offers a different perspective on the legend of Willie Boy (Nuwuvi) and Carlota (Chemehuevi), whose ill-fated relationship led to the death of her father, the couple's attempted escape through Inland Southern California mountains and high desert, and, finally, Carlota's own death, likely at the hands of law enforcement. Willie Boy's fate has long been debated, with law enforcement claiming he committed suicide and Native communities across the Southwest believing he escaped. In addition to the film, the story of Willie Boy, Carlota, and their families is also shared in Trafzer's latest book, "Willie Boy & The Last Western Manhunt."
Trafzer's experience on "The Last Manhunt" is just one example of the work he's done while engaging with local tribal communities and sharing their histories in the 15 years he's served as the Costo Chair.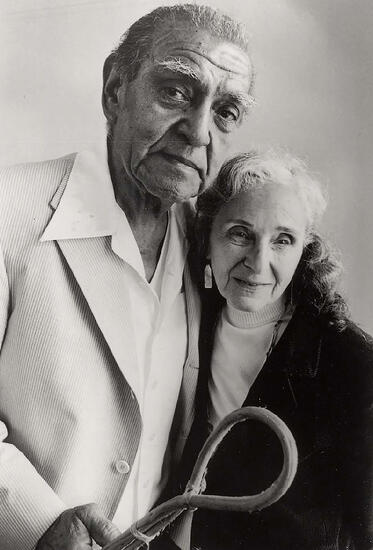 "Rupert Costo believed in community-based learning and that we, as scholars, needed to listen and learn from communities and include their knowledge and their interpretations in our scholarly work," Trafzer said. "I've tried to do that in the books and articles that I've written, and to encourage my students to listen and learn from whatever Native community they're working with."
The chair, the world's first American Indian chair endowment, was established in 1986 by Costo (Cahuilla) and his wife, Jeannette (Cherokee), both historians, publishers, and philanthropists who played a key role in the establishment of UC Riverside and whose influence is still felt across the campus in multiple ways. Named spaces like Costo Hall, home to the campus's Ethnic & Gender Centers, and the Costo Collection in the University Library, featuring the couple's papers and Native American objects they collected, serve as tributes to their contributions over the years. Through the knowledge, resources, and connections provided by the Costo Chair, the late couple continues to touch the lives of Native American students at UCR.
"Being able to work with Cliff as the Costo Chair elevates our presence in the community and is a major support and resource for all of us," said Josh Gonzales '04 (Xictlaka/Mexika), director of Native American Student Programs.
In his role as the Costo Chair, Trafzer is working to expand the support of UCR's Native American students by creating a new undergraduate scholarship named in honor of Luke Madrigal '82 (Cahuilla). The late chair of the chancellor's Native American advisory committee, Madrigal's legacy includes revitalizing the singing of the Cahuilla bird songs and advocating for tribal wellness.
"I felt that we ought to honor Luke because he was a man of service to Native communities, to Native students, to children," Trafzer said. "This scholarship will help an undergraduate student who plans to work with Native communities in some way." The scholarship will be open to students in any field of study because, as Trafzer explained, "I just think that we have great needs with our Native communities."
It's Trafzer's wish that the Madrigal scholarship will provide recipients the same level of encouragement and empowerment that being named the Costo Chair provided him.
"The honoring is so important to me, I take it very seriously," he said. "I'm hoping when Luke Madrigal's fund is whole that the recipients feel honored to get the scholarship and it helps propel their research and their careers."
Giving to UCR
Your donation to the Luke Madrigal Scholarship for Native American Service Fund will provide scholarship support for students making significant contributions to Native American communities.