As a researcher, Nora Hackett knows too well the importance of having the latest equipment in instructional labs. "I had the experience in college of having electronic tools go down as the sun went down and the power grid lit up in the East Coast, so at 4 o'clock in the afternoon your instrumentation was not valid any longer," she said. "We also used very antique balances and such in chemistry labs, so I felt a renewing source of resources for early students' laboratories would give them equipment that is contemporary with what they would have in the workplace and provide tools for them to have experience with modern-day equipment."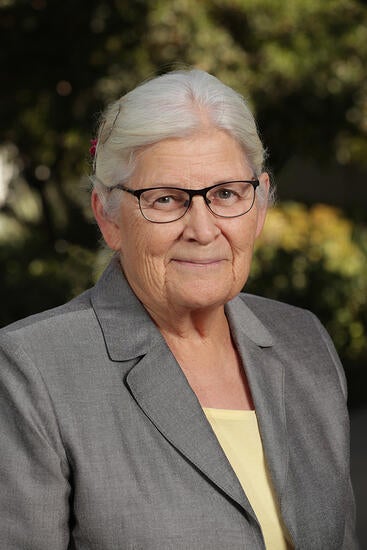 The Nora A. Hackett Instructional Equipment Endowed Fund was established in 2020 to purchase equipment for bioengineering, chemical and environmental engineering, materials science and engineering, and mechanical engineering instructional labs.
"Nora's gift of endowed funds at BCOE enhances the college's ability to support students and upgrade our instructional labs and makerspaces," said Christopher S. Lynch, dean, and the William R. Johnson Jr. Family Chair in the Marlan and Rosemary Bourns College of Engineering (BCOE). "The direct result is that our students have a competitive edge for jobs through skills and experiences they develop at BCOE."
This is the second endowed fund that Hackett, a member of the UC Riverside Foundation Board of Trustees and the College of Engineering council of advisors, has established at the university. In 2006, she started the Colin E. Hackett Graduate Fellowship in Engineering in memory of her husband, who passed away in 2005. The award supports full-time graduate students in mechanical and/or chemical sciences who are engaged in experimental engineering research.
"My late husband was a mechanical engineer who worked in the national laboratory system for 27 years, and he also was an experimentalist, not a theoretician, and in each of our environments we were very cognizant of the need for hands-on experience to not only provide the education of the students but also the inspiration for more development of new ideas," Hackett said.
The Hacketts met at Brown University while pursuing their doctoral degrees — hers in biology and his in engineering fluid mechanics, thermodynamics, and applied mathematics. The couple eventually made their way to California where she worked for the University of California, and he worked for the Sandia National Laboratories. In 2000, the Hacketts came to UCR after she was recruited to serve as the director of intellectual property services, and he accepted a position with the College of Engineering-Center for Environmental Research & Technology (CE-CERT).
Through these endowments, Hackett is carrying forward her husband's work at CE-CERT, encouraging young researchers, and building personal connections with recipients.
"She asks the most insightful questions about their research and offers thoughtful advice from the experience she and Colin gained over the years," said Matt Barth, associate dean for research and graduate education, and the Jacques and Eugene Yeager Families Chair in BCOE. "Recently, Nora brought one of her daughters and three of her granddaughters to tour the research labs at CE-CERT and learn more about where their grandfather worked. It is inspiring to think about the legacy that Nora and Colin have created for future generations of research engineers."
Since its inception, nine graduate students have been named Hackett Fellows and provided with opportunities to conduct research, attend conferences, network with future employers, and continue in their benefactor's footsteps.
"I was able to virtually meet with Dr. Hackett; she is very impressive, and I am grateful that we were able to meet and discuss different ways to enable future generations of engineers, with emphasis on enabling women in STEM," said 2019-20 recipient Priyanka Singh '15, Ph.D. '21 a fermentation engineer at biotech firm Genomatica Inc. "I wish I had more time with her, honestly. She gave a lot of great advice in our short meeting."
Giving to UCR
You can make a difference at UCR, providing students with the tools and support they need to reach their academic and professional goals. Gifts of all sizes have great impact.