Gabriela Martinez is nervous about her trip to Washington D.C. Not because she's going to be in the same building as the President of the United States. Nah, it isn't that. She's nervous because this trip to the 2023 State of the Union, or SOTU, is the same week as her econ midterm.  
She phones her parents to tell them the news about receiving an invitation to attend as the special guest of California's 34th District Representative Jimmy Gomez. After their initial excitement, comes the typical parental concerns: "Is this trip going to interfere with school?" She assures them no.  
Martinez packs five charging banks for her laptop and all her study essentials and preps for her midterm during her five-hour flight from Los Angeles International Airport to Reagan International Airport, less than five miles from the Capitol Building. 
This is where things get a little (or a lotta) hectic.  
Martinez meets Gomez at his office in the Capitol. They take photos and discuss DACA, life at UCR, his newborn son Hodge, the immigration story of both of their families, the current political climate, and the future.
Rep. Gomez also takes a moment to tweet about Martinez, "She's joining me tonight to send a clear message to @HouseGOP obstructionists: DACA, TPS, & DED recipients deserve a path to citizenship. #HomeIsHere"
Gomez's team is welcoming, relatable, and kind. They give her a brief run-through of that evening's events and her ticket.  
"Don't lose the ticket..." Martinez reminds herself. 
The Capitol's security is always tight, but it gets super intense in the hours leading up to the SOTU and the reception that precedes it. 
"Streets that can usually lead you straight to the Capitol are blocked off. You can only get through if you are the President or a Representative," Martinez said. "Once I was with Rep. Gomez, I no longer had to go through security — and I felt pretty cool. We used the tunnels in the basement to get around. We all handed our phones into security before entering the reception." 
"During the reception, everyone was shoulder-to-shoulder. It was loud. Multiple conversations happening at once and lots of networking," Martinez said. "I had never shaken that many hands in a small time frame in my entire life."  
Since she is sans phone, a pen would have made a difference for jotting down the many contacts she made, including representatives from New Mexico, Arizona, and Texas, as well as Olivia Julianna, a Texas abortion rights activist. 
There is a long line for food and desserts. February in Washington D.C. means it is cold outside, so the Capitol's heater is on. But the mix of indoor heating and bodies makes it extremely hot inside and people are sweating. The air conditioning is eventually turned on.  
Martinez sits in Chamber 6. In front of her is Dr. James Baker, who recently helped his Massachusetts Rep. Lori Trahan draft and pass the Medication Access and Training Expansion Act, or MATE. To her left is an elderly African American veteran who was very kind. To the right of her are stairs. 
"Everyone was standing waiting for the Vice President and Speaker of the House to begin introductions. There were photographers everywhere. There was press in the chamber in front of me with their laptops open and typing away. When there was lots of clapping, cheering, and noise inside the House Chamber it is very difficult to hear. For example, I could hear the beginning of the President's sentences but sometimes I wasn't able to hear the ending," Martinez said. 
And while most of us see them on phone and TV screens, Gabriela sees in-person President Biden, First Lady Jill Biden, Speaker Nancy Pelosi, Rep. Judy Chu, Rep. Alexandria Ocasio-Cortez, Sen. Bernie Sanders, Rep. Mark Takano, and rockstar Bono of U2. She also sees Monterey Park Shooting Hero Brandon Tsay and the parents of Tyre Nichols. 
Leaving the SOTU is also hectic.  
Gabriela cannot exit Chamber 6 by herself. She needs to wait for her hosting rep to escort her out. Once outside, she grabs a unique moment — seeing the president inside The Beast, the Presidential state car.  
***
Martinez said she was chosen for the SOTU visit because of her active involvement and advocacy for immigrant rights. In five years, she has done an immense amount of lobbying in Washington D.C.; in her home district of Los Angeles, which is where her parents immigrated to from Mexico and where she met Gomez; and in Riverside with Takano. She's participated in events, like voter registration, DACA marches, MayDay marches, Presidential Forums, community outreach, and interviews about immigration rights with Telemundo, Univision, the Orange County Register, La Opiníon, and many others. She's also very involved with UCR's Undocumented Student Programs.
"I have been advocating for immigrant rights since high school; I was fully undocumented then. In December 2020, there was a brief opportunity to apply for DACA — the first time new applications would have been processed. I am one of the few people who were able to receive DACA during the pandemic. After I received my permit in hand, about 48 hours later the program was once again paused and it hasn't opened for first-time applicants ever since. I have a close friend who was on the same timeline as me but was not able to receive DACA. I am currently working with The Coalition for Humane Immigrant Rights (CHIRLA) for a pathway to citizenship for all immigrants," Martinez said.  
***
Oh yeah, how did she do on the econ midterm? She got a B.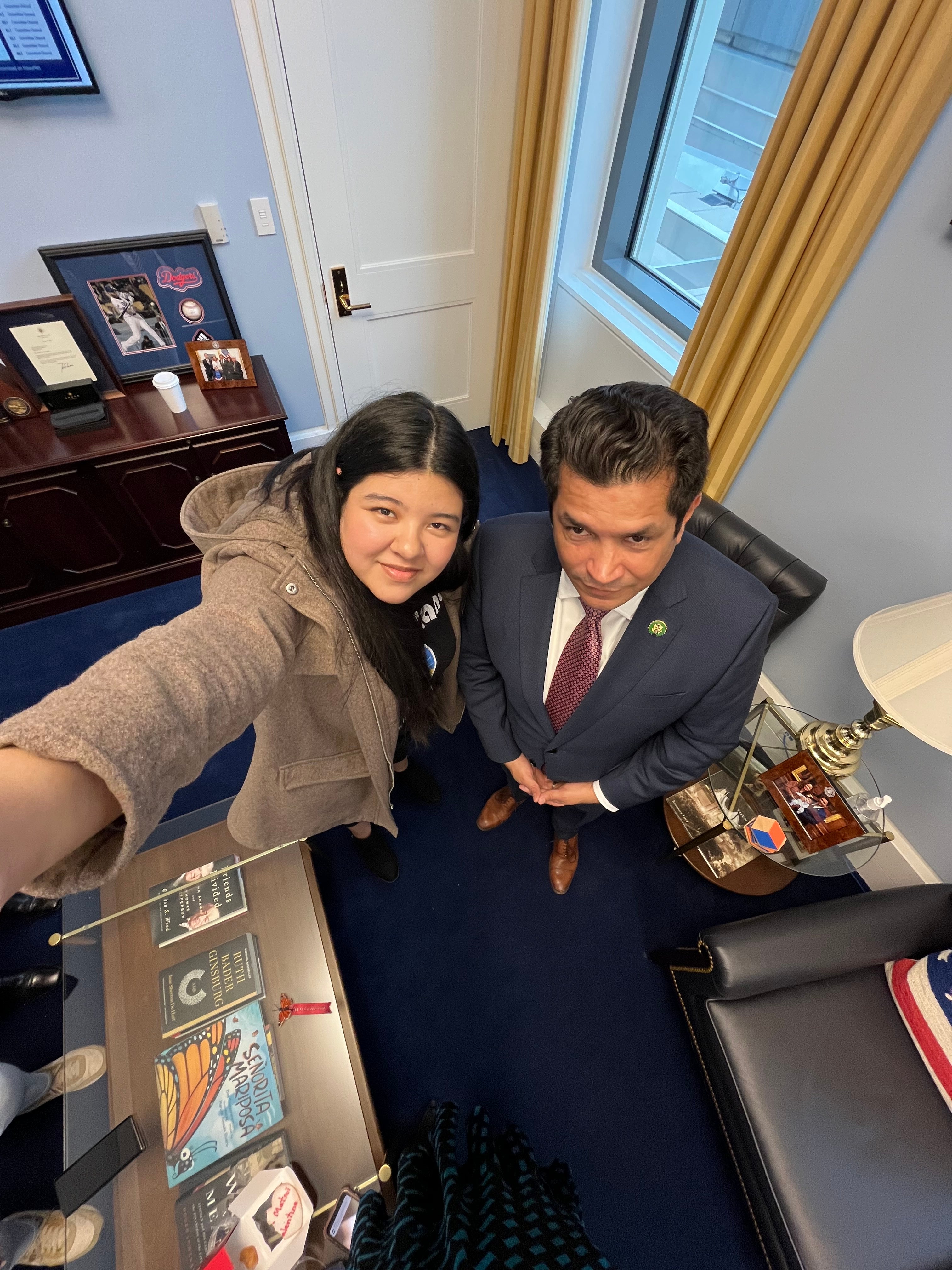 Media Contacts