ALUMNI PROFILE
---
THE EDUCATOR
Riverside superintendent Renee Hill keeps focus on learning amid challenging times
By David Danelski
Model United Nations event for high school students hosted by UC Riverside in the 1970s proved fateful for a teenager from South Central Los Angeles. Renee Hill found the organizers and campus welcoming, and the university was just close enough — and far enough — away from home, so UCR won out over UCLA as her choice for college.
A cadre of friends in the dorms provided a support system that helped Hill, a first-generation college student, navigate course registrations and other complexities of college life. She recalls certain professors tried to learn every student's name, even though some classes exceeded 100 students. And the fact that the UCR chancellor at the time, Tomás Rivera, was the first person of color to lead the campus was inspirational.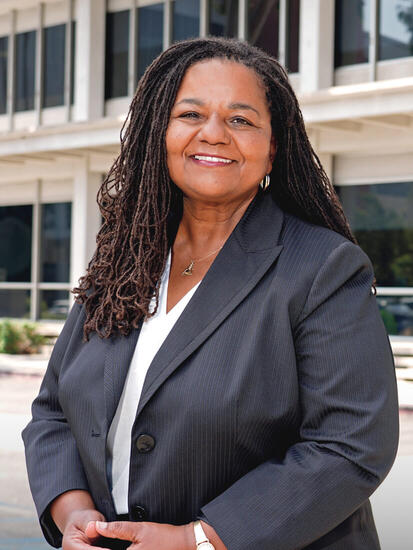 Hill, 60, is now considered a similar inspiration. In February 2021, amid the more trying days of the COVID-19 pandemic, she became the first Black superintendent of the Riverside Unified School District, or RUSD, where she oversees the education of 40,400 K-12 students, the work of 5,800 employees, and an annual budget of more than $693 million.
"This is a very large job with a high level of responsibility, including the need for our team to do our best for each and every student," she said. "Kids and teachers have told me it is encouraging to see a person who looks like them be in a position of high regard."
Hill expected her first year as superintendent to move the school district beyond COVID, but instead, as the pandemic persists, she found the Riverside schools moving forward "alongside COVID." The pandemic, she said, has given every student at least one adverse experience that may affect their learning.
"That's big," she said. "It's important to always be thinking of how to stay focused on student learning, and wellbeing for everyone, despite COVID, despite the constraints we might have for gathering, despite the current societal environment, and despite gun violence showing up in different places throughout the country."
Toward that end, she has used special pandemic funding to establish what she described as "social-emotional learning" structures at every school site to better connect students to their school communities.
"We have staff if students need to talk to somebody, or they need to adjust, or calm down, or deal with some issues that they're having," she said.
Hill's nurturing approach dates back to her days as a teacher at Longfellow Elementary School, which serves families from Riverside's Eastside neighborhood. She joined the faculty in 1984 after receiving a bachelor's degree in liberal arts from UCR in 1983 and student teaching for a year.
"Longfellow is known for going above and beyond book learning to support students and their families," she said.
She later earned a master's degree in curriculum from UCR in 1988 and served as an assistant principal at Riverside's Pachappa and Mountain View elementary schools. A call from a UCR friend, however, took her career in a different direction in the 1990s. For seven years, she managed cellular telephone tower construction projects throughout the nation for a consulting firm.
"It was team building, project management, and figuring out problems. All of that really helped," she said of the skills she learned in the role.
She also learned that schools could better prepare America's workforce. Students needed to learn more than just the technical skills of the day, she said. More importantly, career success requires foundational math, verbal skills, and problem-solving skills that allow people to be lifelong learners who can adapt quickly to rapidly changing landscapes.
Hill took her private sector experience back to RUSD in 1998 when she returned as an instructional specialist. She then worked her way up the administrative ranks to become an assistant superintendent in 2014 and oversaw innovation and learner engagement programs, including technology services and a Gates Foundation grant to integrate classroom instruction with online learning.
Hill retired in 2017 but not for long. In July of 2020, as the district needed to rapidly transition to online classes before the fall semester to prevent the spread of COVID, Hill rejoined the school district as the chief academic officer. Just seven months later, the school board voted unanimously for Hill to be the superintendent. In March, Hill was honored by fellow UCR alumnus Assemblymember Jose Medina as the 61st Assembly District's 2022 "Woman of the Year" for her work transforming Riverside's education system.
She offered these words of encouragement for college students considering careers in education: "It is the most important work in the world next to parenting. It's a worthwhile, lifelong vocation despite being challenging and difficult."
---
Return to UCR Magazine: Summer 2022