What does it take to bring together actors and scholars?
For Bella Merlin, professor of acting and directing at the University of California, Riverside, it takes a practical acting laboratory. A place where ideas and facts will come together.
That's exactly what Merlin will offer April 6-8 when she brings three internationally acclaimed actor trainers to work with local, national, and international scholars and practitioners to develop an innovative, interactive, and interdisciplinary theater lab called "The S Word: A Practical Acting Laboratory."
At its heart will be the Stanislavski system of acting, a system known for adding realism, emotion, and dramatic expressions as a way for actors to give life to their characters. The three-day lab at UCR will end on April 8 with "The Culmination," during which each of the three groups will share their practice-based research. "The Culmination" will take place from 9:30-11:30 a.m. at UCR's Studio Theatre, ARTS 113. The event is free and open to the public,
The lab and its end presentation will not be a piece of theatre, nor will it be a lecture. Instead, it will serve as a community collective of practical research, said Merlin, who joined UCR's Department of Theatre, Film and Digital Production in 2014. Merlin, a professional actress, previously performed with Shakespeare & Company and the National Theatre in London.
The Stanislavski system comprised methods created by Constantin Stanislavski, a Russian actor and director who cofounded the Moscow Art Theatre in 1897.
Throughout the weekend, the three actor trainers will work with groups composed of 12-20 participants who will be tasked with investigating timely prompts stemming from Stanislavski's system. Prompts may include: Can we train empathy? How do we promote the collaborative work of an ensemble through improvisation? Is it possible to harness the healing power of story? How do we build community and ask the important questions?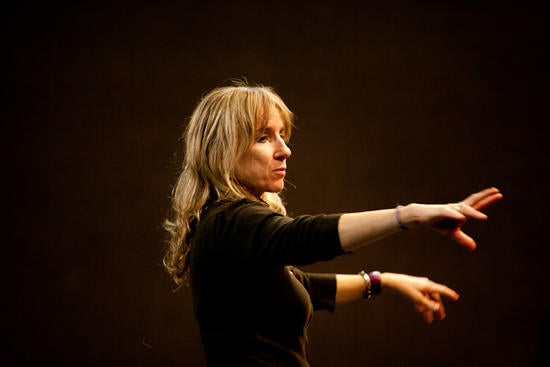 "The emphasis is on exploration and experiment to see if we might collectively create some new knowledge about the value of language, acting, emotional receptivity and empathy in our increasingly uncertain world," said Merlin, who has authored several books, including "The Complete Stanislavsky Toolkit" (2014) and "Facing the Fear: An Actor's Guide to Overcoming Stage Fright (2016).
"It'll be a once in a life-time event involving participants from Australia, Europe, New Zealand and across the States, as well as here in Riverside. Not to mention eight interdisciplinary colleagues from UCR," said Merlin. "Given the range of interdisciplinary perspectives from across the campus and around the globe, who knows what we'll discover?"
A special edition of The Stanislavski Studies journal in 2019 will include peer-reviewed articles arising from the weekend, discussing the nature of practice-based research. The event is being produced in collaboration with London's Rose Bruford College of Theatre and Performance.
"To me, this is what universities should be doing, sharing their on-going research with the community," Merlin said.
Meet the three workshop leaders: 
Kimberly Guerrero is an assistant professor of acting at UCR. She is a native Oklahoman, a graduate of UCLA who holds an MFA from UCR. She is an actor, writer, and director who also works with tribal communities throughout North America as a public speaker and advocate promoting both personal and community development. With many film and television credits to her name, Guerrero is most often recognized from her appearance on "Seinfeld" as Winona, Jerry's Native American girlfriend. She also originated the role of Johnna Monevata in Steppenwolf's Theatre Company's Tony Award-winning play "August: Osage County" and joined the ensemble performing in Chicago, on Broadway, at The National Theatre in London and at the Sydney Theatre Company in Australia. She appeared in the Oscar-winning movie, "The Revenant" and has also starred as one of the most notable female chiefs in modern history: the late Wilma Mankiller in "The Cherokee Word for Water." As an award-winning scriptwriter, she addresses the issue of representation on Native American communities in theatre and film, and is co-founder of the StyleHorse Collective, working with young people on reservations to create films and videos.
Sharon M. Carnicke is a globally acclaimed expert on Stanislavsky. Carnicke is unique in her expertise because she combines acting with fluency in Russian language and culture. She began as an actor and dancer, falling in love with the classics as in intern at the American Shakespeare Festival Theatre in Stratford, Conn., where she grew up. She added musicals to her repertoire, playing a 12-year-old in Ralf Harmer's revival of "The Music Man" in New York City. She began directing when she co-founded the Potato Players, a New York theatre ensemble dedicated to new plays. Her production of George Naylor's "The Locked Room" at the Lincoln Center New Play Festival won the Samuel French Award. She earned a doctorate in Russian at Columbia University and traveled extensively in Russia where, over the years, she studied Stanislavsky via his former students and his unpublished writings in the Moscow Art Theatre archives. As an author, she is best known for her book, "Stanislavsky in Focus."
Tina Packer is the multi-award winning director, actor and founding artistic director of Shakespeare & Company, one of the most prestigious Shakespeare companies in North America. She trained at the Royal Academy of Dramatic Arts and then spent several years as an associate artist at the Royal Shakespeare Company, appeared regularly on television ("Dr. Who," "David Copperfield," "The Avengers") before receiving a Ford Foundation Award to combine British actor training and American actor training in an 11-month transnational investigation. In 1978, this research led to the founding of Shakespeare & Company in Lenox, Mass., where Packer remains founding artistic director. In nearly 40 years of the company's existence, Packer has directed or acted in every play in Shakespeare's canon. Her two-person piece "Women of Will," which she plays many of Shakespeare's roles, including Juliet, Beatrice, Lady Macbeth, and Coriolanus, has toured in Mexico, China, England, The Netherlands, and across the United States. She has taught at more than 30 colleges in North America, including Harvard, MIT, and NYU. Packer published "Power Plays: Shakespeare's Lessons in Leadership and Management" with John O.Whitney.
Other UCR participants:
Fun facts
Stanislavski experimented with:
Emotional memory
Active analysis
Physical control
Improvisation
These methods became the golden rules for realism in acting throughout the United States, Europe, and other parts of the world in the 20th century and beyond.
Five Hollywood actors known for using Stanislavski system of acting:
Marlon Brando
Meryl Streep
Dustin Hoffman
Robert Redford
Al Pacino
Media Contacts