With record enrollments set each year, panelists made the point for increased state support during a May 4 hearing hosted by the Assembly Select Committee on the Master Plan for Higher Education in California. The Master Plan is a plan for affordable access to higher education in California.
"With a growing population, the state's support will enable the University of California to continue to serve as an academic research engine for our economy," said Jose Aguilar,  University of California, Riverside's director of financial aid.
UCR receives more than 60,000 undergraduate applications each year, and now has a record-breaking enrollment of 23,300 students.
The Master Plan was established as a visionary roadmap for providing an accessible, affordable, quality, and accountable higher education system in California. Its recommendations are for the California Community College, California State University, and University of California systems.
However, much has changed since the plan's inception in 1960 and the plan is no longer able to accommodate expansion in California's higher education systems. Population growth, increased diversity, technological advancement, and the rise of new industries have transformed the needs of students and increased the demand for higher education. The most recent review of the Master Plan was conducted by a legislative committee in 2010, coinciding with the plan's 50th anniversary. Any revisions to the plan could take up to eight years or longer to implement.
With a growing disparity between the number of diverse faculty and staff compared to students, panelists made the case for closing the gap, while legislators expressed their concern for diversity across California's education systems.
"While our students are more diverse today than they were when California's Master Plan was written, faculty are not. We must tackle that by increasing the diversity of faculty ranks so the pool reflects the student population," said Assemblymember Marc Berman (D-Palo Alto). "We've heard from custodial, financial aid, and student services staff who demonstrate that it takes an ecosystem to ensure that students reach their full potential."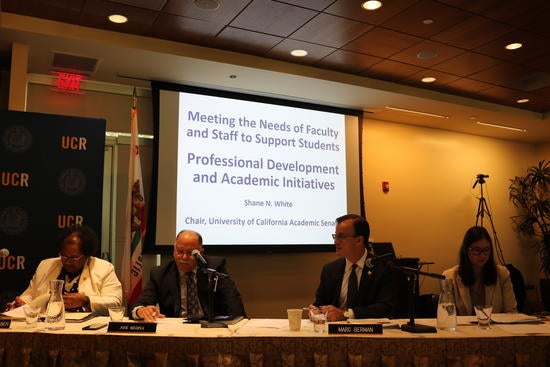 Added Assemblymember Jose Medina (D-Riverside): "We've made progress. However, we've been advocating these same issues for the last 50 years and the numbers are flat."
UCR has made strides toward achieving faculty diversity in a short period of time. Over the past two hiring cycles, the university recruited 35 new underrepresented-minority faculty members, more than 22 percent of all new hires. Historically, that figure has been about 13 percent of new hires. About 45 percent of undergraduates at the university are from an underrepresented minority.
Systemwide, UC admits the top 12.5 percent of high school graduates. In fall 2018, UCR had a 12.4 percent hike in applicants, the largest increase of any campus in the UC system. UCR registered 60,285 applicants, its largest-ever number of applicants, and showed the largest percentage increase in transfer applications of any UC campus, at 13.2 percent.
Established in 2017, the 11-member Assembly Select Committee is the first step in a multi-year endeavor to review California's Master Plan. The committee has conducted hearings at public higher education campuses across the state. UCR was chosen to host the fourth of five hearings to be held during the 2017-2018 legislative session. This hearing can be viewed here.
Media Contacts