Nwaka Onwusa has been listening to Tom Petty's "Free Fallin'" a lot lately. In fact, she's dubbed the song her "anthem" as she navigates two major life changes: a cross-country move and adjustment to her newest role, as director of curatorial affairs for the Cleveland-based Rock & Roll Hall of Fame. 
Onwusa, a 2008 graduate of the University of California, Riverside, has managed the enviable feat of making music the guiding theme of her career. Yet according to her, the road to curating music history — first at the Grammy Museum in downtown Los Angeles, and now at the Rock Hall — began at UCR. 
"As a student, I worked in the UCR fine arts box office, and that really allowed me to build on my education in music and its diversity," Onwusa said. "But beyond that, working at the theater was also what catapulted me into getting a job at the Grammy Museum.
"I had been trained at UCR to use Ticketmaster's system, which was still pretty new at the time," she added. "That's what they had just started using at the Grammy Museum, too, so I ended up getting a job in the museum's box office based on my UCR training."
From the box office, Onwusa would go on to scale new heights at the Grammy Museum, joining its education department and later becoming its curator. 
In 10 years, she conceptualized, researched, and produced more than 20 exhibits for the museum, including "Legends of Motown," "All Eyez on Me: The Writings of Tupac Shakur," and "Hip-Hop: A Cultural Odyssey" — achievements she still views with a sort of wide-eyed amazement. 
"I didn't even know what a curator was when I was first starting out," she said. "I was raised by an immigrant father from Nigeria and a mother from the Deep South — Louisiana — so I didn't necessarily have a lot of education in that area or what the work entailed."
The oldest of three daughters, Onwusa grew up in Fontana, where her family moved from Compton after the L.A. riots. She described her household as strict, with "no secular music allowed, just gospel." 
Yet, somehow, music persisted — a little Jackson Five or Fela Kuti here and there, or maybe some Supremes, whom she'd imitate with her sisters. 
"As I got older, I'd sneak off to friends' houses to listen to music and somewhere down the line inherited a Walkman from a study group," she said. "Discovering Dr. Dre's 'The Chronic' felt like a pretty big deal at the time."
In 2004, Onwusa became the first person in her family to attend college when she arrived at UCR. 
Toward the end of her sophomore year, she made the bold decision to divert from a pre-law track in favor of sociology. It was the first of a series of risks that brought her closer to figuring out the "why?" of things, she said.  
"Majoring in sociology spoke to my interests in storytelling and understanding why things collide the way they do," Onwusa added. "That sense of wanting to uncover every stone really helped me on the path to where I am now."
At UCR, she indulged her musical curiosity, researching new artists and bands, going to concerts, and sharing her findings with friends at the fine arts box office, all while balancing an additional two jobs — Forever 21, FedEx — and a role as a resident advisor. 
When she graduated in 2008, Onwusa moved into a new position at the Grammy Museum, where she met the person she calls her mentor, Bob Santelli.
"Bob took a shot on seeing the talent that I had, and he really took the time to nurture it," Onwusa said of Santelli, the museum's founding director. 
"I was commuting back and forth from Riverside to downtown Los Angeles about four times a week, and a big part of why I did that is because I wanted to get into the Grammy Museum's education department," she added. "Bob made sure those kinds of things happened."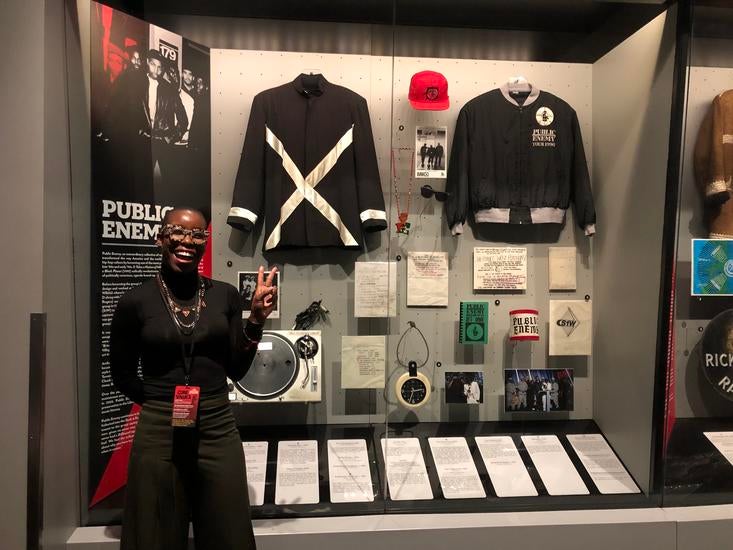 As part of the museum's education arm, Onwusa, who had previously pursued teaching, coordinated student workshops, created arts curricula, and supported initiatives such as "In Performance at the White House," launched in 2010. 
The program saw students visit the White House for educational workshops and live performances that were later broadcast on PBS; it also brought Onwusa face to face with President Barack Obama and First Lady Michelle Obama.
Despite ultimately moving into the curatorial space, Onwusa said the most gratifying part of her job still involves inspiring students — the next generation of musicians and fans alike. 
"I love being able to see young people, in particular, interact with the exhibits and know they're enjoying an experience that I helped create," she said. 
Another source of fulfillment? Satisfying artists by getting their stories right.
Onwusa said putting together an exhibit typically involves meeting at the artist's home to sift through years of memorabilia. Some of the pieces she gravitates toward showcasing aren't necessarily things artists would consider "artifacts" — an old postcard, for example. 
But others shock even seasoned Onwusa. 
"I remember receiving a call from Mary Wilson of the Supremes, and she left me a voicemail, and I started crying when I listened to it — a Supreme had called me!" she said. "When I went to see her artifacts, including some of her gowns, I was completely awestruck."
At the Rock Hall, Onwusa hopes to bring a broader range of artists into the fold, including those traditional rock 'n' roll fans might consider outside the genre's boundaries. She'd especially like to introduce more West Coast hip-hop and rap artists — think Nipsey Hussle — to the museum by having them visit. 
"We're celebrating rock 'n' roll, but in my perspective, rock 'n' roll is an embrace of all genres," Onwusa said. "You don't get to rock 'n' roll without gospel, or without the blues, or without hip-hop." 
In the meantime, she'll stay busy preparing for the Rock Hall's annual Induction Ceremony on March 29, an event paired with a yearlong exhibit honoring 2019 inductees The Cure, Def Leppard, Janet Jackson, Stevie Nicks, Radiohead, Roxy Music, and The Zombies. 
She'll also help debut new programming commemorating the 50th anniversary of the seminal music festival Woodstock. 
Most of all, Onwusa said she feels fortunate to be navigating the journey she's created for herself, even without a blueprint. 
"Accomplishing anything — let alone getting here — feels absolutely amazing," Onwusa said. "I'm so aware that the work I do is a privilege, and I don't take it for granted.
"My dad is a Nigerian immigrant, and the first day I arrived in Cleveland back in January, the taxi driver who drove me from the airport to my new apartment was a Nigerian man," she said. "I was crying within a few minutes of meeting him because I got to show him a photo of me meeting the Obamas. It drove home something I very much know to be true: that my work isn't for me alone, but for the people who came before me, too."
Media Contacts