A team of UC Riverside engineering students won third place at the 29th WERC Design Contest at New Mexico State University for its project SOLAIR, a technology for drying laundry that directs air heated by a solar thermal collector into a closet of wet clothes. Suitable for housing that does not allow outdoor laundry lines, the drying closets use very little electricity and generate no harmful byproducts. Vanessa Coria, a fourth-year chemical and environmental engineering major and team lead, also won the Outstanding Student award.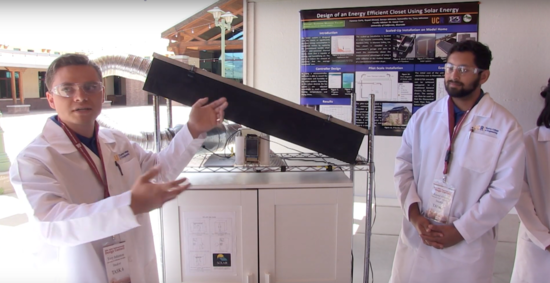 The Waste-management Education Research Consortium, or WERC, Environmental Design Contest challenges teams of university students from across the U.S. to design solutions for real-world problems and develop operational bench-scale models for their developed technologies. Teams present their work through conference-style poster sessions, written and oral presentations, and demonstration of working bench-scale models before a panel of professionals.
The win for the UC Riverside team represents the culmination of a project that began eight years ago, when Victory Gardens, a 30-home community in Moreno Valley, California, approached the Marlan and Rosemary Bourns College of Engineering for help in becoming more sustainable. 
Kawai Tam, an associate professor of teaching in chemical and environmental engineering, tasked a senior design team with the project. The team's plan to use hot air heated by the attic and a solar thermal collector to dry laundry resulted in a $15,000 Proof of Concept Phase 1 Environmental Protection Agency, or EPA, P3 grant. The funds allowed subsequent teams to develop and test a prototype in UC Riverside's student garden, R'Garden. Since 2011, 29 students have worked on the SOLAIR project, which received a $90,000 EPA P3 Phase 2 grant in 2012 that the teams have used to build the closet in a Victory Gardens house. 
Over the years, students from every engineering department on campus as well as the School of Business have worked on the project. When the current team finishes developing and installing microcontrollers to automate the drying process, the long endeavor will be finished.
"What I love about this project is that it has given so much opportunity to our students from all kinds of disciplines," said Tam.
SOLAIR is a solar thermal drying closet that uses a microcontroller and a fan to pull ambient air through a pipeline, and a solar thermal collector on the roof. Digital humidity and temperature sensors connected to a microcontroller monitor changes in humidity and temperature. The microcontroller then uses the information to regulate fans to move the air throughout the system to achieve an optimal drying rate. 
The air heats up as it passes through the pipeline's loops in the attic and enters the dryer closet that has wet clothes. Though ideal for the Inland Empire's long, hot summers and mild winters, the solar-operated system will work even in foggy or cool, wet climates. 
"I'm originally from Montreal, and in winter we laid our clothes on drying racks in the basement until they were dry," Tam explained. "This is the same idea, except you don't have that mess in the basement and it works a little faster because the air is warm and circulating."
Clothes dryers are the second biggest consumers of energy in most households, yet many homeowner associations ban outdoor laundry lines. SOLAIR offers a sustainable way to dry laundry that won't offend the neighbors and also avoids some of the drawbacks to line drying, such as stiffness, soiling by birds, and textile damage from UV light. 
An added bonus is that the closet is large enough to perform dry sterilization on large household items like suitcases in the event that pests such as bed bugs hitch a ride on your luggage.
"This year our team members from the electrical and computer science field were able to get our system operating to make it user-friendly and running for the WERC Competition," said Coria, who joined the SOLAIR project in her freshman year and helped complete construction of the R'Garden prototype. 
For the WERC competition, the 2019 team made a functional mini prototype with the same basic electrical elements and fan as the full-scale prototype. In addition to Coria, team members included Rayed Ahmed, Samantha Vu, Soraya Johnson, and Tony Johnston.
"The competition was a great experience as it helped us get to know so many people from different schools across the country as well as expose us to a terrific collaborative experience with everyone sharing their hard work," said Ahmed, a fourth year chemical engineering student.
Media Contacts