Concerns over mass consumption have edged into the forefront of collective consciousness in recent years thanks to shocking estimates, including the prediction that there will be more plastic by weight in the world's oceans than there are fish by 2050.
While the scale of such statistics can be hard to fathom, photographer and activist Chris Jordan finds ways to represent these baffling truths through his focus on global environmental crises over the last decade.
Jordan's newest exhibition, "Intolerable Beauty" — on view at the Culver Center of the Arts July 6 through Jan. 5, 2020 — pulls from five bodies of his work, offering both a visual confrontation of the scope and consequence of mass consumption and the beauty that subsists in spite of numerous environmental threats.
The earliest of these works — from which the exhibition draws its name — first spurred Jordan's interest in mass consumption, a theme that has persisted since he began his "Intolerable Beauty" series in 2003. Jordan started photographing the massive piles of trash, crushed cars, and shipping containers at the Port of Seattle, initially interested in these subjects solely for their formal qualities and grim beauty.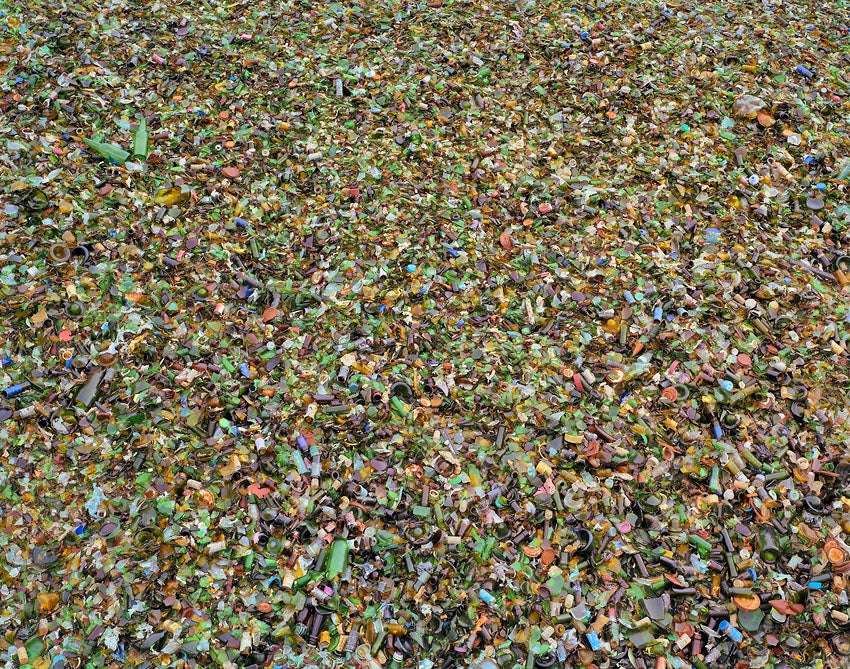 "It was beautiful and fascinating and kind of terrifying and visually complex," he said. "It wasn't until after I had been photographing for a while down there that I began to realize what I'm really looking at — the machine behind the Disneyland ride."
Jordan has since collaborated with researchers and activists on several eco-focused projects and become a prominent voice highlighting environmental concerns. In 2008, he served as National Geographic's international eco-ambassador for Earth Day and delivered a popular TED Talk, presenting artworks from his "Running the Numbers" series. 
Constructed of objects such as plastic bottles and bags, these meticulous photo mosaics form images paired with the alarming statistics they represent, serving as the most starkly direct visual representations of waste and excess in his work. 
"Carbon," a new piece in the series included in the exhibition, depicts 2.4 million pieces of coal — the estimated number of pounds of carbon dioxide emitted into the Earth's atmosphere every second by burning fossil fuels — in the form of the famous Easter Island statues.
"Every day we read numbers, and those numbers are multiple orders of magnitude larger than the human mind has the ability to comprehend, but there's no other way we have of relating to that phenomenon," he said. "When we actually see a physical, visual depiction of that quantity, it blows our mind every single time because we actually weren't comprehending that number at all."
While "Running the Numbers" illustrates incomprehensible quantities, Jordan's series "Midway" — from which 19 photos will also be shown — presents the harrowing consequences of mass consumption. Initially looking to photograph the Great Pacific garbage patch, Jordan attended a gathering of scientists studying the phenomenon and was dismayed to learn that a solid floating mass did not exist.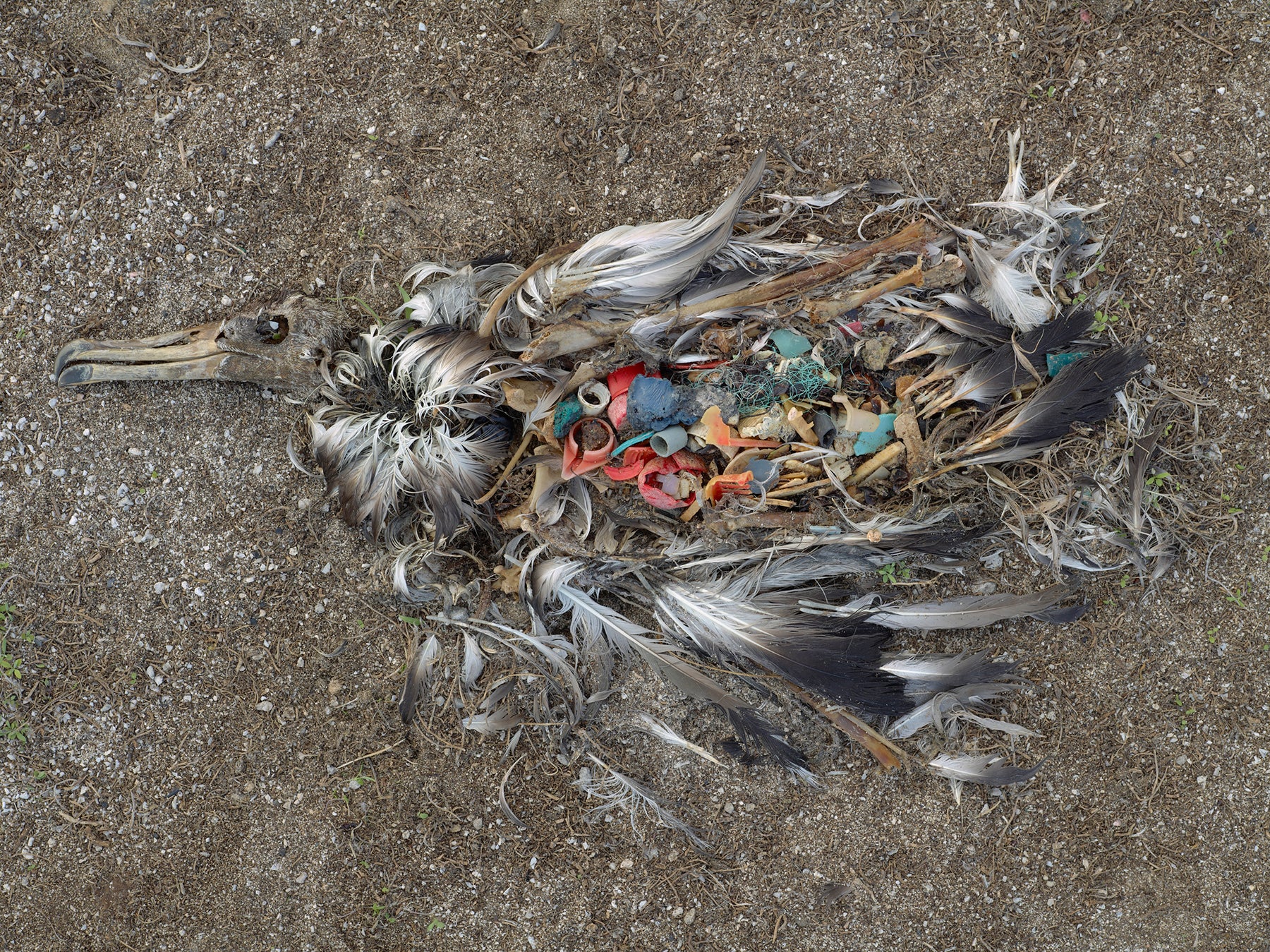 "Anna Cummins — who's now one of the world's leading ocean plastic activists and scientists — she turned to me and she said, 'If you want to take a photo of the Pacific garbage patch, go to Midway Island and look inside the stomachs of dead baby albatrosses,'" Jordan said. "I'll never forget that moment … I just felt this magnetic pull to go to this island and tell the story of this tragedy."
The result of Jordan's voyage to Midway Island is a photo series depicting a glaring number of decaying albatross carcasses filled with plastics, a direct and deadly result of human-generated waste. In addition to "Midway," Jordan was compelled to create "Albatross," a documentary film highlighting both the tragedy of the island and the enduring beauty of the birds who call it home. A screening of "Albatross" will be held during the exhibition's run as part of the UCR ARTS Film Program.
"Up until my 'Albatross' film, I was focused exclusively on the bad news about our culture, and there is a darkness in that approach," he said. "The name of the island was a powerful lesson that way: midway. I found myself standing midway between the bad news, the horror of human destruction, and the good news, which is the incredible beauty of the living world and magnificence and grace of the albatrosses that live out there. It was sort of a coming into balance for me." 
Jordan has since shifted his practice from spotlighting global environmental threats to the splendor of the natural world that remains. His current work in the exhibition recalls what prompted his original "Intolerable Beauty" series in the first place: the innate beauty of the world.
"I feel like I'm leaning even further toward beauty, and what I'm trying to navigate now is how to leave the darkness behind but to not turn away from the shadow of our culture," he said. "It's time to turn toward beauty and the miracle of our world as the thing that motivates us to become better stewards."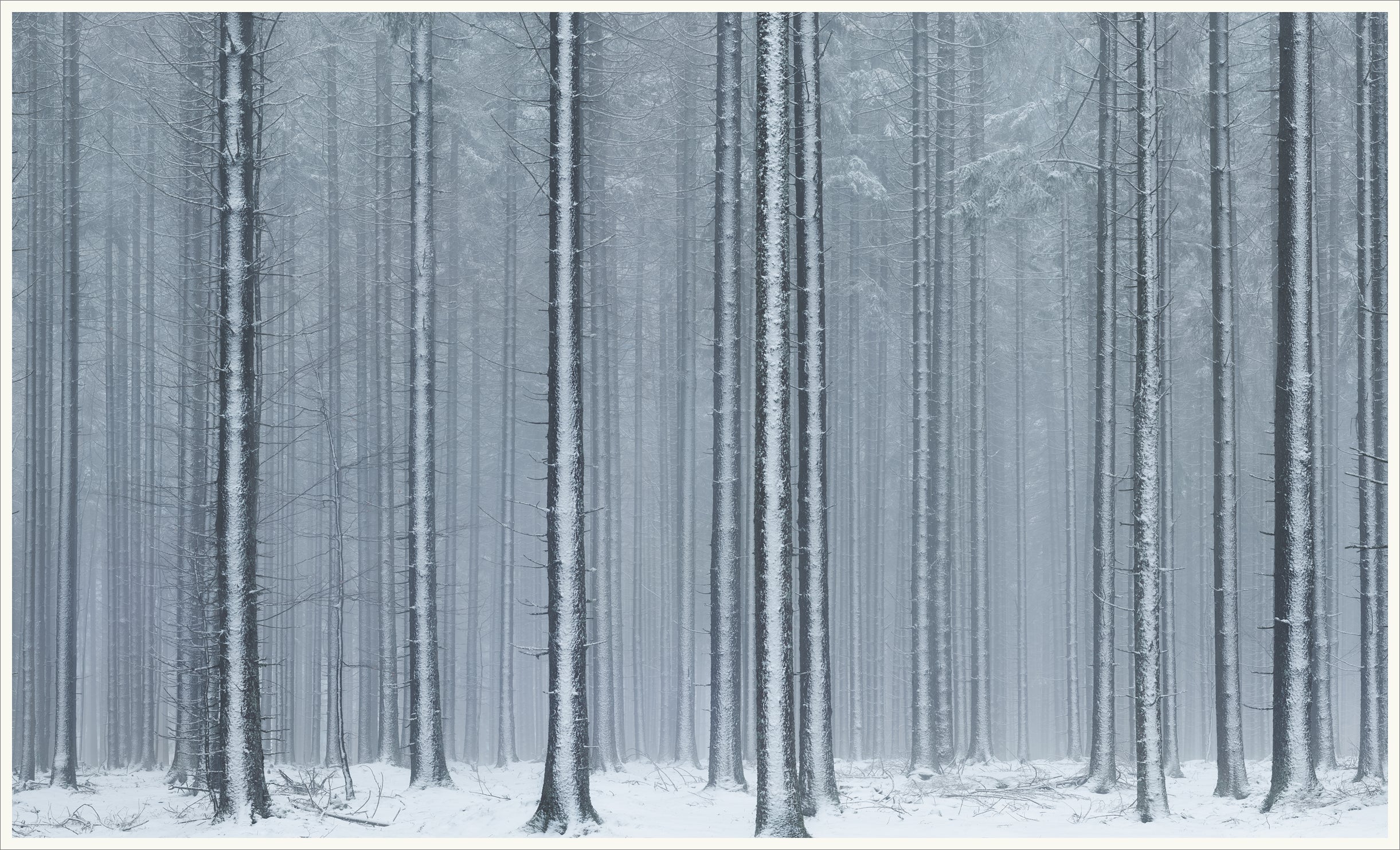 These works, large-scale landscape photographs, harken back to traditional nature photography. Jordan acknowledges stigmas tied to this medium, with critiques of such work as being passé or naïve, but asserts that alarmism and small-scale solutions have stagnated the environmental movement. He argues that focusing on the grandeur of the natural world is necessary to shift the conversation.
"An individual person is not empowered to make changes on the scale of the problems, because the issues, it's corporate, it's global, it's governmental," he said. "Telling people to just not use plastic straws to me is a testament to disempowerment in a broken conversation. I just want to sweep that entire conversation off the table and get to something much deeper about shifting human consciousness, changing the story."
In this way, "Intolerable Beauty" aims to avoid pedagogical trappings of enviro-focused art. Instead, it serves as both a mirror turned toward a culture of excess and a reminder of all that is worth saving.
"I believe that if all of us could connect more deeply with our own self, with what we love and what we care about, and if we could connect more deeply with the world out there, the miracle that we're all a part of, then I don't need to tell anybody how to behave," he said.
A reception for "Intolerable Beauty" will be held at the Culver Center on Oct. 5 from 6-8 p.m. For more information and additional programming, please visit ucrarts.ucr.edu.
Header Image: "Parade Field," Midway Island, 2010, from the series "Midway: Message from the Gyre." (Courtesy of the artist.)
Media Contacts