In August 1964, a then little-known tree inside the Great Basin National Park dubbed "Prometheus" was felled at the behest of an inquiring geographer who wanted to study its rings. The ancient tree — a bristlecone pine which grew at 10,750 feet on the craggy quartzite face of Nevada's Wheeler Peak — had taken root during the Bronze Age. 
After it was cut down and studied, the tree was determined to be roughly 5,100 years old — and the oldest known living thing on Earth.
In 2012, L.A.-based photographer and conceptual artist Jeff Weiss and others formed the Jeff Weiss Collective and began a series of projects to commemorate Prometheus, culminating in a remembrance ceremony at the Great Basin National Park on the 50th anniversary of the tree's death. One such project was the creation of 500 limited-edition snow globes containing a 3-D rendering of the aptly named bristlecone.
Recreated from memories of the few who had seen it while it stood, its sprawled and writhing branches recall depictions of the Greek Titan, who was punished for stealing fire for humanity by being chained to a mountain and having his liver eaten by an eagle each day. Prometheus later became a symbol for the quest and consequence of scientific knowledge — much like the tree itself.
Now installed at the Culver Center of the Arts, the collective's project "The Mega-Collector's VIP Gallery" offers visitors the chance to own one of the remaining snow globes. Operating as a vending machine, the installation also presents a snow globe on a rotating lever and a screen with scrolling text telling the story of the Prometheus tree.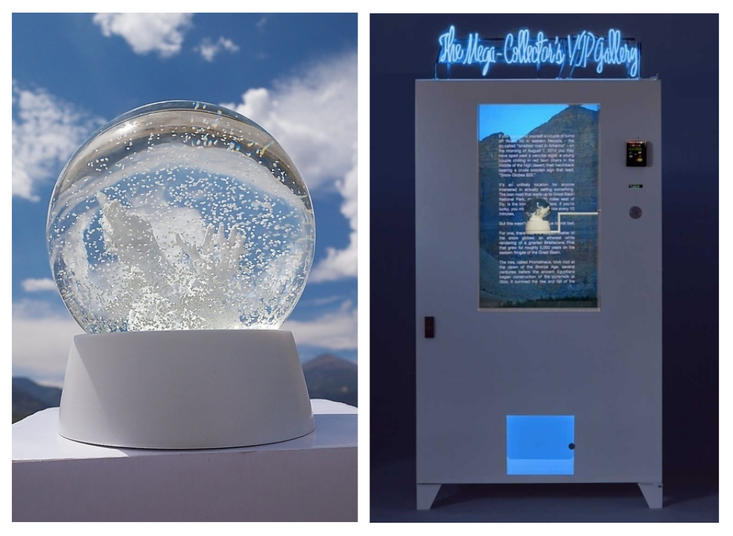 Weiss, a former art professor who's exhibited in galleries and museums over a five-decade career, has mostly abandoned formal exhibitions. As such, "The Mega-Collector's VIP Gallery" can be found in the lobby of the Culver Center and viewers are encouraged to engage directly with the artist project, offering guests both a unique way to support the institution and own a limited-edition piece of art.
Visitors may purchase a snow globe from the vending machine with a credit card for $75, with all proceeds going toward UCR ARTS exhibitions and programing. Find more information about the Jeff Weiss Collective and Prometheus Project at Weiss's website.
"The Mega-Collector's VIP Gallery" will be installed through the Riverside Festival of Lights, where you can find more interactive experiences from UC Riverside as part of its Beyond Brilliant holiday promotion, including an inflatable walk-in snow globe featuring the UCR bell tower on the Main Street Pedestrian Mall. For more information, visit beyondbrilliant.ucr.edu. 
Media Contacts