The birthplace of skateboarding, hundreds of skate parks have bespeckled the California landscape since the 1970s. But a new exhibition from photographer Amir Zaki is the first to turn the focus from the sport itself to the unusual architecture of skate parks, highlighting them as sculptural forms belonging to the tradition of public art and as a significant part of the urban landscape. 
"Empty Vessel — Amir Zaki," on view at the  Barbara & Art Culver Center of the Arts through April 5, features 12 skate parks across California from San Jose to San Diego. Juxtaposed against those photos are a series of images of broken ceramic vessels mimicking the parks' curvilinear forms, but whose stark contrast in fragility and size emphasize the skate parks' solidity and enormity.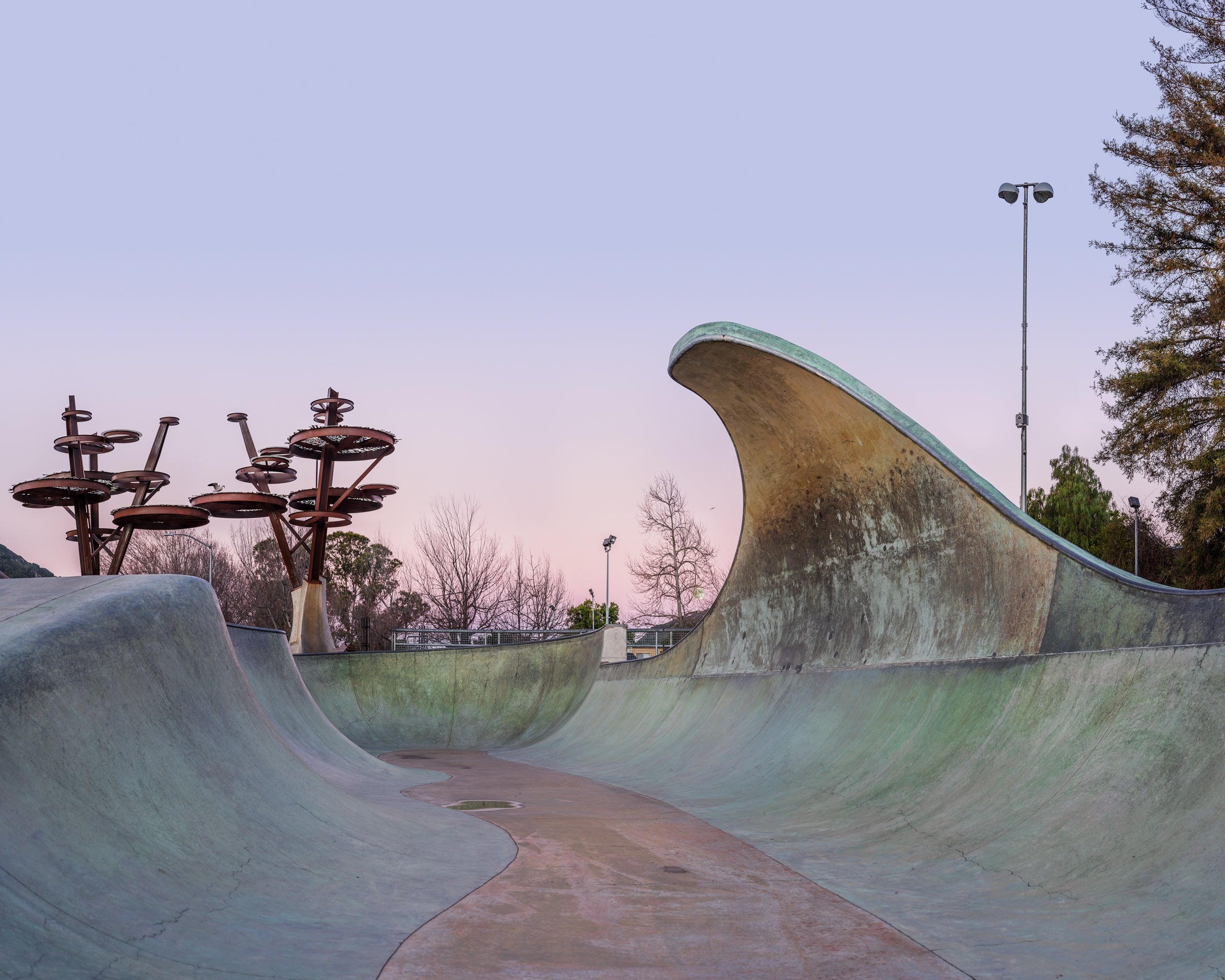 Zaki, a professor of art at the University of California, Riverside, grew up skateboarding in Southern California and has spent years photographing the built and natural landscapes of the state. With his camera and gear in tow, Zaki entered skate parks during early morning hours before any skateboarders arrived, waiting for the perfect dawn light to illuminate the undulating curvatures of the stark concrete interiors.
"I approached this project knowing that I wanted to get inside of the park, inside the spaces," Zaki said. "It's an insider's point of view. I went inside these structures, some with very narrow spaces because I wanted those angles, which are not very visible to someone outside looking in. It's definitely from a skateboarder's view."
The resulting images, devoid of people and presented as large-scale, high-resolution photographs, emphasize these cavernous man-made environments, which mimic natural forms such as waves and mountainous terrain but remain permanently frozen in cement, recalling some of the most extreme examples of Brutalist architecture, according to Zaki.
Despite their rigidity and intentional emptiness, Zaki's photographs celebrate skate parks as important fixtures of California culture.
The exhibition coincides with the publication of Zaki's first internationally distributed monograph, "California Concrete: A Landscape of Skateparks." Published by Merrell Publishers, the monograph features essays by Zaki, professional skateboarder Tony Hawk, and Los Angeles-based architect Peter Zellner. Copies of the monograph are available for purchase at UCR ARTS
"Empty Vessel — Amir Zaki" is curated by Tyler Stallings and is on view at the Culver Center of the Arts Jan. 18-April 5, following its debut at The Frank M. Doyle Arts Pavilion in Orange County in September 2019. A reception will be held Feb. 29 from 6-8 p.m.  For more information, please visit ucrarts.ucr.edu.
UCR ARTS is currently organizing a tour of this exhibition. For more information, please contact Rita Sobreiro Souther, Exhibitions Manager, at rita.souther@ucr.edu.
Header image courtesy of Amir Zaki.
 
Media Contacts