Bruce Doyle Varner, 84, UC regent, philanthropist, and prominent Riverside attorney, has died. 
A lifelong advocate for higher education, Varner was nominated to serve on the UC Board of Regents by Arnold Schwarzenegger in 2006, becoming one of the few Inland Empire-based regents in the board's history. As a regent, he was elected vice chair of the board in 2011 , and went on to serve as chair from 2013 to 2015. He also served on many of the board's committees, including the Committee on Compensation, the Committee on Governance, the Committee on Finance and the search committee that found UC President Janet Napolitano.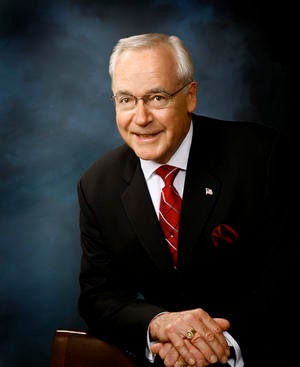 Varner's confirmation to the board was considered a victory for UC Riverside and the surrounding region, with local educators saying his presence would lend the regents a unique perspective of Inland Empire issues. Varner anticipated that UC Riverside would continue to grow as a leading research institution, particularly in the fields of agriculture and nanotechnology. 
During his time as a regent, he enthusiastically supported the appointments of Kim A. Wilcox as Chancellor of UC Riverside in 2013 as well as UC Riverside graduate student Marcela Ramirez as student regent designate, and later student regent in 2015, marking the first time in 20 years a UCR student had served in the role. 
"The spirit of community service lived in Bruce and Nancy Varner, and continues with their family,"  Wilcox said this week. "As University of California Board of Regents chair, he was among those who facilitated me coming to UC Riverside as chancellor more than eight years ago, and he's remained a close friend and mentor to me. He will be missed by the UC and UCR community, and by me personally."
Also as a regent, Varner supported efforts to expand the UC, including increased graduate student housing at UC San Diego, and a new building for UCLA's Anderson School of Management to accommodate burgeoning enrollment and allow for new degree programs. He also voiced support for the creation of UC Riverside's School of Medicine , which welcomed its inaugural class in 2013.
But even before his induction onto the Board of Regents, Varner's life was marked by devotion to his community and higher education. He and his wife, Nancy, contributed much of their time to local organizations and to the various nonprofit boards on which they served. 
The two funded thousands of dollars in grants to organizations such as Cal State San Bernardino, the Leukemia and Lymphoma Society, the A.K. Smiley Library, the Loma Linda University Children's Hospital foundation, the Riverside Art Museum and many more. Varner became a member of the UC Riverside Foundation Board of Trustees in 1994, later appointed as Trustee Emeritus, and also served on the board of directors for the San Bernardino-based supermarket chain Stater Bros., the Inland Empire Economic Partnership, and the National Orange Show, among others.  
In 2020, the Bruce D. and Nancy B. Varner Presidential Endowed Chair in Cancer Research was established at UC Riverside, made possible by a $1 million gift from Varner and his late wife, who died in June 2019. The gift was matched by UC with $500,000. Cancer researcher and professor of biomedical sciences Adam Godzik was announced as the inaugural endowed chair in July 2020.
Raised in San Luis Obispo, Varner earned his bachelor's degree in political science from UC Santa Barbara in 1958. He attended college on a football scholarship, intending to pursue a career playing professionally. Instead, he entered law after a political science professor took notice of his potential. Varner earned his law degree from UC Hastings in 1962 and would go on to become a founding partner of Varner & Brandt, LLP, in 1997, a prominent local law firm with offices in Riverside and Ontario . 
Cal State San Bernardino granted him an honorary Doctor of Law degree in 2011. Then-president of the school Albert Karnig referred to Varner as "truly a model community leader, active supporter of regional development, (and a) highly successful businessman" in a press release that year. Varner helped fund the athletics program at the school, and he and his wife began the Doyle and Ann Varner Memorial Scholarship Endowment for athletes in honor of Varner's parents.  
His proudest achievement, though, was a major 1980s proxy fight over control of Stater Bros., he told the Press-Enterprise in 2011.  As a director of the chain, Varner helped late company president Jack Brown in a gritty fight against Stater Bros.' former chairman — and won. Varner reminisced to the Press-Enterprise about working 20 hours per day with no breaks during the ordeal, adding that the experience helped teach him about teamwork.
"As a team player, I learned a long time ago that it takes a team effort to get things done," he said. "And sometimes you get to be the guy running with the ball and sometimes you've got to do other things."
Varner was predeceased by his wife and is survived by four children and eight grandchildren. 
This article was compiled by freelance writer Amy Zahn and staff writer Jessica Weber.
Media Contacts