It's the spookiest time of year and two UC Riverside professors are inviting the public to free movie nights in downtown Riverside.
Exploring the diversity of Black horror films during the month of October is an opportunity to discuss the genre and its impact on Hollywood and pop culture. The community can attend free screenings at UCR ARTS in downtown Riverside through October 28.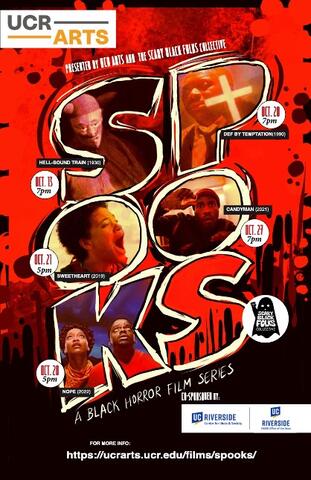 John Jennings, professor of media and cultural studies, and Courtney R. Baker, associate professor of English, have collaborated with Nikolay Maslov, curator of film and media projects at UCR ARTS, on a screening program titled "Spooks: A Black Horror Film Series." The series, which kicked off on Friday, Oct. 13 with the showing of "Hell-bound Train" (1930, James and Eloise Gist), amplifies both Jennings' and Baker's strength in the field of Black popular studies and visual culture.
Both Jennings and Baker co-founded Scary Black Folks, a new collective of primarily Black scholars, makers, critics, and writers that study, create and critique horror films by and or about Black people. Scary Black Folks is sponsoring this film series. 
"The screenings will invite the Riverside and wider SoCal Inland Empire communities to explore the connections and legacies of Black horror film," Baker said. "We hope this series will inspire reflection upon the diversity and endurance of the Black horror genre — and a consideration of these films as existing within in a continuum that appears to be strengthening."
The series, co-sponsored by UCR's Center for Ideas and Society, the College of Humanities, Arts, and Social Sciences' Office of the Dean, and the Department of English, will draw on the expertise of UCR faculty, Ph.D. students, and special guests. Experts will lead conversations about the films and offer insights about the specific films and the Black horror movement more generally from a variety of perspectives. 
Film calendar
Friday, Oct. 20, 7 p.m.: "Def by Temptation" (1990, James Bond III) 95 min. - with director James Bond III
Saturday, Oct. 21, 5 p.m.: "Sweetheart" (2019, J.D. Dillard) 82 min. - with Jalondra Davis, UCR assistant professor of English
Friday, Oct. 27, 7 p.m.: "Candyman" (2021, Nia DaCosta) 91 min. - with Jasmine Moore, Ph.D. student with UCR's English Department and Keith Harris, associate professor with UCR's departments of English and Media and Cultural Studies 
Saturday, Oct. 28, 5 p.m.: "Nope" (2022, Jordan Peele) 130 min. - with Mikal Gaines, assistant professor of English with Massachusetts College of Pharmacy and Health Sciences in Boston
All screenings are free and will be held at the UCR ARTS Culver Center, 3824 Main Street in Riverside, Calif. Visit ucrarts.ucr.edu for more information. 
 
---
Header image: "Spooks: A Black Horror Film Series brought to you by Scary Black Folks." The poster by UC Riverside professor John Jennings. 
Media Contacts