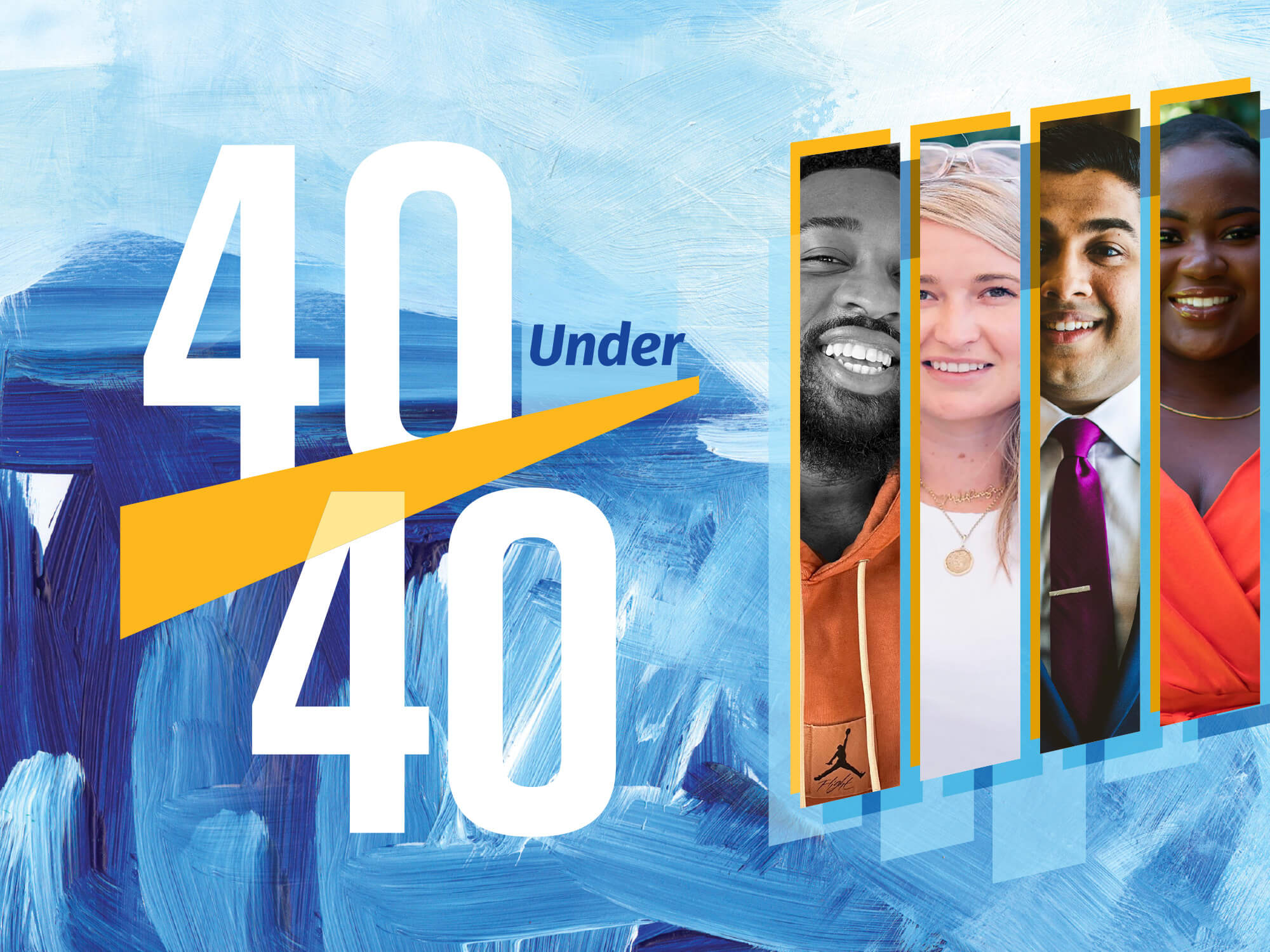 40 UNDER 40
CELEBRATING UCR'S YOUNG ALUMNI MAKING A SPLASH ACROSS INDUSTRIES AND AROUND THE WORLD
In Fall 2021, UC Riverside launched a search for innovative, early-career alumni. The 40 Under 40 initiative is a celebration of how UCR's top-ranking education has given rise to a community of Highlander alumni with exceptional career success, well-deserved accolades, and extraordinary achievements. The inaugural list includes 40 of our remarkable alumni under the age of 40, spotlighted in this issue.
Among this group are a World Series pitcher, an Olympic athlete, Hollywood stars, professionals working for companies such as Meta and Nike, entrepreneurial leaders in their fields, and individuals championing the health of their communities and the planet. Our list includes Forbes 30 Under 30 mentions, an American Book Award and Pulitzer Prize winner, an Emmy Award winner, and numerous other accolades.
At UCR, we are preparing the next generation of creative thinkers, innovators, and STEAM experts looking to change the world. Our goal is to help them recognize their dreams by using the education they receive as a catalyst to achieve what they thought unimaginable. Our alumni serve a great purpose in showing current students that everything is possible, and that the foundation has been laid.
UCR is excited to honor 40 extraordinary alumni who exemplify our rise, a university built by its people, research, and a community committed to social mobility for everyone. Read on for just a few of the many inspiring stories of our young Highlander alumni.
---
Featured Profiles
---
The UCR 40 Under 40 List
Arash Adami 
Harshit Agrawal
Ebube Agu
Besidone Amoruwa
Nemata Blyden
Anthony Bonales
Nicole Brown
Charles Cai
Sabrina Cervantes

Jamie Chung
Larry Chung
Scott Coffin
Jalysa Conway
John Costumbrado
Rachelle Cruz
Shannon Dang
Dominique Drakeford
Nicholas Focil
Katherine Hawkins
Nana Kaneko
Joe Kelly
Mira (Yige) Li
Gabriel Maldonado
Brenda Martinez
Courtney Matzkind
Eric McDaniel
Jesse Melgar
Fatima Farheen Mirza
Nwaka Onwusa
David Packard
Vedant Patel
Francisco Ramírez Rueda
Angel Rodriguez
Sheba Roy
Kubrat Salaam
Shah Selbe
Joseph Silva
Nelly Tan
Dexter Thomas
Rosie (Yimei) Zhang
This list is just the start. Share information about outstanding, notable, and accomplished alumni at ucralum@ucr.edu.
---
Return to UCR Magazine: Spring 2022