Regina Louise has never known a "normal" childhood. Throughout her tumultuous youth, she was shuffled through over 30 foster homes and psychiatric facilities, all before the age of 18. 
Louise, who graduated with a master's degree from UCR's creative writing program in 2015, chronicles her experience in her newest memoir "Someone Has Led This Child to Believe" — which also served as her graduate thesis — published July 2018. 
Now, her story has been transformed into a new film, "I Am Somebody's Child: The Regina Louise Story," debuting April 20 at 8 p.m. EDT/PDT on Lifetime.
Louise's life was marked by chronic neglect and abuse by the guardians charged to protect her, and overmedication and solitary confinement in the residential treatment center to which she was eventually committed.
Compounding the trauma, a racially motivated ruling prevented Louise's counselor, Jeanne Kerr, from being able to adopt her in 1974 on the basis of Kerr being white and Louise black.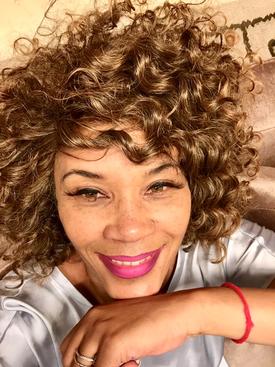 But rather than continue to be mired by a system which led her to believe she was without value, Louise pursued her dream of higher education after aging out of the system, built a thriving hair salon business, and became a successful author and advocate for foster youth.
Louise was first compelled to share her story after therapy helped her process her adverse childhood experiences and contend with the trauma she endured.
"I committed to facing the facts of what had happened and became willing to be brave, reach into the dark, pull out those memories, and learn to sit with them, and that, I believe, led to me becoming a writer — learning to sit with the devastation," she said.
Since the publication of her first memoir, "Somebody's Someone," in 2003, Louise has worked to share her story and advocate on behalf of children in situations like hers, serving as a mentor, working with social workers, and traveling to over 40 states and 6,000 cities to speak at events and bring awareness to the systemic failures that continue to affect foster youth today. 
But even with the critical success of "Somebody's Someone," Louise said she was criticized by white students while at Community of Writers at Squaw Valley and told she had "no right to write like Gwendolyn Brookes or Alice Walker" because her experience was artificial.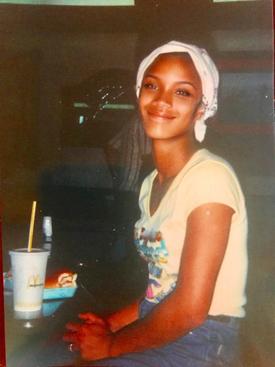 This experience, and a desire to hone her craft further, led Louise to pursue an MFA. She applied to UCR after meeting Creative Writing Professor Michael Jayme and set to work on her second memoir, "Somebody Led This Child to Believe."
Now with her story being transformed into a movie — a project she has championed since 2003 — Louise is seeing the culmination of all her years of hard work and perseverance. 
"For 16 years, I traveled across the country telling my story," she said "I wrote a one woman show, and I would put it on anywhere I could — I put it on in a mortuary, honey, for dead people — anything to just keep it relevant and alive and to see how I could use it to transform foster care and perceptions of foster children."
The film stars Ginnifer Goodwin as counselor Jeanne Kerr and newcomer Angela Fairly, a foster child herself, as Louise. It recounts not only the adversity Louise faced growing up, but the loving bond she formed with Kerr. After a failed adoption attempt, Louise and Kerr were separated for nearly 30 years. They reunited in 2003, and Louise was later adopted by Kerr as an adult in the same courthouse where they lost the previous legal battle.
"The woman who became my mom, I knew her the equivalent of six months," Louise said. "But it was the six months of on-and-off again love that I received from her that allowed me to keep moving forward."
Louise and Kerr in a 2003 interview for "All Things Considered" following their reunion.
Lifetime has also partnered with several youth and adoption organizations on a public service announcement that will air during the movie's April 20 premiere.
"I want people to know that these children are vulnerable," she said. "They need human contact. They need relationships because it's in relationships where we get a sense of our own self-worth and value. That kind of effort isn't wasted on a child."
Her experience, although remarkable, is unfortunately not unusual, and she hopes the film will reach a wide audience through Lifetime and help give a voice to the over 400,000 children currently in the U.S. foster care system.
"I want everybody who watches this, those of us lost, broken, forgotten about, and unaccounted for, to know that we are the hope — we are the hope that each of us is waiting for," Louise said. "You have the permission to stand in your dignity and want for love, want to be actualized, want to connect, and go through life on your terms, unapologetically, for you."
---
Header Image: Ginnifer Goodwin (left) as Jeanne Kerr and Angela Fairly as Regina Louise in "I Am Somebody's Child" (Lifetime).
Media Contacts