In addition to a robust range of curated exhibitions, artists are occasionally invited to engage with the collections at UCR ARTS' to produce an artist project — considering the space an extension of their own studios. Renowned photographer and University of California, Riverside, art professor John Divola is the latest to produce such a project for the California Museum of Photography, resulting in two exhibitions: one showcasing a personal photographic collection and the other a series from his own body of work.
STRATUM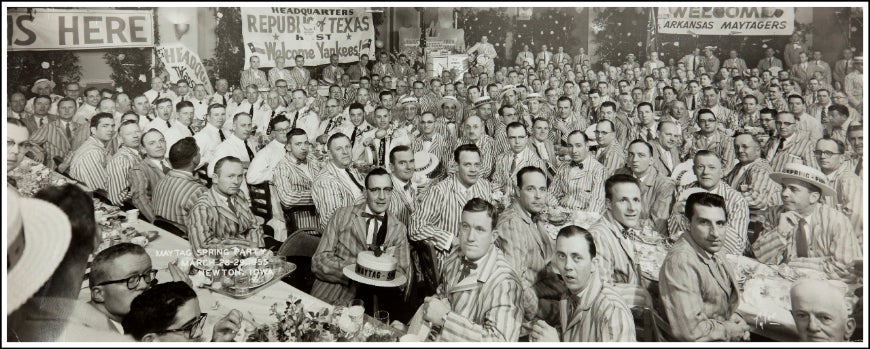 The first of these exhibitions, "STRATUM," presents over 140 photographs ranging from 1912 to 1968 that Divola has been amassing since the mid-1980s. The idiosyncratic collection consists entirely of "banquet" photographs — commemorative images depicting groups of employees, tradespeople, and professional organizations at gatherings.
Divola found the first of these images by chance at an auction while looking for film set continuity photos from the early days of Hollywood moviemaking. There, he came across a photo of boxer Henry Armstrong at a dinner surrounded by promoters.
"The people sitting at the meal look like guys that have never been in a suit before in their life," he said. "They're just a bunch of mugs there; it was such a fantastic photograph."
He then began collecting similar banquet-style images including company gatherings for Coca-Cola, Buick Motor Company, and General Electric employees as well as conventions for cheese makers, horseshoers, and astrologers, among others. All the images in his collection are original photographic prints and serve as signifiers of decades passed.
"I'm interested in ones that are not pristine, that some of them have aged, or are a little damaged or faded," he said. "Now we've got these digital files that are like an equation; it never ages. These things are physical artifacts, imprints of time."
To Divola, these images — most of which were created from around World War I to just after World War II — are representative of American evolution and social identity in the 20th century.
"You're looking at a sort of cross-section, a material sampling from the past," Divola said. "They are very high-resolution photographs, so you can look at them and see every face and what people are thinking — if somebody's uncomfortable, or if someone is very proud — but then at the same time you get a sense of the group, so this kind of flow between individual identity and group identity is interesting to me."
Clive Wearing's Dilemma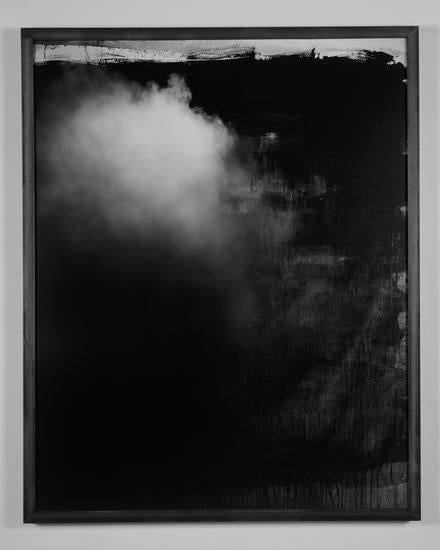 Sharply contrasting the historical and information-heavy display offered in "STRATUM" is "Clive Wearing's Dilemma," an exhibition showcasing a body of untitled work created by Divola in 1990, shown in its entirety for the first time.
Consisting of 12 large black-and-white photographs, Divola photographed plumes of flour against what he describes as "shamelessly expressionistic backdrops," intending for the creation of these images to be "pathetic and obvious." The result is ethereal, cloud-like images.
"It ends up looking very much like dramatic weather, or aerial shots of landscapes, or cosmic skies, so there's this vocabulary of the sublime, but then if you look closely, you can see it's this dead industrial thing with this really simplistic approach," he said.
The name for the exhibition draws from famed musicologist Clive Wearing who, after a severe illness resulting in brain damage, became unable to form new memories and reduced his current memory to only lasting between 7 and 30 seconds.
"He could not generate long-term memories, so he's always in the present," Divola said. "That seemed to me a metaphor for what's going on in these images, which are about a kind of unattainable past and an insistence on manifesting something in the present."
In a broader sense, Divola is interested in how photography is used to articulate and document other forms of artmaking. Unlike other kinds of art in which each mark is an index of human interaction, Divola notes the inherent distance created by photography's mechanical processes.
"I've always been interested in the idea of how photographs collate the vocabulary of art in general, and that I could take those vocabularies and manifest them through certain kinds of actions and make photographs that appropriated those vocabularies," he said. "There's a vocabulary of abstract expressionism in these images, and there's some of the procedures of action painting and things like that."
Though separate, the presentation of the two exhibitions together offers visitors a dynamic experience. Divola notes the sharp juxtaposition of the two, with "Clive Wearing's Dilemma" serving as a marked counterpoint to "STRATUM."
"It allowed me to paint those two galleries dark, and then one light, and for you to go to this incredibly active, noisy, information-rich environment, into this darker, more contemplative existential space," he said.
"STRATUM" and "Clive Wearing's Dilemma" are on view at the California Museum of Photography May 11-Sept. 8. An opening reception for the exhibitions will be May 25 from 4-6 p.m. For more information, please visit ucrarts.ucr.edu.
Media Contacts