It's been more than 20 years since Neil Gaiman's widely popular "Sandman" comic series came to a close, and although a few of the series' iconic characters have made cameo appearances within the DC Comics universe, the world of "The Dreaming" had been left in stasis — until now.
With the debut of the new standalone "Sandman Universe," published on Aug. 8, readers have been invited back for a host of new stories and characters set in that world. But unlike the original "Sandman" — which was written entirely by Gaiman during its seven-year run — the new Sandman series will feature four separate stories within the universe, each authored by different writers, including Nalo Hopkinson, a professor of creative writing at UC Riverside.
Hopkinson's contribution is called "House of Whispers," which centers on the character of Erzulie, a Yoruba deity visited by the dreaming souls of Voodoo practitioners seeking guidance for love and fortune. The first issue in the series will debut on Sept. 12.
Hopkinson's work in science fiction and fantasy, including the novels "Brown Girl in the Ring" and "Midnight Robber," is steeped in a number of folkloric traditions and cultures — particularly Afro-Caribbean and others touched by the African diaspora — making the Jamaica-born author an ideal choice to helm "House of Whispers."
"If we're going to do Erzulie and have all this voodoo lore stuff, then I want Nalo to do it, because there isn't anybody better," Gaiman said in an Entertainment Weekly story published March 1.
"House of Whispers" is Hopkinson's first foray into comic books, and the unfamiliar medium presented her with new challenges.
"I'm a prose girl," Hopkinson said. "I can describe what I'm imagining using metaphor, but with comics, you can't rely on prose to show your surroundings. I had to learn to give clear directions to Domo Stanton, the illustrator, to describe what I'm envisioning, and later trusting him to make those artistic decisions."
Unlike novels, which can be developed and revised over years, "House of Whispers" has a planned initial run of 12 issues to be released monthly. Hopkinson credits graphic novelist and fellow UC Riverside professor John Jennings with serving as a mentor and helping her tread the comic genre's truncated timeline.
Although she's entering new territory, Hopkinson said she's excited to bring new and diverse characters to the "Sandman Universe," particularly people of color. There will also be characters who identify as transgender or genderqueer, people with disabilities, and non-English speakers.
"Representing people who are often marginalized and essentialized in the mainstream is a project shared by me and by Domo Stanton, the artist of the interior pages," she said. "One of the first things I said to Domo when we started to work together was to assume that characters were people of color unless I specified otherwise. After all, Erzulie is a deity who originated in an African diasporic religion. It stands to reason there'll be a lot of people of color in a story about her."
Hopkinson is also hoping to dispel common and often negative assumptions surrounding the Yoruba religion and conceptions of Voodoo bolstered by mainstream media.
"Voodoo has come to have certain associations in popular culture, which are wholly or partially incorrect, and often sensationalized," she said. "I'm aware that I'm writing stories about deities from a living religion, and one that has received its share of disrespect, so I want to be careful not to perpetuate the negative stereotypes. However, I will be applying artistic license to the story, so don't expect it to conform to any specific doctrine of these religions. I'm going to mix, match, and invent, and I know some people will be uncomfortable with that."
Hopkinson said entering the "Sandman Universe" is a daunting endeavor because it marks the first time Gaiman has relinquished control of the comics to other writers.
"Sandman is such a big name in comics and loved by many, and Neil is a brilliant writer," Hopkinson said. "So, hell yeah, there is pressure to do the series justice."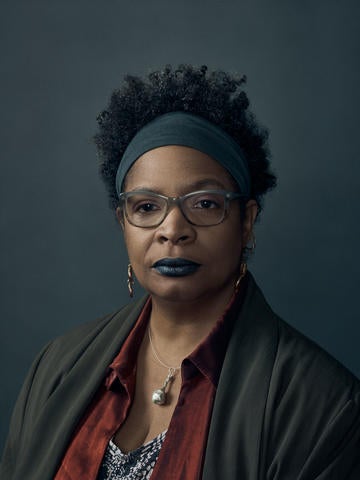 She hopes to please fans of Gaiman's work while also bringing her current audience to the series. Recalling an encounter on an airplane, said she has high hopes "House of Whispers" will reach a wide audience.
"I pulled out a Sandman comic from my bag, and the young man next to be turned to me and said, 'A Sandman comic is the last thing I expected to come out of your bag.' He probably hadn't even been born when the Sandman first made its appearance 30 years ago. It gave me hope that current readers will have some connection to the Sandman universe and be eager to read the new stories. It was also wonderful that he seemed to be a person of color. That's another segment of the audience I hope 'House of Whispers' will reach."
"Sandman Universe" is now available. For more information about "House of Whispers" and other titles in the series, visit Vertigo Comics.
Media Contacts