Content warning: This story contains historical images and other sensitive material related to child loss. 
Alyse Yeargan's research has been known to elicit mixed reactions, from shock to sympathy.
Yeargan, a doctoral student in the public history program at the University of California, Riverside, studies 19th-century photography. 
But it's the type she looks at most closely that makes her research unique: postmortem photography, or images of the deceased, and in Yeargan's case, specifically photographs of mothers with their deceased children. 
"A lot of people today are shocked by postmortem photos," Yeargan said. "But the contemporary reaction that people had in the 19th century was not that. These were private items of sentiment and mourning that people could use as tools of memory, and in the case of the photos I study, to help them remember when they and their children were still physically joined."
Originally from western Maryland, Yeargan earned her master's degree in English literature and also studied art history and gender studies as an undergraduate. 
She takes an interdisciplinary approach to public history, with her research heavily influenced by her role as an intern at the California Museum of Photography in downtown Riverside. 
It was at the museum where she first came face to face with postmortem photographs through a collection donated between 2009 and 2011 by Steve and Mary DeGenaro. The collection features more than 200 images, including the rare Civil War-era photographs of mothers and children that Yeargan focuses on.
"This was a period of great mourning; one in five children died of cholera, and the Civil War was killing off a large percentage of the population, so mourning became a way for many people to construct what it meant to be an American," she said.
"In my work, I'm trying to engage with deeper questions of grief: What does it mean to grieve someone who hasn't had a chance to form a life, or whom you don't have many memories with? What does it mean to grieve potential? What does it mean to grieve futurity?"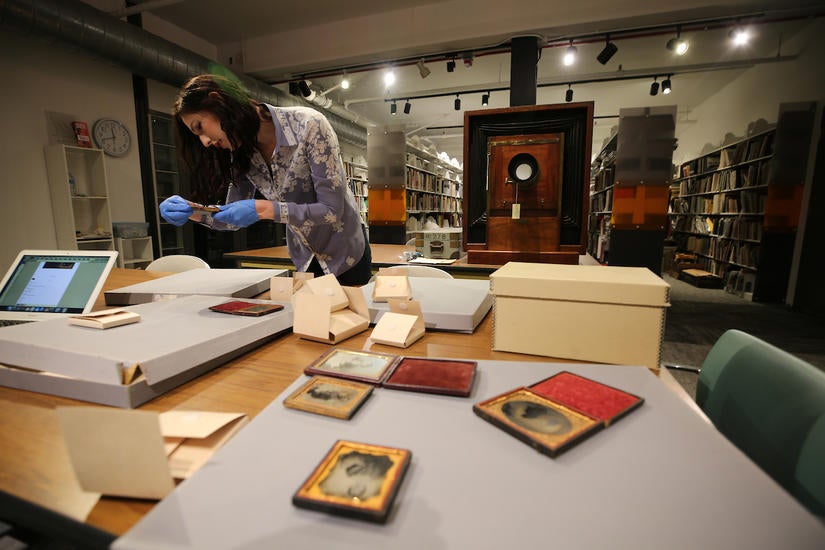 Postmortem photography reached peak saturation in the U.S. between the 1850s and the turn of the 20th century, Yeargan said. Newspaper ads she's studied from the 1860s and '70s illustrate its popularity, offering sessions with photographers as soon as two hours after death. 
Back then, women often weren't invited or allowed to be at funerals because of the widespread belief that they weren't capable of controlling their grief, she explained. For a woman unable to attend her own child's funeral, a postmortem photograph might provide needed comfort.  
Religion played into all aspects of Victorian life, Yeargan said, and her research draws parallels between postmortem photographs and traditional iconography of the Madonna and child. 
Similar themes color works she's studying by 19th-century photographers such as Julia Margaret Cameron. The British photographer's popular Madonna-and-child-inspired portraits often featured a woman holding a young child who appears to be sleeping or even dead, but actually wasn't. 
"In comparing these images with some of the postmortem images of women with their deceased children, I'm able to tease out a lot about sentimentality from the era," Yeargan said. 
"At the time, grief was seen as one of the highest forms of sentimentality and the highest moral good. Cameron's photos enabled people to connect to that sentiment — even if they weren't necessarily experiencing grief at the moment — by imagining what it might be like to be Mary or to lose a child."
To better understand grief in the Victorian era, Yeargan is also examining weekly and monthly magazines that saw broad readerships among American women as well as what were called "ladies' books." In addition to containing everything from sewing patterns to tax advice, these books functioned as sort of household manuals for how to grieve, she said.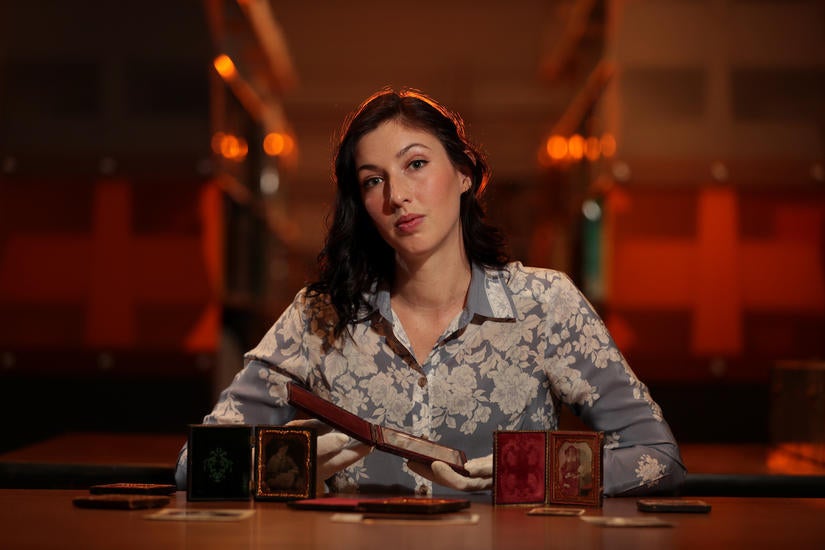 Yeargan has found that Victorian-era grief had its own set of rules. Grieving was largely done in private, for example, and if someone was grieving, they weren't expected to socialize or honor other obligations. 
"But it was also expected that to the world, the person grieving would present a very controlled front," Yeargan noted. 
Grief, despite being a central aspect of American life, wasn't something that was talked about much publicly. And Yeargan believes that even today, child loss, in particular, is under-discussed, most likely because most people still aren't comfortable with the topic. 
She hopes her research might help people connect more with the sentimentality of grief as a way of feeling less alienated in their experiences of it. 
"I've had experiences where I've felt very isolated in grief, and there's this enduring cultural expectation that when we're grieving, we're supposed to be isolated," Yeargan said. "It's important to know that you're not alone in your feelings, and that those feelings often have a very long trajectory."
Because they were kept as sentimental items, postmortem photographs reflect the reality of grief — that it's typically a long, complicated process that doesn't follow a linear route. 
"Sometimes I get the feeling I'm doing something that's a little taboo," Yeargan added of her research. "But I also feel like this is a part of our culture that shouldn't be taboo."
View a selection of images from the Steve and Mary DeGenaro Postmortem and Memorial Photography Collection: 
Media Contacts