A new avocado variety that is the result of decades of painstaking tree breeding by UC Riverside agricultural scientists has been selected as one of TIME's 2023 Best Inventions, the international news outlet announced Tuesday, Oct. 24.
This recognition comes just months after UCR released the variety, called the Luna UCR™, to commercial growers worldwide through an international crop marketing partner.
The Luna UCR™ is one of TIME's 200 "groundbreaking" inventions that debuted this year and "are changing how we live, work, play, and think about what's possible," TIME said in a statement.  
"To compile the list, we solicit nominations from TIME's editors and correspondents around the world, and through an online application process, paying special attention to growing fields—such as AI, green energy, and sustainability," the statement said. "We then evaluate each contender on a number of key factors, including originality, efficacy, ambition, and impact."
To evaluate the Luna UCR™, TIME a reporter requested in August that UCR ship some avocados to their offices in New York City for taste tests and interviewed UCR scientists. It was selected in TIME's food and drink category of best inventions.
"Luna UCR receiving recognition as one of TIME's 200 top inventions for 2023 is a tremendous achievement," said Rodolfo Torres, UCR's vice chancellor for Research and Economic Development.
"It represents not only a remarkable innovation but also a glimpse into the future of agriculture and its immense potential," Torres continued. "We hope that Luna UCR™ can drive a new era of high-yield farming while strengthening UCR's reputation as a leader in groundbreaking and sustainable research and development."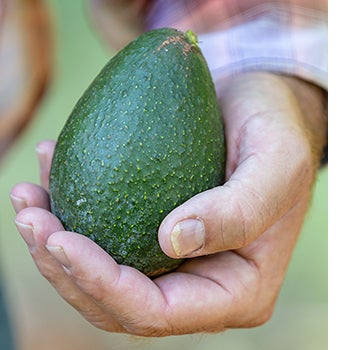 The variety is the result of a University of California avocado tree breeding program that started at UCLA just over 80 years ago, was transferred to UCR in the 1950s, and continues today. It offers consumers a nutty flavor and a smooth texture that's ideal for guacamole. The Luna UCR™ also has a rind that turns a tell-tale black when ripe and is bred to maintain its quality well after it is harvested. 
Growers, meanwhile, benefit from a smaller tree size, allowing denser plantings for more efficient and safer harvesting, and minimal pruning. It also has a type of blossom that makes it an efficient pollinizer for various avocado varieties, including the Hass, the world's leading variety.
A United States plant patent for Luna UCR™ under its official variety denomination, 'BL516' will be issued on Oct. 31, according to a notice from the United States Patent and Trademark Office. The patent (No. PP35444) will credit as inventors Mary Lu Arpaia, a UC Cooperative Extension horticulturist based at UCR, and her colleague Eric Focht, a UCR staff research associate in the Botany and Plant Sciences Department in the College of Natural and Agricultural Sciences. Other credited co-inventors are former UCR scientists Gray Martin, the late David Stottlemyer, and the late B.O. "Bob" Bergh.
"This recognition of 'Luna UCR' attests to the over 100 years of plant exploration, selection, and vision of UC's avocado researchers," Arpaia said. "I am extremely grateful for the acknowledgement of our new variety and look forward to the Luna UCR™ becoming available for growers to plant and consumers to enjoy."
"It is a great honor," Focht added. "But I would also like to acknowledge that it represents decades of research and the efforts of countless individuals beyond the listed inventors. This effort is perhaps only just now bearing fruit, as it were, but I look forward to future avocado releases built upon our current and inherited momentum."
The variety is being marketed to commercial growers worldwide through a partnership with Eurosemillas, SA, a company based in Spain that specializes in international sales of proprietary crop varieties. Under an agreement executed by UCR's Office of Technology Partnerships, Eurosemillas is the master licensee of the variety. Eurosemillas has established partnerships with growers in 14 countries outside of the USA to grow the Luna UCR™. Commercial growers interested in planting the variety may make inqueries through Green Motion Avocados. The Luna UCR is not yet available to backyard growers but discussions are underway to make it available in the near future.
The development of the Luna UCR™ has been intergenerational. It goes back to the work of Bergh, who was one of the founders of UCR's avocado program in the 1950s. Its lineage goes back to the Hass, which is the Luna UCR™'s great-grandmother.
Bergh started by planting thousands of genetically different seedlings of the Thille variety – an offspring of the Hass. More than 20 years later, that effort resulted in the release of the Gwen avocado, named after Bergh's wife. Yet the Gwen didn't compete well with the Hass, in part, because its green skin made it difficult for consumers to determine when it was ripe.
 
So, Bergh and Martin went back to work and planted as many as 70,000 genetically distinct seedlings from Gwen mother trees at three sites with different microclimates in San Bernardino, Ventura, and San Luis Obispo counties. One of the Ventura Country trees that grew in Camarillo became the first of what is now the Luna UCR™ avocado, with the preferred black skin when ripe. Unfortunately, Bergh died in 2021 at age 96 – two years before the release of Luna UCR™.
The intergenerational avocado tree breeding work continues with Arpaia and Focht planning to plant thousands of avocado seeding next year, knowing the Luna UCR™ successor may not be released for yet another 20 years.
"Plant breeding, especially tree fruit breeding, is a labor of love and a generational affair since it is time consuming and builds upon the efforts and vision of those that precede us," Arpaia said.
 
Cover photo: Luna UCR avocado co-inventors Eric Fotch and Mary Lu Arpaia - Stan Lim/UCR
Media Contacts