Azalea Corral has a family photo that shows her three younger siblings and parents smiling together against a Santa Barbara countryside backdrop. It was taken on February 8, 2020 — the last time they would pose together for a photo. 
The following day, both her parents succumbed to bodily injuries after a drunk driver struck them while they were out on their usual evening stroll in Goleta, a community about 12 miles west of Santa Barbara. Corral's siblings were in the house; she was on a train back to Riverside. 
A month later, UC Riverside shut down due to the COVID-19 pandemic. Corral, 22, got to stay home to help her siblings navigate with online learning. Together they tried to cope with the tragic loss. This included attending court hearings until the hit-and-run driver — the father of a young man Corral went to high school with — was sentenced to 15 years in prison for vehicular manslaughter. 
Two years after the tragedy, Corral is one of 7,272 students eligible to graduate this June. This will be the first in-person and unrestricted graduation in three years. Last year, students were invited to bring just two guests to the modified in-person name recognition event. This year's commencement ceremonies are scheduled from June 3-13. Visit commencement.ucr.edu for details.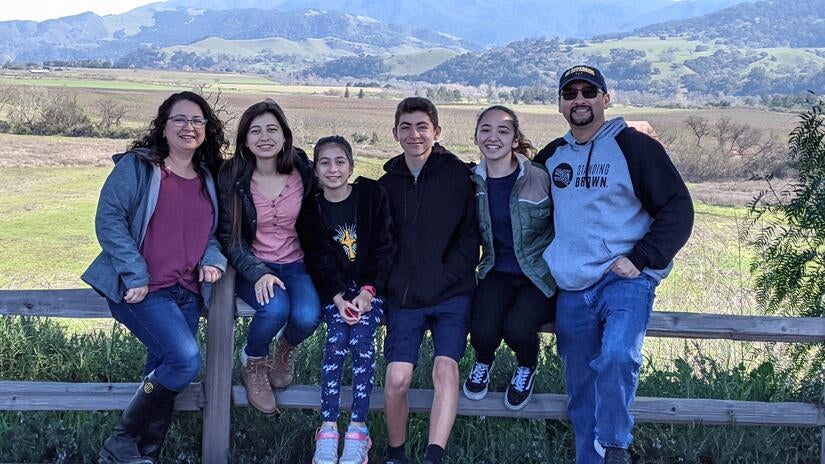 Losing both parents did not deter Corral from completing her studies and graduating in four years. She has kept a busy schedule with clubs, research, a job, and home responsibilities. Now that she's back on campus, she still makes the three-hour drive several times a month to check up on the two siblings still at home: Dominic, 16, and Rose, 12. Dahlia, 19, moved out last fall to start college at San Diego State University. She's studying sociology and Chicano studies.
"If the pandemic hadn't happened, I don't know if I would be here today. Two years ago, it was so important to have the four of us together," said Corral, who is double majoring in anthropology and Latin American studies. "My maternal grandma came to stay with us, my paternal grandparents live 10 minutes away. I've had a community behind me. My parents' friends in town have been there, they're actually planning a graduation party for me. And my uncle has been helping me with my graduate school application. I really have had a lot of help from Chicano Student Programs and the LGBT Resource Center too."  
For the past four years Corral has been part of several student groups: Ballet Folklórico de UCR, where she currently serves as co-president; La Familia, an LGBTQ club for Latinx students where she currently serves as president; and Queer Alliance, an organization for UCR's queer LGBTQIA+ community, where she also serves as co-president.
Additionally, Corral has spent the past year working as the student coordinator for CSP's Chicano Link Peer Mentor Program. At some point Corral was both a mentee and mentor with the program. 
She was selected as a Mellon Mays Undergraduate Fellowship program participant and, for the past two years, has been taking an anthropological look at the effect of having or not having access to diversity and equity programs on or near college campuses. Corral has been working with Jennifer Scheper Hughes, a professor of history.
Helping under-resourced students is something she learned from her parents, Corral said.
Her father, Adolfo Corral was an equity, diversity, and cultural competency coordinator for Santa Barbara City College. After years of staying home to raise four kids, her mother, Mary Jane Becerra Corral, had started working as a computer specialist at a Goleta elementary school. The couple, both first-generation Mexican Americans, met while studying at UC Santa Barbara. Both were 44 years old when they died.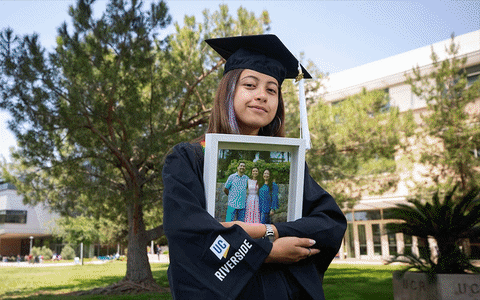 Corral said her parents worked hard to raise them. They lived with Adolfo's parents for a few years, renting one of the bedrooms, then expanding into a second room as their family grew. Multigenerational families sharing a home was simply part of life among her Latino friends — until one day Corral noticed the economic disparity. 
"It was weird noticing all the wealth all around us, and we didn't have it. We lived with my grandparents, I just thought that was normal," Corral said. "When I saw wealthier friends living in big homes, on their own, and then my junior year in high school a teacher was talking about social and capital wealth, I understood. Until then, all I knew is that I always had food, somewhere to sleep, clothes, and I played sports." 
By that time Corral was in high school, her parents were able to purchase their own home. 
"I remember mom saying, 'I never thought I'd be able to live in a house on a cul-de-sac,'" said Corral with a smile, recalling memories of the mother who taught Dominic how to code and Rose how to take photos. Mary Jane is the reason they have so many family photos, including of the day they all drove to Riverside to drop off Corral at Aberdeen-Inverness residence hall in 2018.
Corral and her sister Dahlia often saw their dad go above and beyond to help high school and community college students. 
"He would bring me and my sister to help set up and clean up after events. He took high school students to the college or to conferences," said Corral, who in August starts a two-year master's in international and multicultural education at the University of San Francisco. "I think my dad and mom being first-generation Mexican American students motivated them to serve. My dad just wanted to help his community. They're the reason I'm graduating." 
---
Meet other 2022 graduates
Arpita Gupta 
Arpita Gupta's interest in medicine grew from her own experience visiting doctors as a child. Shortly after her family emigrated to the U.S. from India in 2000, she broke her arm and landed in the emergency room. The experience motivated her to get involved in free clinics and health fairs when she was in high school. Through these volunteer programs, she further understood some challenges certain populations face, among them financial and language barriers. 
"I still remember the care and compassion I received from every healthcare provider on that visit to the ER, it has stayed with me until today," said Gupta, a School of Medicine graduate who will now complete an emergency medicine residency at Kaiser Permanente San Diego. "Being able to help people in a time-sensitive situation, when they find themselves in the most vulnerable, is important. For me, I see ER as a unique opportunity to provide primary care for the underserved community and connect with them through my shared experiences."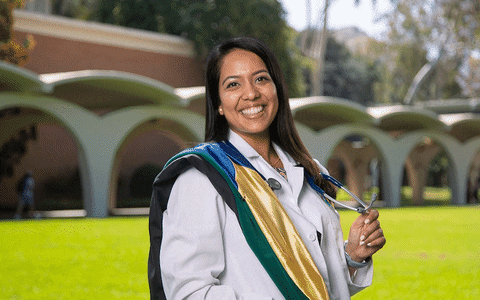 Gupta obtained a bachelor's in biology at UCR in 2018, graduating summa cum laude. Soon after starting medical school that same year, she and her colleague, Marc Durocher, relaunched the San Bernardino Free Clinic. This health initiative, available to the community at St. John's Episcopal Church in San Bernardino every Saturday morning, offers routine checkups, lab work, and other essential services. The clinic is primarily staffed by UCR medical students, faculty, and local residents.
During her time at UCR Gupta was part of the School of Medicine's Academic Success Program, where she provided guidance and mentorship to first and second-year medical students, including preparation for board exams. She was also a student instructor for the School of Medicine's Ultrasound program where she provided hands-on instruction to first-year medical students. Outside of UCR Gupta also volunteered, including to mentor students at Chino Hills High School's health sciences academy. 
"Mentorship is really important because being the first person in my family to go to medical school, I know that the support from my mentors and the doctors who trained me made my dream possible," Gupta said. "I want to be able to give that back to others."  
---
Dulce Wilkinson Westberg
Dulce Wilkinson Westberg wants to understand people. She is deciphering human behavior through interviews that explore a person's life stories and examines how those inform their approach to love, health, politics, culture, among other things.
Westberg is obtaining a doctorate degree in psychology, and along with her husband, is soon embarking on a cross-country drive to begin work as a postdoctoral researcher with cultural developmental psychologist Moin Syed at the University of Minnesota. 
At UCR, she has spent time serving in several departmental and campus-wide initiatives to advance diversity, equity, and inclusion. Her research has resulted in over 15 articles and chapters, primarily through work with her mentor, the late William Dunlop, an associate professor of social/personality psychology. Together they published a research article this year examining college students' narratives about academic experiences in relation to mental health trajectories.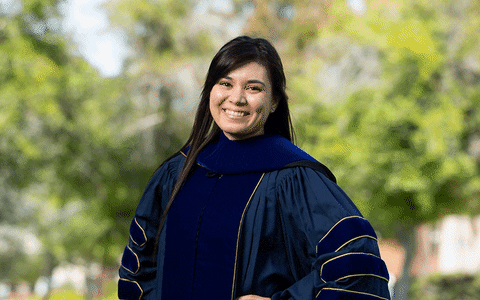 "I'm interested in that narrative identity, in the experiences that make a person who they are," said Westberg, a first-generation Latina who also completed her bachelor's in psychology at UCR in 2017. "People have an internal story that represents the past, present, and imagined future. It's fascinating that these pieces of autobiographical information reflect and reinforce cultural narratives."
Among other topics, Westberg's graduate research has included interviewing participants to understand racial health disparities, the 2016 presidential election, and stories on infidelity. She also worked with Aerika Brittian Loyd, associate professor of psychology on "Pathways to Resilience," a mixed-methods project examining the experiences of Black youth who have encountered the justice system. Westberg's work has resulted in awards, fellowships and grants, totaling more than $80,000.
Much of Westberg's desire to understanding a person, and telling their story through research and data, was cultivated by Dunlop, she said. 
"When thinking of the future, Will would tell me, 'Find your oasis in order to do the work you really care about.' I think of that often," Westberg said. 
---
Elina Veytsman
Elina Veytsman's life mission is to help young adults with autism and their parents. This School of Education doctoral student is obtaining her Ph.D. with a specialization in school psychology. 
Throughout her five years at UCR, Veytsman has been working with Dr. Jan Blacher, a distinguished research professor of education and UC Presidential Chair in the School of Education. As a graduate student researcher at Blacher's SEARCH Family Autism Resource Center, Veytsman interviewed parents raising young adults with developmental disabilities as part of a longitudinal study. Blacher began talking to these 200 families since their kids were 3 years of age. As part of her research at UCR, Veytsman followed up with those parents, whose children are now adults between 20-25 years of age, to understand their experiences during their youth's transition into adulthood.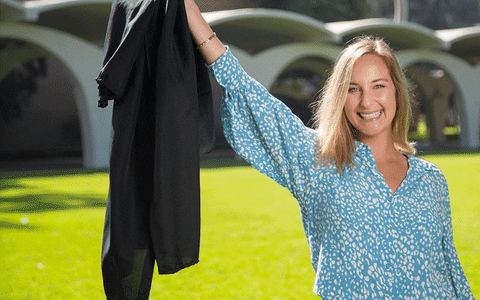 Veytsman's work has been published in top tier journals, such as the Journal of Autism and Developmental Disorders. Among the many accolades her research has received, is the Student Research Award for the American Psychological Association's (APA) Division 33 on Intellectual and Developmental Disabilities and Autism Spectrum Disorder. Her work has also earned her many scholarships, fellowships, grants, and stipends — all totaling close to $160,000 to fully cover her doctoral studies.   
Veytsman's other main research project at UCR, in which she examined the effectiveness of a social skills program for autistic Latinx teens, represented a continuation of the research she began prior to graduate school at the UCLA Program for the Education and Enrichment of Relational Skills (PEERS) Clinic. After graduation, Veytsman will return to work as a postdoctoral psychology fellow at the UCLA PEERS Clinic, where she will conduct evidence-based social skills programs for teens and young adults, and train mental health professionals and educators in the implementation of these programs.
"Part of why I came to UCR was to access a more diverse population. At UCR, I wanted to culturally adapt the PEERS social skills program for Latinx families in the Inland Empire," Veytsman said. "It was an honor working with Dr. Blacher, and what I will remember most are the times with cohort mates at conferences and just grabbing coffee before going to class together. I'll never forget those memories." 
---
Ernie Chambers
This biochemistry major's mission is clear: become a medical doctor to help underserved populations, such as the Native American community. 
After graduation, Ernie Chambers plans to spend a year volunteering at a hospital where he'll shadow a doctor while studying for the Medical College Admission Test, or MCAT. His inspiration? The Diné people he's met at his mother's Indian reservation in Arizona. While at UCR, Chambers was part of the American Indian Science and Engineering Society and Native American Student Programs, or NASP. He was also a recipient of the San Manuel Band of Mission Indians Native Pathways Scholarship, which helped him purchase school materials, he said.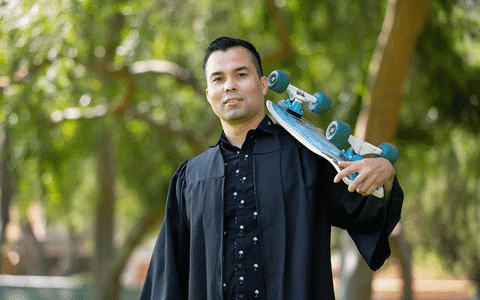 "Having Native American Student Programs as a resource was really awesome," Chambers said. They facilitate a place to gather and study, they are a resource to make college much easier."
It was through his involvement with NASP that his interest in native health grew. The center connected him with an American Indian health provider in San Diego, from whom he hopes to learn from. 
"I want to be a physician because I wish to help people," said Chambers, a community college transfer student. "I want to be that bridge for people who don't have access to medical care. There's also financial and cultural barriers I want to help solve."
---
Gabriella Juliette Sheffler
Gabriella Juliette Sheffler's roots run deep. All the way back to the Philippines. For years her late maternal grandfather, Jose Ragasa, has inspired her career and her interest in history. 
At UCR that interest deepened further when Sheffler took a history class with Professor David Biggs. Biggs encouraged Sheffler to pursue a project she had been considering for a long time: to look at her grandfather Jose's journals from his time as a soil engineer during the Vietnam War. She also has newspaper clips from stories he published, as well as a diary filled with poetry.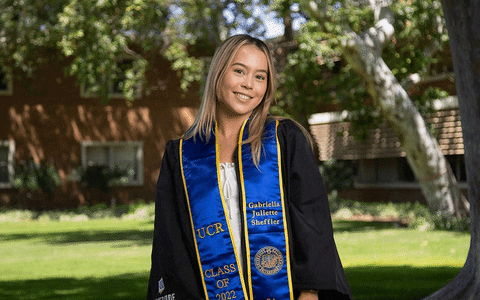 "My senior thesis focused on my grandfather Jose, I took a look at how his diary reflects on the complicated relationship between the Philippines, the U.S., and Vietnam during the Vietnam War," said Sheffler, who is double majoring in history and political science. In the fall she starts a one-year teaching credential program at California State University, San Marcos, before pursuing a career as a high school history teacher. "My mom went to college in the Philippines, my dad at UC San Diego. This just feels like both sides of my family are coming together."
During her time at UCR, Sheffler joined Gamma Phi Beta sorority where she served as vice president and public relations officer. The sorority expanded her networking and leadership skills, she said. 
"Professor David Biggs pushed me to expand on what I could do at UCR. He sparked an interest in Vietnam, the Philippines, and other areas of history that I didn't think I would be interested in," Sheffler said. "I was very encouraged and uplifted in that class. As a teacher, I want to be like Professor Biggs was for me, a mentor to students. As a teacher you are put in that place, to mentor students and push them toward success."
Her decision to teach history is driven by her recognition of how — for all of us — our past shapes our present. 
"History is one of those subjects that is limitless: your own family, your country — that tiny corner of the world that someone can relate with," she said.  
---
Jennifer Lamb
Jennifer Lamb has spent most of her life serving the less fortunate. Even during college, after spending hours in the lab with Zhenya Jia, an associate professor in UCR's Department of Botany and Plant Sciences, this biology major still goes home or to church to help distribute meals for the homeless. 
Growing up with a single mother and as one of six siblings, Lamb has devoted endless hours to helping the needy, all the way from Tanzania to Arizona and Moreno Valley. This Mt San Jacinto College transfer student said she learned from her mother to always share a little bit of what they had.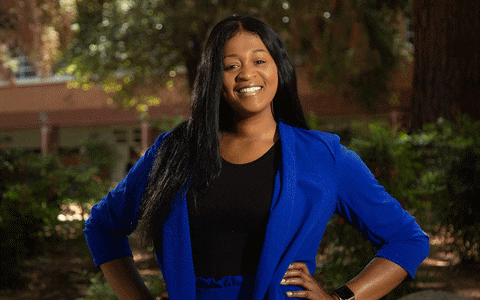 Recently the family embarked on a team project to cook and distribute 100 hot meals to the Moreno Valley homeless community. Through her church, the family also volunteers in various ministries. Lamb herself will join a church group traveling to Haiti in July to provide Haitians with food, medicine, backpacks, and toys. 
Helping is simply in her nature. At 16 she started working at McDonalds. It was a way to financially contribute to the household and provide respite for her struggling mother, she said. Lamb is a first-generation student whose goal is to become a pediatric doctor in the Inland Empire. She's taking the next year off to study for the Medical College Admission Test, or MCAT.
"The biggest reason why I want to be a pediatric doctor, is to just open clinics everywhere. I just want to help people who can't help themselves and children are my heart," Lamb said. "My upbringing wasn't the best; it was very hard on my mother. Growing up, there were seven of us, including my mom, on welfare. But she made it work. She taught us to help and would always remind us, 'God would never give you more than you can handle. Always have a heart for the less fortunate and never look at yourselves as better than others.'"
---
José Luis Huerta
For José Luis Huerta, photography is more than capturing mesmerizing orange sunsets that wrap the Coachella Valley every evening. It's about documenting real lives. 
He first picked up a camera to capture moments at family parties. Then, in high school his photography teacher, Mr. Rogelio Garza, included him on a special assignment: to document the lives of mobile home residents, many living in trailer home parks surrounded by high arsenic levels, inflated rents, and unsanitary conditions.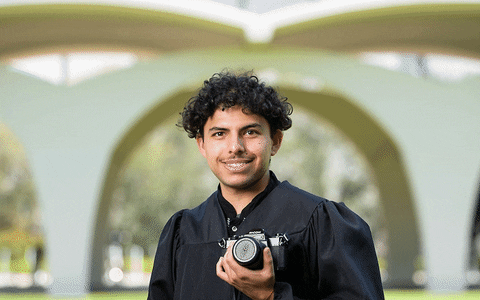 He transferred to UCR in 2020 from the College of the Desert. At UCR he decided to use his cameras — a Ricoh XR-2 and FujiFilm XT-20 — to document the world as it stands for friends, family, and neighbors in Thermal and Mecca, both agricultural communities in the Eastern Coachella Valley. 
"I want to be showing more than the beautiful sunsets. I want to show the agricultural fields, the images of food left behind rotting in the fields, photos of fieldworkers working at 6 a.m., of the times they're using pesticides," said Huerta, who was the first UCR undergraduate to be admitted into Yale University's prestigious summer school art program in 2021. The program was cancelled due to COVID. He is an art studio major, with an emphasis in photography and installation
"Some of these places are where my dad harvested okra, grapes, dates. The area is a food desert, we have to drive far to a grocery store. Our reality of time and distance is very different than here in Riverside," he said.
Looking at his world through a lens and documenting that life is what gives him both inspiration and motivation to further his career, he said. He will be applying to graduate schools in the coming year.
"There is a whole group of faculty, staff and grad students too who have helped me by answering questions, helping get my mind around projects," said Huerta, a first-generation DACA student. "Professors Jim Isermann, Amir Zaki, Brandon Lattu, Anna Betbeze, and Wes Larios have been amazing. In Lynne Marsh's class I had a project focused on my family. It's portraits of moments with them, it's what I want to say to them and can't express in words. I hope they are proud of what I'm doing." 
---
Julya Elena Mestas
Bioengineering was a world unfamiliar to Julya Elena Mestas when she first came to UCR. That was until she started taking classes and encountered Elena Kokkoni, assistant professor of bioengineering. Kokkoni's work explores infant and pediatric biomechanics, in other words, building and creating technology to support a child's motor abilities. Helping a child walk or move an arm, is an almost unexplainable feeling, she said. 
Another class Mestas enjoyed was with Robert Alexander McKee, an assistant teaching professor of bioengineering. Mestas is completing her senior design project with McKee. This involves creating a micro plastic extraction device using ferrofluid, a highly magnetized liquid that bonds with plastic. It's an option that can help clean up oceans. 
Mestas is busy searching for jobs in environmental sustainability or infant biomechanics.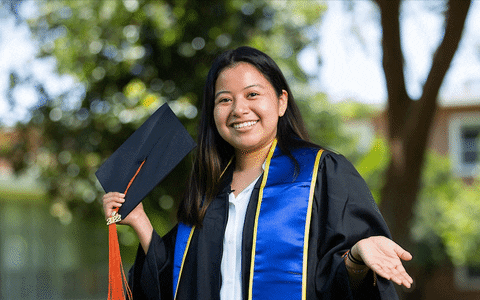 "One of the things I think a lot of: When you die, your life is not necessarily measured by the accomplishments, but by the number of people who you have helped," said Mestas. That's why throughout her four years at UCR, she balanced academics, involvement in career-focused organizations, and community service. 
In the midst of COVID she joined Queens of STEAM, a tutoring and mentoring student-run organization that offered activities and research-based lesson plans to high school girls. She also participated in NASA's virtual L'Space Mission Concept Academy last summer. The experience allowed her to work with students from across the United States and Puerto Rico to design a Mars lander that could work on soil experiments and on identifying soil composition. 
Mestas also found time to join UCR's Refugee Advocacy Club, designed to promote awareness and inform people of hardships that refugees face. 
---
Kyle Penix
Kyle Penix's time at UCR has been a whirlwind. He started his higher education at El Camino College and Compton College, then transferred to UCR in fall 2020. He's now graduating with a bachelor's in media and cultural studies and is off to the University of Southern California as a recipient of its GRoW @ Annenberg scholarship, a full-ride scholarship to complete the one-year master's program in journalism program. 
Despite the virtual learning environment and challenges the pandemic brought, Penix was able to develop his television and documentary making skills while balancing academic and social growth. At UCR he joined clubs and became TedXUCR's marketing and social coordinator, and vice president of UCR's chapter for Global Brigades, a national student-led organization that provides health and infrastructure support to communities around the globe. He was also an undergraduate research assistant for UCR Brain Game Center; and participated in UCDC in spring 2021.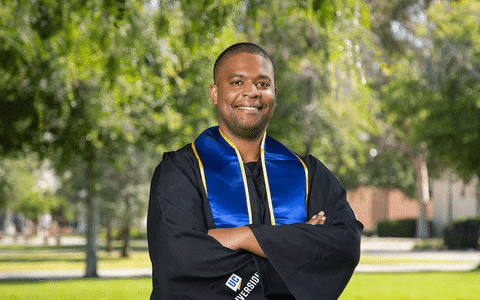 Learning to connect and make meaningful relationships — even in a Zoom environment — was a unique way to grow and network, he said.
Penix is currently a production intern at G4TV, an unscripted comedy, gaming and pop-culture brand owned by Comcast. He received the UCR Black Alumni scholarship in spring 2021, the Rosemary Schraer Scholarship beginning in fall 2021, and the Osher Re-Entry Scholarship in spring 2022.
"I was selected as a live television production intern by the Television Academy Foundation for summer 2022," said Penix. His internship will include covering the 2022 Creative Arts Emmy Awards, a series of shows aired after the Emmy awards that feature creatives for their artistic and technical achievement in a variety of television program genres. 
Penix's two years at UCR were crucial for his professional growth — made possible by his professors, he said. "Two of my professors are the reason I got into USC and internship at the Television Academy Foundation. Professors John Jennings and Amalia Cabezas are two kindest people who have helped me tremendously."
---
Saray Jamila Aguilar
Saray Jamila Aguilar is not pursuing a career as a film producer because she wants fame. She is pursuing this passion with one primary purpose: provide a better future for her parents.
Aguilar's parents left their native Ayoquezco de Aldama in Oaxaca, Mexico more than 30 years ago and settled in Escondido, near San Diego. For three decades they have worked as janitors, making less than minimum wage yet always providing a home, food, and clothing for Aguilar and her four siblings. 
"We grew up helping our parents clean offices after school. It hurts me to see them working so hard, cleaning up after other people," said Aguilar, who is majoring in theatre, film and digital production with an emphasis in filmmaking. This summer she will intern with Legendary Entertainment, the media company behind blockbuster films such as "Godzilla vs Kong," "The Hangover," "Superman Returns," and "42."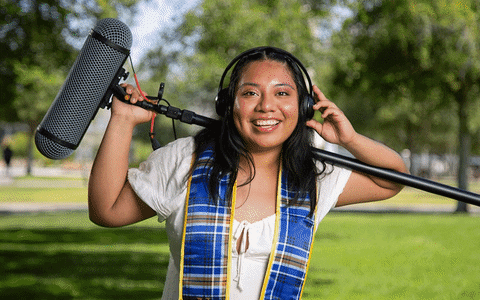 Aguilar's love for film began in elementary school. The family only had one television set where they primarily watched Spanish language channels. Her father knew Aguilar needed more. They visited their public library and checked out DVDs for 25 cents each. Aguilar fell in love with filmmaking after watching a behind-the-scenes documentary about "The Lord of the Rings." The dolly tracking shots, the huge cameras, and the people behind the equipment fascinated her.
At age 13 she won her first film contest through the Innovative Video in Education program, a San Diego county-wide competition. Her entry, "Regresando a mis raíces: Una historia poco tradicional sobre cómo encontré mi identidad cultural" (Returning to My Roots: A Non-traditional Story of How I found my Cultural Identity) played on PBS for a couple years and now lives on Cox. 
"I never wanted to waste the opportunity my parents gave me," said Aguilar, who in the past two years has completed virtual internships with Beverly Hills media entertainment companies. At UCR, Aguilar has held student jobs with University Communications' video team and with the Department of Theatre, Film and Digital Production. She is also an active member of R'shorts film club.  
"My family has always emphasized the importance of our Indigenous roots," said Aguilar, whose two older sisters also graduated from UCR. "I always credit my mom and dad for our success. Mom is the backbone, making sure we are eating, we are mentally well. Dad checks in on us, asks 'Are you doing the best that you can? Are you putting 100 percent of your effort? If not, why not?' I'm doing this for them, every single day they are my main motivation. My drive is not fame; I want to make a living so that they stop working. I want to provide for them." 
---
Suzanna Sotelo
Winter quarter 2021 was a rough ride for Suzanna Sotelo. Her mother, Juliana Felix Garcia, was only 40 years old when she passed away in February 2021. That turned Sotelo's world upside down.
She fell behind in classes and had to wrap her head around a hard fact: her immediate family now consisted only of herself and her younger brother. Their father too had passed away when they were in elementary school. So, she dug deep into her schoolwork and hung tight to Ron Loveridge, an associate professor of political science. He was one of the professors who helped get her academics back on track, she said. Financially speaking, grants were a big help, as well as the R'Dream Scholarship, and professor Loveridge's push to apply for an internship at the Inland Empire Economic Partnership, or IEEP, the area's regional economic development organization.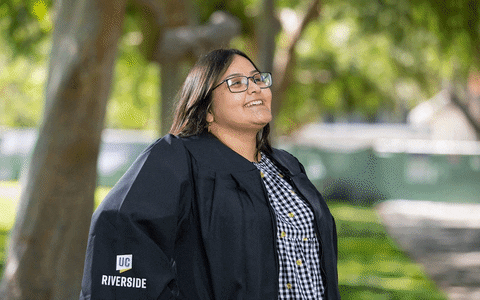 Sotelo, a political science major concentrating on international affairs, went from being a prep cook at Panera to obtaining an internship and then a full-time job as a workforce development coordinator with IEEP. This job taught Sotelo a key lesson: Tackling problems from the root is important.
"We are working with small businesses in the Inland Empire and higher education institutions so that majors and available jobs after graduation align. The intention is to retain talent in the region," Sotelo said. 
For her, graduating means honoring her mother.
"Last year was tough, I didn't get to finish winter quarter. I didn't do any of my work, I asked professors for an extension. I was taking independent studies and finally finished spring quarter — eight courses in 11 weeks," Sotelo said. "My motive was to stay busy because my mom didn't work that hard to get us where we are just to give up." 
Media Contacts